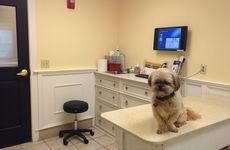 NEW YORK (GenomeWeb) – Celsee, a developer of circulating tumor cell isolation technology, has partnered with Zomedica, a veterinary pharmaceutical and diagnostics company, to develop and commercialize Celsee's liquid biopsy platform for use by veterinarians as a cancer diagnostic.
Under the terms of the exclusive seven-year agreement Zomedica is responsible for the clinical development and commercialization of assays, while Celsee will supply Zomedica on an exclusive basis in the veterinary space with the assays and consumables. Zomedica will pay Celsee up-front fees of $500,000 and issue Celsee unregistered common shares having a value of $250,000, subject to receipt of TSX Venture Exchange approval. Celsee is also entitled to additional payments of up to $1 million upon the achievement of specified milestones. 
Zomedica intends to use Celsee's technology to develop and market a non-invasive diagnostic assay, called ZM-017, to help veterinarians diagnose cancer in canines. One in four dogs will develop cancer at some stage, including half of all dogs over the age of 10 years, the Veterinary Cancer Society estimates.
Zomedica said it expects that ZM-017 will provide veterinarians with a faster, more affordable, and less invasive test for cancer in dogs compared to existing methods, and lower the out-of-pocket cost incurred by pet owners.
"Liquid biopsy is cutting-edge technology in human medicine right now and we're excited about the opportunity to develop and market this platform for use in veterinary medicine," said Gerald Solensky, Zomedica's CEO. The company selected the Celsee platform because of the ease of use, workflow simplicity, and flexibility to use its novel canine biomarkers, Solensky said. "If we successfully develop Celsee's technology, we believe we will be able to provide veterinarians with a best-in-class product they deserve when caring for their patients," he added.
Kalyan Handique, president of Celsee, noted that the agreement means the company can continue to validate its technology and substantiate the platform's value for use in prognosis and therapeutic decision making. 
Zomedica expects to commence clinical validation of Celsee's CTC detection technology in the first half of 2018 and begin marketing of ZM-017 during the second half of 2018.