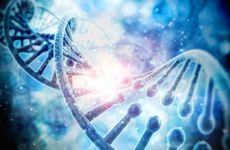 OAKLAND, CALIFORNIA – A raft of startups have surfaced, promising the ability to deliver synthetic DNA at greater length and purity, in a shorter amount of time, than what established manufacturers can offer.
At last week's Built With Biology Conference, formerly known as SynbioBeta, synthetic DNA makers held a large portion of the exhibition hall. Amongst companies like Codex DNA and DNA Script, who had their automated DNA printing boxes on display, three emerging startups touted variations of the same claim: a better experience for ordering oligonucleotides longer than 5 kb.
They include two companies that emerged from stealth for the event: Elegen, a Bay Area startup founded by former Natera VP of R&D Matthew Hill, and Moligo Technologies, a Karolinska Institute spinout. Elegen is launching in July following early-access programs with two customers. Joining the two new firms at the conference was Vienna-based Ribbon Biolabs, which is preparing to open up shop in the US sometime next year following an €18 million ($20.1 million) Series A financing round in January.
"No company should be building their own internal DNA foundries," Hill suggested. Between the three of them, these firms believe they can meet demand for custom DNA sequences up to 20 kb, although currently they're producing more molecules in the 3 kb to 6 kb range.
That's likely because 5 kb is what Twist Bioscience, a market leader in synthetic DNA of all sizes, says is the limit for its chemical synthesis of clonal genes. Meanwhile, GenScript claims it can produce custom DNA sequences up to 200 kb for $.45 per base with turnaround time as fast as 23 days.
But Hill suggested that the synthetic biology community needs longer DNA even faster. "This is the opportunity that unlocks synthetic biology as a field. Without the ability to make that DNA, it's never going to happen," he said.
He claimed that by early 2023 his company will be able to construct 20 kb molecules with per-base error rates as low as 1 in 500,000 in just one week. Currently, it can achieve an error rate of 1 in 68,000. "For most applications, we're almost as good as clonal [DNA]," he said. "That allows you to eliminate cloning for many applications and workflows that you have."
Aside from length, "it's all about speed," Hill said, "and being able to get DNA that is very accurate."
Ribbon Biolabs CEO and Cofounder Harold de Vladar said his firm is also focused on increasing speed and "trying to increase throughput and to be reliable for any sequence at any length." His firm touts the ability to deliver "within days" and has created 20 kb molecules for a customer, he said, but could go even longer.
The ability to create complex sequences accurately is also important, Moligo Cofounder and CEO Cosimo Ducani said. Of course, price is always a concern.
Exactly how these companies are making these constructs remains to be seen. Elegen and Ribbon Biolabs declined to disclose the entire process of how they make their molecules.
"We believe the [Elegen] technology is based on standard phosphoramidite synthesis with an undisclosed method to generate long DNA assemblies," Cowen Analyst Steven Mah wrote in a note to investors.
Ribbon's de Vladar described his firm's process as enzymatic and "PCR-minimal."
"It's not PCR-free, but it's not Gibson assembly," he said.
Moligo's method is not a de novo synthesis, Ducani noted. He likened it to injection molding: The firm outsources construction of a DNA template and then uses an enzymatic chemistry to make many single-stranded copies. The viral polymerase Moligo uses for isothermal strand displacement amplification has been used in diagnostics, he said, but he declined to provide more information on other enzymes used by the firm.
The firm is currently able to produce molecules 6 kb, but Ducani said he's confident the method could be used up to 10kb. "We are going to experiment soon whether we can go over 10kb," he said. 
Ducani was also more transparent about pricing than the other firms. While pricing ultimately depends on scale, one milligram of DNA costs approximately $70,000, he said. Acquiring the template can take a while, "but once we have the template, production takes two to three weeks," he said. The company is working up to making grams of DNA, which could eventually make Moligo competitive with solid-phase synthesis, at scale. It is also looking at bringing template production in-house. 
Elegen is "still zeroing in on pricing," Hill said, noting that he sees his molecules as a "new product class."
Both Moligo and Elegen touted their ability to create complex sequences with high fidelity. "The fact we start from double-stranded DNA means we can encode a lot of complexity," Ducani said, such as secondary structures, inverted repeats, and high-GC content sequences.
On its website, the firm claims purity of 99.99999 percent. The firm was able to produce a 4.3 kb sequence that included 100 bases of nothing but guanine and cytosine. "We were able to produce it," Ducani said. "It was perfect."
"It's hard to encapsulate all the notions of complexity," Hill said, but noted that in early-access work, Elegen was able to make "harder sequences that others weren't able to make."
Improvements in the end product could help with enzyme evolution, bacterial strain evolution, and gene and cell therapies. "We have clients right now, mostly companies from the US with drug development pipelines in oncology and other genetic diseases," Ducani said. "They're already buying milligrams of DNA today. Of course, the aim is to make gram batches of DNA by next year and scale up from there."
Ribbon also has customers, but de Vladar said it is not taking ad hoc orders and is working with several companies on high-volume orders.
All three companies are planning to grow quickly.
Founded in 2017, San Carlos, California-based Elegen has 22 employees but expects to grow to around 30 by the end of the year. "We are laser focused on deploying operations and building out an ops team now," Hill said.
Moligo, founded in 2019 and based in Solna, Sweden, has five full-time employees and is planning to secure a funding round by the end of the year to help it expand, Ducani said. The firm raised an undisclosed seed funding round led by Colibri Ventures in 2020. It also claims a presence in Palo Alto, California.
And Ribbon is looking to go global. In addition to attending the conference, Cofounder Wladimir Labeikovsky and Chief Technology Officer Marc Brehme are in the US to scout locations for a production facility.
"The market is very hungry," Labeikovsky said.