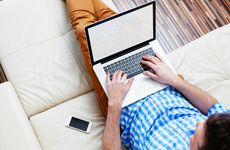 NEW YORK (GenomeWeb) – Rather than receiving genetic testing results from a clinician or genetic counselors, patients may soon be getting them in the comfort of their living room, over the internet.
As genome sequencing finds its way into medicine, there will be more and more genetic testing results returned to patients whose knowledge of genetics and what testing results mean may be slim. But at last estimate, there were only about 3,000 genetic counselors in the US, and when time comes to return all those genetic testing results, they may be stretched thin.
"As sequencing rolls out — we all say it'll end up in mainstream medicine — general practitioners are going to be challenged to interpret this information," said Barbara Biesecker, who was then an associate investigator at the National Human Genome Research Institute. "So, there's a lot of talk about, well, how do we stretch the genetic counselor far enough to help people with results?"
Researchers have been exploring different ways of returning genetic testing results to patients, including over the internet. Some patients have expressed interest in getting their results that way, and a recent study has found that for carrier testing results, it may be no worse than in-person counseling. However, that study was preliminary and may not be generalizable, said Angela Bradbury, an assistant professor of medicine at the University of Pennsylvania. Further, it may depend on how those results are presented.
Patients appear to be open to receiving genetic testing results online, Bradbury, a medical oncologist, said. She has been studying alternative models for genetic counseling for years, such as over the phone or by video conferencing. As part of their work, she and her colleagues have asked people whether they would be willing to undergo pre-test counseling or result disclosure over the web, and between 30 percent and 40 percent said they would.
Additionally, though 30 percent of participants said they wanted to get their research results returned via the web when asked hypothetically, Bradbury noted that when her team actually gave participants the option to get results online, about 85 percent of them took it.
"I definitely think there's a role [for returning genetic testing result online]. I think we are still learning a lot and it is not going to be for everybody. But it will definitely be of interest to some people and perhaps even more than we anticipated," Bradbury said. "I think the question that we have that we are studying, and we still have a lot of work to do here, is: 'Is it a reasonable alternative?'"
In a recent paper in JAMA Internal Medicine, researchers led by Biesecker began to address that question. Biesecker, who is a certified genetic counselor, and her colleagues conducted a clinical trial in which 462 participants from the ClinSeq project were randomized to receive carrier testing results either through a web platform or in person from a genetic counselor. Biesecker, who is now at the Research Triangle Institute, noted that they chose carrier testing results because they wanted to use low-threat information for this initial study. Carrier information doesn't directly affect participants' health, and as the participants were post-reproductive, there was a limited effect on their families, leading the researchers to consider it a low threat.
About half the participants first received genetic education — a typical component of genetic counseling — via the web. The other half, meanwhile, received genetic education from a counselor. Those two groups were then split further so half later received in-person genetic counseling and half did not. The researchers then assessed how well the participants understood their results, as well as their anxiety and regret over testing and learning their results.
In this cohort, Biesecker and her colleagues found that web-based return of results was no worse than in-person return of results. "We were hopeful that would be the outcome, but we didn't go in with the hypothesis that this would be a fine way to do it," she said, adding that this is why their analysis relied on the conservative test of non-inferiority, which assesses whether one approach is no worse than another.
But many people who've undergone genetic testing already have access to their results online. With the rise of electronic medical records, for example, patient portals provide access to lab reports — including genetic testing reports — which may be tricky for patients to decipher, said Susanne Haga, an associate professor in population health sciences, at Duke University. Some lab reports are easier to grasp than others, as they may contain a summary statement or interpretation of the results, while others may just report the findings.
Haga, a geneticist, and her colleagues examined how well patients understood their type 2 diabetes genomic risk after being randomized to learn it in person from a genetic counselor or online from a report on Decode Genetics' website. As they reported in 2014 in Public Health Genomics, participants who received their results in person from a counselor were more likely to correctly interpret their genomic risk compared to those who reviewed their results online.
"That may be due to simply the opportunity to have someone talk to you about it," Haga said. "It can be difficult reading a test report — [some of them] are extremely difficult to read because they are really written in a medical jargon that's written by physicians for expert physicians.
Patients, she said, would benefit from reports designed with them in mind. In an opinion piece in Genome Medicine in 2014, Haga and colleagues described four approaches to better tailor lab reports to patients. The easiest way, she said, would be to have two reports, one written with the patient in mind and a technical version that's the official medical record.
The patient-focused report should be simple, straightforward, and written in general terms, she said. It should, for instance, avoid using terms patients might not know like 'allele,' though if online, the report could include a link to the term, what it means, and a description of genetic inheritance.
Accessing the reports online presents opportunities to embed or provide further educational aids, Haga said. For instance, reports could include links to webpages at the US National Institutes of Health, the Centers for Disease Control and Prevention, or other reputable source of health information for patients who want to take a deeper dive into the data.
Likewise, for their studies, both Bradbury and Biesecker sought to include components of the genetic counseling experience in their web-based approaches. Bradbury said that her team sat down with genetic counselors to go over what they'd cover during a session with a client and taped a number of genetic counseling sessions, so the same information would be included online. She and her colleagues then strove to provide the minimal amount of information possible using text, graphics, and video, but to also include links to additional information.
"Our first couple of versions of web-based disclosures may not be perfect, but we'll learn the more that we do it," Bradbury said.
Because of the nature of webpages, Haga noted, developers could see which links patients click on and what parts of the page they spend time on, and use that information to refine the page.
While web-based return of results may lack that personal touch and may need refining, it could have some benefits to patients. Bradbury said patients have told her that looking at their results online allows them to go at their own pace and dive into concepts that they aren't clear about.
And because patients have more time to go over what their results mean and look up what they didn't know, they might have more or better questions to ask when they do have a face-to-face visit with a clinician.
Bradbury said that in studies she's done of phone-based return of results, patients who received their results in that way actually spent a bit of time later speaking with their doctors. "Because they actually had time to think about it, because otherwise, when you give the results [in person], they get them, they are overwhelmed, they nod, and then they go home and have a zillion questions later," she said.
While the recent JAMA Internal Medicine study showed that web-based return of results was not inferior to in-person counseling, it was just a first step. The population that the researchers drew on — from the ClinSeq project — is predominantly white, well educated, married, post-reproductive, and they were early adopters. Additionally, the testing results were their carrier status, which was chosen because of its low threat.
While Bradbury noted that it's an important, well-done study, she cautioned that it might not be generalizable to more complex tests, cancer genetic testing, or to more diverse populations. "It's a great first step and it certainly endorses the value of the web, so I think it is a key first study to really make us think about this, but I think there is still subsequent work to be done in a broader population," she said.
Biesecker added that her team plans to conduct a similar study with the second ClinSeq cohort of about 500 individuals of mostly African-American or African-Caribbean descent. If they get similar results, she said, they would branch out even more.
The goal of web-based return of testing results, though, isn't to replace genetic counselors, but to make their jobs easier and to help triage which patients should see them, Bradbury said.
"None of us believe we should be relegating all of this to a web-based platform," Biesecker said. "But we see this as a really nice opportunity for genetic counselors to be essentially preserved for really difficult cases, or people who are really struggling with results, or people who are very high risk."