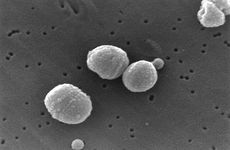 NEW YORK (GenomeWeb) – An international team of researchers has found that new serotypes of Streptococcus pneumoniae expand in response to the adoption of a pneumococcal vaccine.
Pneumonia killed more than 920,000 children under the age of five years in 2015 and is the largest infectious disease cause of death in children across the globe, according to the World Health Organization. During the last decade, numerous countries introduced pneumococcal conjugate vaccines (PCV) that target up to 13 pneumococcal serotypes that cause most of the disease. While the vaccine is highly effective, there are more than 100 serotypes that can cause disease.
The Global Pneumococcal Sequencing project has been conducting genomic surveillance of pneumococcal disease around the world to gauge how vaccine introduction has altered what serotypes are present in different countries. As they reported today in the Lancet Infectious Diseases, the Wellcome Sanger Institute's Stephen Bentley and his colleagues found a rise in non-vaccine-type pneumococci, though noted differences by country.
"We now have an unprecedented view of the global population of S. pneumoniae bacteria, the usual cause of bacterial pneumonia, and can see evolutionary changes that lead to vaccine evasion," Bentley said in a statement. "This will give crucial information for future vaccine strategy worldwide, and help save lives."
He and his colleagues sequenced the genomes of 3,233 pneumococcal disease isolates infecting children under the age of three years from six countries: Hong Kong, Israel, Malawi, South Africa, Gambia, and the US. These samples were collected both before and after PCVs were introduced in those regions.
Using the PopPUNK software, the researchers clustered these isolates into what they've dubbed Global Pneumococcal Sequence Clusters (GPSCs). In April, researchers from the Global Pneumococcal Sequencing consortium reported in EBioMedicine on a new genome-based approach to define pneumococcal serotypes. These GPSCs, they reported, clustered isolates based on their genome-wide variation and incorporates population structure. While they uncovered 621 GPSCs within a dataset of 20,027 genomes from the Global Pneumococcal Sequencing project and four other published genomic datasets, 35 GPSCs dominated. They also found, though, that non-vaccine serotypes existed alongside vaccine serotypes in these groupings.
In their new study, researchers found that the most common pneumococcal serotypes present after the introduction of vaccines varied between countries, though they noted that serotypes 5, 12F, 15B/C, 19A, 33F, and 35B/D were present in two or more countries.
Serotype replacement — in which disease was caused by serotypes not covered by the vaccine — was fueled mostly by the expansion of non-vaccine serotypes within vaccine-type GPSCs, they reported. In particular, they found that GPSC3 was the most common lineage that caused non-vaccine serotype disease after vaccine introduction.
They noted, though, that this globally spreading lineage expressed invasive serotype 8 in South Africa and 33F in Israel and the US.
Similarly, serotype 12F was linked to GPSC55 in Israel, but to GPSC26 in Gambia and South Africa. This, the researchers noted, could be due to a combination of initial bacterial population, host characteristics, or different antibiotic treatment strategies in the regions.
"Our study gives the first genomic description of the S. pneumoniae population of the world," first author Rebecca Gladstone from the Wellcome Sanger Institute said in a statement. "Now we have global data, showing which strains are present in each country, and can use this to understand pneumococcal infection on a worldwide scale."
In a related commentary in the Lancet Infectious Diseases, Emmanuelle Varon and Robert Cohen, both from Centre Hospitalier Intercommunal de Créteil in France, wrote that the researchers "present a novel complex pneumococcal landscape" and that such work will help "understand how S. pneumoniae is adapting to its environment, mechanisms of vaccine escape and serotype replacement, and changes in invasiveness, disease profile, and antibiotic susceptibility, beyond the prism of serotype."
However, they added that "some crucial questions remain" about disease presentation between serotypes and clusters.