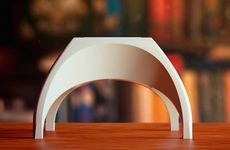 NEW YORK (GenomeWeb) — Consumers with a bit of disposable income will soon be able to order their whole-genome sequence from Guardiome, a La Jolla, California-based startup that places a great deal of emphasis on keeping its clients' DNA information private.
Currently in alpha testing, Guardiome has around 50 clients who have tried out the $3,210 service, and the company is hoping to gather feedback from 100 early users. For that price customers receive their genetic code in a secure desktop device, called Helixa, which resembles a four-legged spaceship.
After clients mail Guardiome a vial of their saliva for analysis, the firm removes identifying information from the sample, tags it with a sample ID, and sends it to Cambridge, Massachusetts-based WuXi NextCode for whole-genome sequencing. The raw sequence comes back to Guardiome, where bioinformaticians analyze the data using an in-house pipeline that consists of mostly standard algorithms for sequence alignment through to variant calling and annotation using information from public resources such as ClinVar.
Five weeks after mailing their spit sample, customers receive a personalized Helixa that houses all of their raw sequence as well as their annotated variant call files. The current model of the rechargeable battery-powered device comes with 128 gigabytes of data storage space and features a 3.20 inch by 2.40 inch touchscreen on its surface, through which users view and interact with their data.
The customer's sequence appears in a built-in genome browser that lets users visualize different areas of their DNA and zoom in to the base-pair level. Clients can explore genes by name, location, and SNP ID.  
Users also receive apps on a USB stick that plugs into Helixa. Uploaded apps provide access to the latest research about the specific variants that they carry. Each client's Helixa has a unique ID and purchased apps are designed to be compatible only with the owner's device. The company's website features more than 70 apps that would enable users to learn about variants implicated in breast cancer, Alzheimer's disease, cystic fibrosis, Huntington's disease, and other conditions.
In recent years, the US Food and Drug Administration has cracked down on direct-to-consumer genetic testing companies providing health-related information. As a result, most consumer-facing genomic testing firms are playing it safe by involving genetic counselors and doctors when communicating health-related genetic test results to customers.
Based on the advice of unnamed experts, Guardiome CEO Huwate "Kwat" Yeerna maintained that his firm is not interpreting variants in a way that would constitute health-related information. He highlighted that Guardiome's focus on privacy — specifically that neither Helixa nor the apps ever connect to the internet — distinguishes it from other web-reliant consumer genomics offerings. The very nature of Helixa enables users to keep their DNA information to themselves if they choose, and they don't have to share it with anyone, including their doctor or family members.
To underscore the company's commitment to privacy, Guardiome mails every Helixa with a hammer. "It's a joke," Yeerna told GenomeWeb. "Our engineers were thinking, 'what if somebody comes to your house and tries to take your data out?' … As a joke we decided to ship with a hammer, so if you wanted to see what's inside, you have to crack it open."
The hammer may be a joke, but client privacy is "serious business" at Guardiome, according to its 23-year-old CEO, who did his undergraduate studies in bioinformatics at the University of California, San Diego. The data on the device is encrypted using proprietary technology — which Yeerna declined to discuss in detail — and is only accessible by password. If someone tries to tamper with the machine or access the data without proper authorization, the data self-destructs. Guardiome deletes clients' sequence information from its own servers two weeks after shipping the Helixa to clients.
"We try to keep [Helixa] like a vault," Yeerna said, so only the owner of the DNA data inside Helixa can access the device. And this "feeling of owning your DNA fully" is what Yeerna wants to evoke in customers. "We didn't expect that but there are people who just want to own their DNA," he said.
Idea to client in four months
Guardiome is the latest prospector in a DNA gold rush, where a number of new services have recently cropped up promising to empower consumers with their genomic information. For $2,900, attendees at one of Illumina's day-long "Understand Your Genome" events can have their whole genome sequenced, learn if they have variations linked to 1,200 medical conditions, and can view their results on the MyGenome application.
Earlier this year, web-based testing firm Veritas Genetics announced it will provide whole-genome sequencing and interpretation for under $1,000 to the 16,000 participants in the Personal Genome Project, an effort where volunteers donate their genomic and health data to a public resource. On the other end of the spectrum, for between $25,000 and $50,000, customers visiting one of genomics pioneer J. Craig Venter's Health Nucleus clinics can get a full body workup, including whole-genome sequencing, imaging, and a battery of other tests, and interact with their data on an iPad app.
A lean startup like Guardiome, which has 12 full-time employees but no outside investors, will have to compete with industry behemoths like Illumina. Yeerna and another UCSD student Katharine Niklason, who is now his wife, invested $5,000 of their own money and around $1,000 from friends and family into launching Guardiome in June. "We were passionate and went from idea to client in four months," said Yeerna, who deferred graduate school in September to devote himself to the venture.
Yeerna and his colleagues keep costs low by doing much in house, from the bioinformatics analysis to developing the website. Each $3,210 order funds that client's whole-genome sequencing and Helixa build out. The pod-like frame that contains the device is constructed on a three-dimensional printing machine that the company has in house. It takes about a week to build one of these devices from scratch. Revenues from Helixa also go toward legal fees and intellectual property costs. According to Yeerna, Guardiome has several pending patents.
In the end, the solution was simpler than we expected. It was to respect client's autonomy and their right to know, while providing them with high quality data so they can use [it] the way they want.
Focus on privacy
Guardiome was born from a cancer patient's dissatisfaction with currently available consumer genomics services. Yeerna was diagnosed with leukemia while in his teens. Although now in remission, he wanted to look within his own genome to learn more about his cancer risks. Unimpressed by the offerings in the consumer genomics market, Yeerna and Niklason thought they could do better.
"We just read a lot of bioethics papers, first to think about the fundamental problems in the field from informed consent to data analyses and data release," Yeerna said. "In the end, the solution was simpler than we expected. It was to respect client's autonomy and their right to know, while providing them with high-quality data so they can use [it] the way they want."
Current consumer genomics services store customers' DNA data internally but have consent procedures dictating how that information may be shared. Customers of Mountain View, California-based 23andMe, for example, have to give explicit permission before the company's researchers can use their deidentifed and aggregate genetic and self-reported data for peer-reviewed studies. 23andMe is conducting research with drug developers, but the firm asks customers if they want to partake in these studies and seeks informed consent again if individual-level data are used.
But as Yeerna researched the market, he discovered that genetic privacy was not an insignificant consumer concern. Current legal protections under the Genetic Information Non-discrimination Act cover employment and health insurance, but don't extend to life, disability, or long-term care insurance.
There is data suggesting limited public awareness of GINA's protections and gaps. But a New England Journal of Medicine study published earlier this year found that once people learn about the law, it makes them even more nervous about getting genetic testing. As an example, the study authors, led by Robert Green from Brigham and Women's Hospital, noted that 25 percent of prospective participants in MedSeq — a project where whole-genome sequencing results of participants are stored as part of their electronic medical records — declined to join after learning about GINA, citing fears of insurance discrimination.
According to Yeerna, Guardiome caters to "high-status" clients who are willing to pay for quality data and "ultimate privacy." The service appeals to the "inherent worrywarts," who don't want their genomes shared with anybody, said Trey Ideker, chief of genetics at UCSD, whose lab Yeerna has worked in for several years.
Researchers have demonstrated that it is possible to identify people using whole-genome sequencing and demographic data in public resources. One recent study from researchers at Stanford University School of Medicine demonstrated a technique for re-identifying individuals by their genomes using one of the data-sharing mechanisms set up by the Global Alliance for Genomics and Health. There are also groups evaluating computational methods for analyzing genomic datasets that have been encrypted in a bid to protect donor privacy and forestall fraudulent use.
While Guardiome would help clients avoid unwanted privacy breaches by keeping their data off the net, the service wouldn't protect people from unauthorized sequencing of their DNA derived from discarded coffee cups or a strand of hair, for example, a risk that many states have yet to address legally.
'Hey, what's in it?'
Helixa would allow users to keep their DNA information to themselves, but Yeerna also envisions that Helixa will be the centerpiece of customers' coffee tables and the topic of conversation at parties. "If they have a party, or whatever, and people come over to their house, and ask, 'Hey, what's in it?' they can say, 'My entire DNA,'" said Yeerna. "They can show off,"
Guardiome is targeting "Tesla owners," Yeerna said, referencing the luxury electric cars that start at $100,000. "That's like our client image. They have disposable income and they want to know about themselves." He wouldn't connect GenomeWeb to any customers, but noted that professors and bankers have tried out Helixa.
Ideker told GenomeWeb he is hoping to get his whole genome sequenced for the first time next year through Guardiome, and plans to display the Helixa pod in his office. "It's basically a conversation piece on your coffee table," Ideker said. "That's what I'm going to look forward to using it for."
Ideker's lab at UCSD maps the inner workings of cells and uses these maps to interpret what people's genomic information says about their health. He describes Yeerna as "intense," someone who knows what he wants and is most likely to be found plugging away in the lab on weekends and holidays. "Guardiome is all pretty much his own work," Ideker said.
It's basically a conversation piece on your coffee table. That's what I'm going to look forward to using it for.
And Yeerna's team is still working on refining the service with client feedback. One area of ongoing development are the apps, through which clients learn the latest research on specific variants in their genome. Guardiome's bioinformaticians report results using publicly available resources from the National Center for Biotechnology Information, including its archive of interpreted variants, ClinVar.
Yeerna said that Guardiome doesn't report disease risk estimates for specific variants, but maintained his team uses "plain" language, without hype, to convey the research accurately. However, using the genome browser customers can see when they have deleterious variants and variants of unknown significance. Yeerna said the company reports these according to professional society guidelines.
It's unclear to GenomeWeb how the browser and apps will communicate variant information to users, since Guardiome didn't allow us to view the user interface. Eventually, the plan is to link the apps to information in the NIH's Genetic Testing Registry, so users can contact local labs and get confirmatory testing. "Like WebMD … we believe that a client should also be able to go to resources to look at their genotype, and see what other people are writing about it, and [what] a community of people are saying about it," Yeerna said.
Uncertain times
While Guardiome is committed to client privacy, the genetics field faces an uncertain regulatory future. The FDA has said it wants to regulate all lab-developed tests, which are currently overseen under CLIA, and continues to be vigilant about direct-to-consumer selling of health-related genomic information. The FDA hasn't restricted consumers from getting their raw whole-genome sequencing data without a physician's prescription, but once that information is interpreted in the context of human health and disease, the agency has said that falls under its medical device regulations.
As such, companies are proceeding cautiously. For example, Sure Genomics is planning to launch a $2,500 whole-genome sequencing service through a CLIA lab next year, but customers will first have to speak to an in-house geneticist to receive a prescription. Company co-founder Rick White told GenomeWeb that in order to return information on disease risks, Sure Genomics may need to seek FDA clearance.
Yeerna has gotten advice from experts, and he doesn't believe what Guardiome is doing will fall under FDA's medical device regulations. Whole-genome sequencing for Guardiome's customers is conducted by WuXi NextCode in a CLIA-certified lab. Consumers learn their genomic information through Helixa, not from physicians or genetic counselors.
Guardiome's strategy to enable clients to lock up their DNA data also runs counter to the push for data sharing in genomics research. Drug companies, diagnostics firms, academics, and patients that share medical information are often celebrated for advancing collective knowledge of the human genome, while companies that keep data private are sometimes vilified.
President Obama's Precision Medicine Initiative, which seeks to gather medical records, genetic profiles, and a variety of other data from 1 million participants, is planning to open up participation to any person living in America who is willing to share their health data, give a blood sample, and be recontacted for research purposes. 23andMe, which has 1 million customers, claims 80 percent agree to participate in research. And public resources, such as ClinVar, wouldn't be possible without labs submitting information on variants and allowing the community to see when there is uncertainty about a particular marker's links to disease.
"Sharing data for scientific advancement is great," Yeerna said over e-mail. "Of course, all companies would love to keep your data — that's where the money is." But, Yeerna noted, consumers who aren't comfortable sharing data should also have options and be able to privately explore their genome.
Yeerna expects the cost of a Helixa to drop with the declining cost of whole-genome sequencing. For the time being, Guardiome is paying close attention to client feedback. After the company has a better sense of what customers want, Yeerna hopes to seek outside investment for the firm.