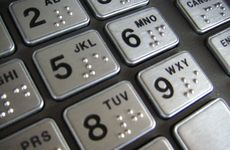 NEW YORK (GenomeWeb) – The mishmash of microbes found on New York City's automated teller machine keypads include organisms related to household items, human skin, and food, though the overall diversity of these communities is relatively low, according to a new study.
New York University researchers used targeted 16S and 18S ribosomal RNA gene sequencing to characterize bacteria and eukaryotic microbes, respectively, on the keypads of dozens of ATMs in Manhattan, Brooklyn, and Queens during June and July 2014. As they reported in mSphere today, the analysis uncovered a range of microbial representatives, despite low overall diversity.
Although a handful of the sampled bank machines were located outside, the team did not detect clear clusters corresponding with indoor or outdoor ATMs or with machines found in certain parts of the city. Still, the eukaryotic sequences left on the keys sometimes seemed to offer a glimpse at the types of food offered in these neighborhoods.
"Our results suggest that ATM keypads amalgamate microbial assemblages from different sources, including the human microbiome, eukaryotic food species, and potentially novel extremophilic taxa adapted to air or surfaces in the built environment," co-corresponding authors Jane Carlton and Maria Gloria Dominguez-Bello, and their colleagues wrote. "DNA obtained from ATM keypads may thus provide a record of both human behavior and environmental sources of microbes."
The team used the Illumina MiSeq instrument to do targeted 16S rRNA and 18S rRNA sequencing on 66 swab samples collected from ATMs in eight neighborhoods in Manhattan, Brooklyn, and Queens, including four outdoor bank machines. Based on bacterial sequences identified in all 66 samples and eukaryotic sequences in 48 of the samples, the researchers frequently picked up bacteria from the Actinobacteria, Bacteroides, Firmicutes, and Proteobacteria families, which have been detected in human skin microbiomes.
Even so, their analyses did not point to a single human body source for the microbes found on the keypads. Rather, the study's authors noted, "outdoor air and household surfaces — kitchens, restrooms, pillows, and televisions — were the most commonly identified source habitats."
The team further reported that the microbial communities generally had relatively limited diversity and did not clearly cluster by testing site, perhaps reflecting intermittent cleaning of the machines. The researchers detected just nine operational taxa units from archaea, for example, though they noted that the set of primers used to amplify 16S rRNA sequences could have missed additional archaeal representatives. The diversity of amoebas and other protists was also quite limited and typically corresponded to soil, water, or intestinal tract representatives when they did turn up.
The researchers also identified some eukaryotic sequences that seemed to stem from food that was found in the ATM environment or transferred to the keypad on users' hands. At ATMs from sites in Chinatown and Flushing, for example, the team saw genetic markers associated with fish and mollusks. A machine from Harlem had sequences associated with domestic chicken, while a midtown Manhattan site harbored an extremophilic fungus called Xeromyces bisporus that's been linked to spoiling baked goods.
"Although we cannot confirm the original source of X. bisporus [operational taxa units] on ATM keypads, it seems plausible that this fungus had been transferred from people who had recently handled baked goods," the authors wrote, "particularly in a commuter-heavy area such as midtown Manhattan, where there are many nearby convenience stores and cafés selling this type of food product to business workers."