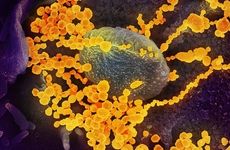 NEW YORK – SARS-CoV-2 was introduced into Scotland hundreds of times early in the pandemic, a new phylogenetic analysis has found.
The first case of COVID-19 was diagnosed in Scotland on the first of March 2020 and the first month of the outbreak there was marked by more than 2,600 COVID-19 cases, 1,800 hospital admissions, and 126 deaths, leading to lockdown measures being implemented by the 23rd of March.
 Researchers from the MRC-University of Glasgow Centre for Virus Research and elsewhere sequenced and analyzed viral samples from more than 1,300 of the initial COVID-19 cases in Scotland to trace the origins of the virus. As they reported on Monday in Nature Microbiology, they found that SARS-CoV-2 was introduced into Scotland largely from continental Europe and that community transmission was occurring by the time viral control measures were put into place.
"Earlier travel restrictions or quarantine measures, both locally and internationally, would have reduced the number of COVID-19 cases in Scotland," co-senior author Emma Thomson from Glasgow and her colleagues wrote in their paper. "The risk of multiple reintroduction events in future waves of infection remains high in the absence of population immunity."
Thomson and her colleagues sequenced 1,314 SARS-CoV-2 genomes from patients with laboratory-confirmed cases of COVID-19, representing nearly half of the COVID-19 cases confirmed in Scotland in March 2020. Most of these patients reported no travel outside Scotland in the two weeks before they became symptomatic. 
Overall, Scottish SARS-CoV-2 genomes had an average 3.6 non-synonymous and 1.9 synonymous nucleotide substitutions, as compared to the Wuhan-Hu-1 reference genome. Using data from GISAID from early in the pandemic, the researchers noted that the SARS-CoV-2 strains in Scotland were diverse and there were strains from both lineages A and B present, though most fell within the B.1 lineage. 
Based on a combination of phylogenetic and epidemiological data, the researchers estimated there were 238 independent introductions of SARS-CoV-2 into Scotland. Of these, 60 percent were not transmitted further, but 40 percent were associated with sustained community spread. 
Slightly more than a third of the lineages that lead to community spread involved individuals with a history of travel, mostly in Italy. The researchers noted that the UK government only advised travelers from lockdown areas in Italy to self-isolate beginning on February 25 and that was not extended to all travelers until March 10. By then, the outbreak in Scotland was being driven by local transmission.
They found that community transmission began in early March, around the 2nd, three weeks before lockdown measures were implemented. Based on this, the researchers suggested that earlier viral control efforts could have reduced the number of COVID-19 cases in Scotland.
The researchers additionally identified two early outbreaks in Scotland that may have helped fuel viral spread at an international conference that took place in Edinburgh in late February and at a care home facility.
"[T]he first month of the COVID-19 outbreak in Scotland was associated with multiple introductions related to travelers returning from Europe, early community transmission and clusters related to large indoor events and healthcare facilities," the researchers wrote.
"Multiple travel-associated introductions during the first wave of infection in Scotland highlight this as a key risk factor for reintroduction in future waves," they added.
The researchers noted that their analysis has a number of limitations, including that they only analyzed about half the SARS-CoV-2 cases in Scotland and could then have missed some viral introductions, and that the sampling may have overrepresented healthcare workers.