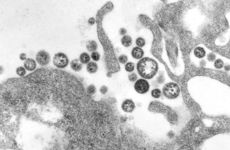 NEW YORK (GenomeWeb) – The increase in the number of Lassa fever cases earlier this year was not due to the emergence of a new viral strain or to persistent transmission between people, a real-time genomic analysis found.
Lassa fever is a viral hemorrhagic illness endemic to West Africa, where it causes more than 300,000 cases and about 3,000 deaths per year. Earlier this year, Nigeria reported a surge in the number of cases, stoking concerns that there might be a new viral strain.
Researchers from Nigeria and the US sequenced and analyzed more than 200 Lassa virus samples. As they reported today in the New England Journal of Medicine, they found that the viral patterns were consistent with typical cross-species transmissions from rodents. Providing this data to health officials buttressed their decision to stay with typical hospital protocols during the outbreak.
"Swift and multi-­pronged approaches to disease management, as was possible this year in Nigeria, are critical during outbreaks," said co-­senior author Pardis Sabeti from the Broad Institute in a statement.
The number of suspected and confirmed Lassa fever cases was higher for the 2018 transmission season than previous years. Between November 2017 and May 2018, the Irrua Specialist Teaching Hospital in Nigeria tested more than 2,700 samples from suspected Lassa fever cases, 436 of which were RT-qPCR positive for the virus.
In an initial analysis, the researchers sequenced the whole genomes of 14 confirmed Lassa virus cases to a mean depth of coverage of 207X. Most of the patients — 13 of the 14 — were from southwestern Nigeria, which the researchers said was consistent with the geographic distribution of the 2018 cases.
The viruses isolated from these patients were genetically diverse, the researchers reported. While they all belonged to lineage II, which is the most common lineage in southwestern Nigeria, they all reflected the genetic diversity of viruses conserved in previous years. This, they said, was consistent with multiple zoonotic infections from a genetically diverse source.
Likewise, the viral genomes did not cluster together in a way that indicated human-to-human transmission. The two that clustered the closest shared a common ancestor 12 years ago, also not indicative of human-to-human transmission.
The researchers provided this information to Nigerian Center for Disease Control officials, to help in their outbreak efforts and assuage fears of a new virulent strain.
They extended their analysis by folding in data from 115 additional Lassa virus genomes from the recent transmission season as well from 91 viral genomes from previous seasons. This, too, suggested most transmissions were zoonotic and human-to-human transmissions were uncommon.
A phylogenetic analysis of the full set found that the Lassa viral genomes clustered geographically. Ninety-three percent of the viruses in this set belonged to lineage II. Both these lineages are highly genetically diverse, the researchers found.
The researchers also noted that geography appears to constrain the viruses. Lineage II viruses are largely found south of the Benue River, while lineage III viruses are from north of the Benue River and east of the Niger River. In addition, they found that viral genomes from west of the Niger River appear to belong to a subset of lineage II. Based on this, the researchers hypothesized that the two rivers impose a natural barrier that inhibits the movement of Lassa virus-carrying rodents.
However, the researchers said that what caused this rise in Lassa fever cases is still unknown. They suggested that it could be due to changes to the rodent reservoir or to better surveillance and public awareness. "There may be no one single explanation for the outbreak," co-­first author Katherine Siddle, a postdoc at the Broad and Harvard University, said in a statement.