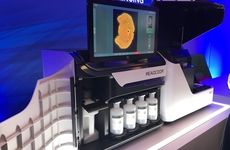 MARCO ISLAND, Florida – On Monday, ReadCoor launched its long-awaited multiomic spatial profiling instrument, called the RC2.
Interest in the technology was palpable here at the Advances in Genome Biology and Technology meeting, where ReadCoor is a bronze-level sponsor. At a Monday afternoon unboxing event, more than 120 people lined up outside the corporate suite — more than could fit inside — to get the first look at the platform.
Towards the front of the line was Molly Zeller, a senior research specialist at the University of Wisconsin, Madison DNA sequencing core. "It's just exciting to have the genome and transcriptome all together," she said, adding that her interest was also driven by a desire to "stay on top of things."
Inside the suite, a holographic display on one side of the room played an animation of a dancing robot with George Church's face. On the other side, the real George Church stood out above the crowd, entertaining questions about the technology and company, both of which had their origins in his lab at the Wyss Institute and Harvard Medical School.
"I love seeing functioning devices," he told GenomeWeb. "A lot of what we do is invisible." The combination of doing analyses in 3D and at the sub-cellular level represents the future of reading genomics technology, he said.
"You want to have your cake and eat it, too, and I think we finally got that," he said. 
At the center of the room sat the RC2 box, lit from above with its doors splayed open to show the internal workings, which handles everything on the tissue slice from sample prep to sequencing. The large benchtop instrument is the core of ReadCoor's platform, which also comprises assays and analysis software.
Originally promised by 2017, ReadCoor's fluorescent in situ sequencing technology offers genomic, gene expression, protein, and spatial analysis all at once. Unlike some other methods, the sequencing chemistry happens in the tissue, rather than on a flow cell. And the instrument handles not only library prep, but sequencing of the probes and barcodes itself. Read lengths can be as short as six or eight bases, for certain applications, a ReadCoor representative said, but he declined to disclose the maximum or even average length of reads for targeted genomic analyses. Read lengths are long enough to support de novo genome sequencing, he said. Previously, researchers had reported read lengths of up to 30 bases.
ReadCoor has spent the intervening years refining the workflow to make the user experience "a really seamless process," Rich Terry, ReadCoor's founder, CEO, and CTO, said in an interview ahead of this week's meeting. "It may sound trivial, but it's extremely hard to be very thoughtful about every touch point and how you handle a sample from the start through to cloud analysis," he said. "A lot of times tools are released early and haven't been thought through."
Now, ReadCoor joins a competitive and rapidly advancing marketplace, with early corners staked out by 10x's Visium spatial genomics platform and NanoString's GeoMx digital spatial profiling. Both competitors have announced upgrades to their products at AGBT. On Monday, 10x announced several new features for Visium, while Nanostring announced that by mid-year, GeoMx will be compatible with Illumina sequencing.
But ReadCoor's quadruple threat capabilities have proved enticing. "I feel like it's just going to do a lot more" than the platforms already released, Zeller said. "I can't promise we'll get one, but it's exciting tech." 
"I have been anticipating single-cell multiomics and spatial measurement to capture where the biomolecules are located," said Alon Goren, an Assistant Professor at the University of California, San Diego. With interests in chromatin biology as well as genomic technology development, he has been following ReadCoor for several years, he said. Still, he does not plan to immediately get an RC2 and implement this technology in his lab.
But even if Goren were sure he wanted ReadCoor, he wouldn't be guaranteed to get one, at least not right away. The company will initially be picky about who it sells to. 
"We would like to make sure that with our initial customers, their needs fit our applications extremely well and that we'll come up with new insights into biology of disease from partnering with them," Terry said. "We want to make sure we really support those customers and get that customer selection right," by having sites that can use each of the application areas ReadCoor has developed assays for: immuno-oncology, neuroscience, and infectious disease.
The immuno-oncology kit measures RNA, DNA, and protein for human samples; the neuroscience kit, RNA and protein for human and mouse samples; the infectious disease kit, RNA, DNA, and protein for rhesus macaque samples. They all work with fresh frozen, fixed frozen, and formalin-fixed paraffin-embedded samples.
Customers will contract for the entire platform, including instrumentation, service, support and access to cloud-based analysis software, and the ability to buy sample preparation assays for it. Expert training and access to ReadCoor's knowledge base are also included.
The sample prep kits each cover about 200 genes, with the ability for customers to customize with another 50 genes on top. Select release customers will also have the ability to do completely custom kits, Terry said. The assays vary in price depending on the application. Select program customers will also get access to customizable assays. The company declined to disclose the cost for the platform package or the assays.
ReadCoor has already found some customers it wants to sell to, Terry said, but declined to disclose them. He said he doesn't have a set number of systems he would like to place under this program; however, the company has plans to find more customers. After the so-called "select release" program, Terry said ReadCoor plans to open up sales broadly.
"It's really a new field that's much broader than sequencing in general," he said. "Sequencing had excluded groups that see a lot of value in high-resolution imaging and pathology, in general. Those people can come back into the fold."
Eventually, Terry hopes ReadCoor's platform will be an important tool for clinical genomics. At a conference presentation Tuesday, he said he wants to get ReadCoor into every hospital. He also noted that Ventana Medical Systems (acquired by Roche in 2008 for $3.4 billion) founder Tom Grogan is on ReadCoor's board. "We believe this will lead to new diagnostics and deeply believe the ability to see across 'omes is extremely powerful and will find new discoveries and lead to treatments in the cancer space," Terry said.
The company also announced Monday an increase in its Series B financing round announced in January, which is now $30 million, up from $27 million, bringing its total fundraising to more than $53 million. Terry disclosed that the firm has recorded about $8 million in collaboration revenue to date, but he said the company is not planning for services to be a big part of its business.