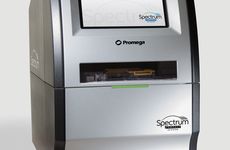 NEW YORK (GenomeWeb) – Promega is developing two capillary electrophoresis instruments, one with low and one with high throughput, that it plans to bring to market later this year.
The instruments are called Spectrum Compact and Spectrum CE. The former was co-developed with Hitachi High-Technologies while the latter is the product of in-house development at Promega.
Promega has been developing and selling reagent systems for other vendors' CE instruments for a number of years. "Over the course of those years, we've had a lot of customer requests to develop our own CE instrumentation," said Doug Storts, Promega's head of research, in an interview. The project began with a focus on the larger CE instrument, but, Storts said, the firm also saw an opportunity for a smaller, benchtop instrument with only four capillaries because "most laboratories simply do not need an 8- or 24-capillary instrument."
Most CE instruments are medium to high throughput, so to run them efficiently requires waiting until enough samples accrue, said Gabriela Saldanha, global strategic marketing manager for life sciences research and genomics at Promega. She said there is currently no competitor that is small and has low throughput, like the benchtop Spectrum Compact, although a few larger four-capillary systems exist.
Hitachi has co-developed CE instruments with Thermo Fischer Scientific and has worked with that firm to develop its most recent multi-capillary CE devices, so "they have a lot of experience," Storts said.
He added that the instruments developed by Hitachi and Thermo are the only truly competitive instruments out there, as others on the market lack single-base resolution or are not capable of a high degree of multiplex detection. Other CE instrument manufacturers include Agilent, Beckman Coulter, and SciEx.
Promega expects that the size of the Spectrum Compact instrument will be a differentiating feature in the market, and that the Spectrum CE will be advantageous for its forensics customers who would like to purchase reagents and instruments from a single vendor.
The Spectrum Compact runs up to 32 samples with a four-capillary array and uses a six-color chemistry. As such, it can run Promega's PowerPlex Fusion kit, a 24-plex test which was approved in 2015 by the FBI for use in laboratories that generate DNA records for the National DNA Index System. If a sample proved heterozygous at each locus, such a test would be difficult to perform by qPCR, which would require more than 40 amplicons, Storts suggested. A CE instrument, on the other hand, allows for distinguishing amplicons on the basis of the fluorescent label as well as the molecular weight of the fragment.
The Compact instrument is about 15 inches wide, 27 inches deep, and 24 inches tall, and it weighs about 90 pounds. It has an integrated touchscreen and all operations, including run monitoring, are done directly on the instrument, Saldanha said. This makes it easy to use and obviates the need for a separate computer. Its price will likely be less than $65,000.
"It has been developed to be very economical — a lot of times customers have to send sequencing samples out because firing up other [CE] instruments can be expensive in terms of reagents," she said. "This instrument really gives them flexibility, control, and independence to do those assays in their lab with minimal cost."
The larger Spectrum CE instrument, meanwhile, will be about 26 inches in width and depth, and 30 inches tall, weighing about 250 pounds. The price range will depend on the number of capillaries, Saldanha said, but she noted that the instrument is being developed with forensic applications in mind.  It will feature eight or 24 capillaries or up to four 96-well plates to accommodate different analysis workflows and has eight-dye detection for improved multiplex genotyping of demanding forensic samples.
The Spectrum Compact, on the other hand, has a broader range of intended applications, including both fragment analysis and Sanger sequencing, Saldanha said. These applications include single nucleotide polymorphism, PCR sizing, and microsatellite analysis, de novo sequencing and NGS confirmation, and mutation detection. However, the Compact also has utility in a forensic lab setting, where the vast majority of the forensic products on the market are PCR-based, and it can be used as an accessory instrument for occasions when a lab only has a handful of samples, Storts added.
Promega's entrance in this market was primarily motivated by a decision to support its current reagent customers and researchers looking for a new CE instrument that otherwise would have to purchase reagents from one company and an instrument from a different company, Saldanha said. Promega is now demonstrating backwards compatibility with the major four-, five-, and six-color human genotyping kits, Storts said, including kits offered by competitors, which might include Qiagen and Thermo Fisher.
The instruments can also be used for Sanger sequencing, and are backwards compatible with existing Sanger sequencing kits on the market, as well as with a new Sanger kit Promega is planning to introduce, Storts said.
The firm is one of the primary manufacturers of forensics kits, such as short tandem repeat, or STR, kits used to connect DNA evidence to sources and for paternity testing. It has also been a player in the food testing market and recently launched a GMO test kit for purification of DNA used in PCR-based detection of genetically modified organism (GMO) DNA sequences and PCR-based food and ingredient authentication. In addition, the Madison, Wisconsin-based company manufactures other instruments, including the Maxwell line for nucleic acid extraction, luminometers, fluorometers, and microplate readers.
Promega is also a global company with branch offices in 16 countries, and over 60 distributors worldwide, Saldanha said, and it will continue to use this infrastructure to market and distribute the new CE instruments. It also has a dedicated forensics sales force and client reps, and it will take advantage of those connections as well.  
Customers who will use the instruments for forensics applications that have legal implications will need to demonstrate concordance, as well as sensitivity and resolution, relative to their existing instrumentation, but Storts noted that this is standard practice and that Promega also did these experiments in house during development. The firm is still finalizing development, but the next level of prototypes will be ready for customers to test.