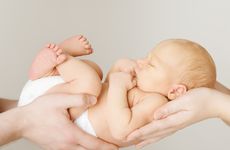 NEW YORK (GenomeWeb) – Molecular diagnostic testing lab Progenity recently began offering bespoke prenatal testing for the noninvasive detection of monogenic disorders.
The new test, based on digital PCR, is the second noninvasive prenatal test (NIPT) from the Ann Arbor, Michigan-based laboratory testing services provider, which also offers carrier testing, preimplantation genetic diagnosis, and hereditary cancer testing.
In addition, the company is developing a proteomics-based preeclampsia test and technologies that involve ingestible devices for gastrointestinal sampling, targeted GI diagnostic assessments, and GI therapeutics delivery.
The new NIPT, called Resura, uses digital PCR and can be applied in cases of families with known Mendelian diseases.
Admittedly, only a subset of people could benefit from this particular test, but "there's an important group of patients that will benefit tremendously," said Progenity CEO Harry Stylli.
The test detects changes in fetal DNA present in maternal blood samples using Bio-Rad's Droplet Digital PCR system.
Matt Cooper, Progenity's CSO, said the "secret sauce" is the combination of ddPCR with the company's other unique methods.
"There are lots of digital PCR approaches out there, but they're unable to accomplish what we accomplish because of our proprietary way of determining fetal fraction, and using that allelic ratio to make the determinations we report in Resura." Cooper said. Bio-Rad has previously noted it will develop a NIPT menu for its QXDx system, in part through adding content already developed by others, but Progenity does not have this type of relationship with Bio-Rad, Cooper said.
The Resura test could be used in cases where parents are known to be carriers of SNPs, insertions, or deletions that can cause rare genetic disorders. It may benefit the parents to know in advance if the baby will have a particular disease, Cooper said.
For example, he cited cases where both parents are known to be carriers for a metabolic disorder, such as phenylketonuria – a rare genetic disorder that causes an inability to break down phenylalanine in food, leading to brain damage. That disorder is treated by following a special diet, and PKU screening is performed on every baby born in the US within the first few days after birth. However, results take some time to be reported.
"If you had the results of [the Resura] test while you had the baby in utero, the correct diet could be started at birth and prevent the first crisis, before alternatives like newborn screening could be used," Cooper said, adding, "that's the clinical value that we're bringing to the table with this. It's just a whole new capability for the marketplace."
The alternative to testing a baby after birth is testing in utero using amniocentesis or chorionic villus sampling. Both of these procedures are invasive, however, and carry some small risk of causing miscarriage.
The Resura test can be tailored within a week or two in order to detect whatever rare genetic disorder the parents may be known carriers of. "With our technology, if the mutation exists in our library, we could use it directly off the shelf very quickly. However, if we find that it's a unique mutation, we can develop customized solutions very quickly for that patient, and once we develop it, it enters the library and we can reuse it from there on out," Stylli explained.
Cooper highlighted that competing technologies have so far only been able to detect mutations in a couple of dozen preselected genes, and typically only variants that are dominant, de novo, or paternal. The Resura test, in contrast, can look at most genes and all inheritance patterns, including autosomal recessive, autosomal dominant, X-linked, and de novo variants, as well as both maternal and paternal variants, he said.
The firm has evaluated the test using a benign variant model system and 57 maternal samples with a fetal gestational age of 10 to 20 weeks, examining single nucleotide substitutions, insertions, and deletions of 2 to 5 base pairs. In that assessment, the technology showed greater than 99 percent accuracy, Stylli noted.
It has also tested nine maternal samples with pathogenic variants and fetal fractions between 6 and 20 percent using a custom assay, and found full concordance with the neonates, all of whom were unaffected by the genetic disorder being tested for.
In addition to its technology, Progenity sees itself as having a number of service differentiators in the NIPT space, such as the use of AI chat bots to answer questions for patients who have negative test results but still have questions and concerns. Also, all patients and physicians have access to the company's genetic counselors, Stylli said.
Other business efforts
Progenity has been offering NIPT testing for a number of years. It initially offered Natera's Panorama test, but in 2014 began providing the Illumina Verifi test as a lab-developed test from its CLIA-certified, College of American Pathologists-accredited laboratory.
The company developed and internalized its own test using Illumina's technology in 2015, and subsequently rebranded it. Since then, Progenity has developed specialized bioinformatics and a proprietary NGS-based method which launched in late 2018, Stylli said, adding that the Innatal test continues to use lllumina's NGS technology.
Through its NIPT marketing, the company has developed contacts with OB/Gyn and maternal and fetal medicine physicians. It also has products that apply to the IVF market, such as a carrier screening test called Preparent and a preimplantation test for genetic disorders in IVF eggs called IdentifySGD. It also offers a hereditary cancer test called Riscover.
The latter testing all relies on molecular technologies, but the company is also developing a proteomics-based preeclampsia test, Stylli said.
This technology comes from Progenity's 2015 acquisition of Stanford University spinout Carmenta, where Cooper had previously served as CEO.
"We're in the process of developing an immunodiagnostic test that will have a very high negative predictive value, so we'll be able to discriminate patients who have, for instance, hypertension, which is a primary symptom of preeclampsia, from those patients who actually do have preeclampsia," Stylli said.
Progenity is also in the pre-clinical stages with a set of technologies that involve digital ingestible devices.
One use of the technology is to direct the devices to very specific locations in the GI tract to remove a sample and preserve the material for later processing after the device is recovered, Stylli said.
Another use for this technology is as "an ingestible device that has a full laboratory," he said. It will go to a desired location in the GI tract, remove a sample, analyze it, and then report the results out telemetrically.
The firm is envisioning to apply this technology, for example, in a condition called small intestine bacterial overgrowth, or SIBO, but it could also use it to deliver therapeutics for inflammatory bowel disease,. It is investigating a way to use the technology to deliver protein-based therapeutics, such as monoclonal antibodies, so that they can target areas of the GI tract where they will be most effective before being degraded by the digestive system. Oral delivery of protein drugs is a "holy grail" of the industry, Stylli said, and evaluating the technology to orally deliver adalimumab, also marketed as Humira by AbbVie, Progenity has been able to improve the systemic bioavailability of orally delivered proteins from about 2 percent to about 28 percent in preclinical studies.
Progenity expects to launch its preeclampsia test in the first half of 2020. It will continue to reach out to OB/Gyn and MFM physicians using its dedicated sales force of about 150 people, but also plans to develop a sales force for the GI space when those products come to fruition.