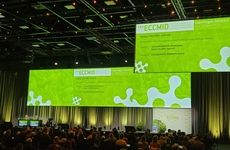 COPENHAGEN – The Million Microbiomes from Humans Project (MMHP), an ambitious effort to sequence and analyze microbial DNA from a million human samples to construct a microbiome map of the human body and build the world's largest human microbiome database, is back on track after being interrupted by the COVID-19 pandemic.
Researchers involved in the project reported on its progress here on Saturday at the European Congress of Clinical Microbiology and Infectious Diseases. The presentations were part of an integrated symposium sponsored by Chinese sequencing firm MGI Tech, whose sequencers are powering the shotgun metagenomics approach being used by MMHP.
Spearheading the ECCMID session was Lars Engstrand, research director at Sweden's Karolinska Institute and director of KI's Center for Translational Microbiome Research (CTMR). Engstrand founded the MMHP alongside Mathias Uhlén, a professor of microbiology at the KTH Royal Institute of Technology in Stockholm, who at the time held a part-time post at the Technical University of Denmark (DTU).
Engstrand recalled that Uhlén, who helped get the Human Protein Atlas off the ground nearly two decades ago, pointed out in 2019 that the life sciences field was lacking a similar human microbiome atlas, despite the fact that numerous research studies have shown how important the microbiome is to human health.
As such, Engstrand, Uhlén, and others started considering how to lay down a foundation for such a microbiome atlas, and decided on shotgun metagenomic sequencing of human samples, particularly after visiting scientific collaborators in China and MGI Tech in Shenzhen.
"We had seen the incredible capacity for sequencing [in Shenzhen], and lower price [than other methods], meaning it could be possible to scale up this research," Engstrand said.
Initial collaborators on the project included Karolinska Institute of Sweden, DTU, BGI-Research (a sister company of MGI under the BGI Group umbrella), the Shanghai National Clinical Research Center for Metabolic Diseases, the University of Copenhagen, MetaGenoPolis at France's INRAE, and the Latvian Biomedical Research and Study Center.
The MMHP officially launched at the International Conference on Genomics in October 2019, with the goal of sequencing and analyzing 1 million human microbial samples in three to five years and drawing a draft map based on about 100,000 samples by 2021. The group was well on its way to meeting these goals, having finished the first batch of about 10,000 samples in a relatively short period of time, but then the COVID pandemic hit and derailed the project.
Now, the project is again operating full steam ahead, with 21 institutions participating throughout Europe and a total of nearly 57,000 samples sequenced, mostly from stool samples. Engstrand noted that the shotgun metagenomic sequencing workflow uses mostly MGI equipment, including sample transfer and prep using the MGISTP 7000 and the MGISP 960, respectively, and sequencing on the DNBSeq-G400 platform. The entire protocol takes about 2.5 days from start to finish.
Engstrand said that an analysis of the DNBSeq platform's performance for the first 10,000 samples revealed it had high intra-platform reproducibility, and a high level of consistency with other sequencers from Illumina, Thermo Fisher Scientific, and Oxford Nanopore. In the end, the DNBSeq showed the best balance of throughput and high-quality data, he noted.
As GenomeWeb reported last June, the DNBSeq-G400 has been retrofitted with software that makes it compatible exclusively with the company's new HotMPS chemistry as part of MGI's strategy to reenter the European market and sidestep a preliminary sales injunction stemming from a patent infringement lawsuit with Illumina. At the time, Engstrand had presented comparison data that was generated at MGI's Riga, Latvia, facility because of the aforementioned injunction. This week, he said that sequencing for the project is currently being performed in Riga as well as in Stockholm and Copenhagen. An MGI Tech spokesperson later confirmed that the firm's sequencers are currently available in several European countries, including Sweden, and only with the HotMPS chemistry.
Engstrand noted that the MMHP organizers also recently posted a white paper outlining the project and its criteria for participation, and that it is actively looking for research groups to participate by providing sample cohorts.
The MMHP prefers that new participants provide large cohorts of several thousand samples, and it is attempting to collect multiple categories of metadata to associate with each sequenced sample, including the geographic source of each sample, age, gender, body mass index, and whether a sample is from a healthy or diseased individual. The project is also looking to expand its sample cohorts beyond the gut to other regions of the body such as the oral cavity, vagina, and skin.
Samples should also be part of ongoing research projects that dovetail with the MMHP's pursuit. Engstrand noted that his own organization, KI's CTMR, exemplifies this with its microbiome biobank that leverages the data for therapeutic R&D. "We are convinced microbiomics will be part of precision medicine in the future," he said.
During the MGI-sponsored ECCMID session, three other researchers similarly outlined their work and how it fits within the scope of the MMHP, including Stanislav Dusko Ehrlich of INRAE's MetaGenoPolis, whose group is attempting to gather more data on microbiome strain similarities in the gut and oral microbiomes; Mathieu Almeida of MetaGenoPolis, who is attempting to standardize gut microbial population exploration in French populations and cross-reference it with nutritional and clinical data; and Susanne Brix of DTU who is exploring early-life host-microbiota interactions, such as microbiota transmission to children from their mothers via breastfeeding.
Benefits to participating in the project include having access to a standardized microbiome analysis protocol — Engstrand explained that sample prep, extraction, and bioinformatic analysis are all crucial components that need to be consistent across sequencing experiments. Participating organizations and researchers also will have early access to consortium-generated data and receive co-authorship on the many anticipated published research papers.
Funding for the participating research projects and cohort development are the responsibility of individual institutions and research groups, but Engstrand noted that the shotgun metagenomic sequencing will be provided by the MMHP at an "attractive price," though he declined to elaborate.
Finally, Engstrand said that ongoing challenges of the project include data transfer and processing, as well as GDPR-related data privacy issues. Although data has been generated for nearly 60,000 samples thus far, none of it has been deposited in the MMHP database due to these challenges. "I see us achieving this soon," he said.