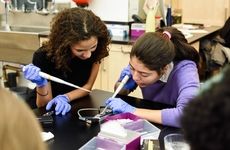 This article has been updated to clarify that Oxford Nanopore provides online customer support for its MinIon starter pack.
NEW YORK (GenomeWeb) – Children are getting exposed to complex technologies at ever younger ages, with four-year-olds confidently navigating their parents' tablet computers and kindergarteners exploring the world of coding with programming languages such as ScratchJr. Now a startup called PlayDNA is beginning to make DNA sequencing look like child's play.
Earlier this month, the company, founded by Sophie Zaaijer, a postdoctoral fellow at the New York Genome Center, and her adviser Yaniv Erlich, an assistant professor of genomics and computer science at Columbia University and a principal investigator at the NYGC, took a small DNA sequencer — Oxford Nanopore Technologies' MinIon — into a classroom of seventh graders for a hands-on science unit called "The Secret Life of Pickles" that the kids had been working on since February. It was likely the first time that kids as young as 12 and 13 years sequenced DNA at their school.
Following the pilot project with the Village Community School, a private school in the Greenwich Village neighborhood of Manhattan, PlayDNA plans to offer study units that involve DNA sequencing — including a curriculum, a kit with all necessary equipment, and software for data analysis — to middle and high schools around the nation. Longer term, the firm might also facilitate large-scale citizen science projects that involve several schools and expand its business to universities and other customers.
To develop the pilot project, which will continue for another school year, PlayDNA has been working with a curriculum expert, Audrey Boklage, who is based in Austin, Texas. "The curriculum is written in such a way that the teacher doesn't need to be a specialist in order to adopt it," Zaaijer said. "Every teacher should be able to get the curriculum and instantly be able to understand it and teach it."
PlayDNA's goals fit in with Oxford Nanopore's mission to make its technology accessible to a wide range of customers, beyond science laboratories. On its website, Oxford Nanopore states that "in the future, any science student should be able to use DNA sequencing technology as a tool to learn about biology and to participate in serious science projects that have their own impact on the research community."
Two years ago, Zaaijer, PlayDNA's acting CEO, and Erlich had already explored nanopore sequencing in an educational setting, using it as part of a course called "Ubiquitous Genomics" for undergraduate and graduate students at Columbia University, more than half of them with a computer science background. Last year, they published details about the course in eLife.
That project, Zaaijer said, formed the basis for developing something similar for students in middle and high schools, adding that the technology has matured enough to allow this. The idea is not just to provide youngsters with some cool new genomics gadget but to teach them in an engaging way how to generate and analyze large datasets, a skill that's becoming increasingly important in today's data-driven world. As such, the courses offered by PlayDNA will not only include biology lessons but also instruction in coding, allowing the students to analyze their sequencing data properly.
Teaching data science to school-age students can be a challenge, though. "If you give a 12-year-old or a 15-year-old a table with 10,000 rows and 50 columns, they will first panic and then be utterly bored because it doesn't speak to them," Zaaijer said. "There is no true engagement."
What she likes about the Oxford Nanopore sequencer is that it generates data in real time, so the students can watch on the computer how a large table of data — in this case, reads of DNA molecules passing through a nanopore — builds up in front of their eyes. "That's meaningful to the students because they understand where these data are coming from, and it happens in class," she said. The aim is "not to teach data science as an independent entity but as a vehicle to get from a question to the answer," she added.
For the ongoing pilot project, Zaaijer teamed up with Hristo Pepelanov, a science teacher at the Village Community School for several years. The two had met somewhere unrelated to their work and "when I heard about the project, I thought 'We need to do this'!" Pepelanov said. "Genomics is a field that's exploding," and he felt that a DNA sequencing project would perfectly complement what he was already teaching his seventh grade students about cell biology as part of their year-long life science course. Moreover, by exposing them to genomics and the analysis of big data early, he is hoping "to teach students skills for jobs not yet created."
For the "Secret Life of Pickles" unit, which stretched over multiple class periods and involved a number of hands-on projects, students learned about topics such as fermentation, microbiomes, different types of bacteria, taxonomy, DNA, genomes, and — last but not least — the basics of Oxford Nanopore's technology, including how ion current differences are translated into base calls.
Along the way, they extracted DNA from strawberries, grew bacteria on agar plates, learned how to use micropipettes, made serial dilutions, measured pH, and coded with Python. They also started making their own pickles by putting cut-up cucumbers into test tubes with brine that either did or did not contain a starter culture of bacteria.
The final experiment was to sequence DNA extracted from the brine in order to determine what species of bacteria were growing in the two test tubes on day 0 and day 6. Since sample and library preparation currently still involves instrumentation, like a centrifuge, that is not readily available in a classroom — though Oxford Nanopore is working on a sample prep device that will change that — Zaaijer prepared the sequencing libraries in the laboratory.
During a mid-afternoon science class at VCS last week, eight seventh graders — the usual class of 17 students was divided into two groups for this day — were busy preparing for their sequencing experiment by practicing pipetting with a micropipette, much like first-year graduate students in a lab would do. A bunch of old MinIon machines and flow cells were sitting on their table, allowing each kid to examine the candy-bar-sized instrument closely and locate the port through which they would load their DNA sample.
When it came time for the experiment, the students and their teacher huddled around a table with a working MinIon, connected to a laptop computer, and the two students who had won the pipetting contest for being the most accurate were chosen to first put in the fuel solution to activate the flow cell and, a few minutes later, the DNA library.
After naming the sample in the MinKnow software and pressing "execute", the experiment proceeded and data recording started. On the screen, the students were able to check the 512 channels containing the nanopores — at one point, 370 channels were active and 20 strands of DNA were going through pores — and they could zoom into individual channels to view the ion current changes caused by a single DNA molecule.    
The class ended before the run was complete – for this project, data were collected for about three hours, though runs could be longer or shorter. During the following lesson, the students will receive a spreadsheet with a couple of thousand or so rows of data, each row from a DNA read with information such as the time it came off the sequencer and its quality. Also included for each read is a taxonomy identification number that shows what bacterial species the DNA came from, though a number of reads usually remain unclassified.
Students will then analyze their data, for example determine which bacterial species appears to be most abundant, whether there are differences in species between the sample that contained the starter culture and the one that did not, and how their bacterial composition changes over time. For their final report, they will also learn how to visualize their data with charts and graphs.
Asked what they liked most about the DNA sequencing unit, students said they enjoyed the hands-on learning, and the fact that this unit has more labs than previous ones. Several students said that if they had the opportunity to sequence anything they wanted, they would like to explore their own DNA. 
Zaaijer, who has been observing the classes and helping out when needed but not teaching the unit, said she is still learning what works best. For example, the class did not get far enough with Python coding in the time allotted this year to be able to use their coding skills to analyze their data, so coding lessons will likely be expanded next year.
The plan is to repeat the "Secret Life of Pickles" project with an optimized curriculum with next year's seventh graders at VCS, and to add another, "Crime Scene Investigation"- type project with eighth graders.  Eighth graders might also be able to use DNA sequencing as part of a science fair project, and they will learn more about the ethical aspects of genetic testing, Pepelanov said.
After the coming school year, PlayDNA plans to expand to other schools. Zaaijer said she is interested in talking to schools about their needs now, "so we can make something that's meaningful and that schools want to use."
This summer, the company also plans to move into its own space. Zaaijer was just accepted to the Runway Startup Postdoc Program at the Joan & Irwin Jacobs Technion-Cornell Institute, which helps recent PhDs start their own companies. The institute is part of Cornell Tech, a partnership between Cornell University and the Technion-Israel Institute of Technology.
As part of the program, which lasts between one and three years, postdocs receive a $175,000 package that includes their salary, a housing allowance, research funding, mentorship, workspace and office equipment, intellectual property registration, and business classes.
Cornell Tech is currently completing a new campus on Roosevelt Island, and PlayDNA plans to move there this summer. A big part of the company's initial work will be to develop the curriculum and analysis software further. This will include building an online user interface with customized analysis pipelines and dedicated visualization software.
For high schools, PlayDNA's curriculum will need to be modified, though Zaaijer believes that will not be a major challenge. "The hardest thing is to simplify science," she said. "Once we are able to engage 12- and 13-year-olds, it's almost easier" to expand. "Making it more complex is not as hard as making it really simple."
Eventually, PlayDNA plans to ship schools a kit that contains everything they need to start sequencing, including a MinIon sequencer, computer adapters, micropipettes, pipette tips, tubes, and reagents. Along with that, there will be instructional videos on how to perform each step in the experiment. "It needs to be a low barrier for the teacher," Zaaijer said. "Most teachers, from what I have seen so far, don't have time."
Pricing for schools has not yet been determined, and Zaaijer said it depends on how much of the PlayDNA curriculum a school wants to adopt, and how many students it wants to gain hands-on experience. Teachers will be able to choose, for example, between implementing the entire curriculum, over a span of four months, or picking individual modules that can be taught in less time.
Pepelanov said he believes the curriculum could be adapted to larger classrooms — a typical science class in a New York City public middle school, for example, has more than 30 students rather than 17 students — with some modifications. "The teacher is the one who has to want to do it," he said.
Based on Oxford Nanopore's current pricing for the MinIon, schools will likely need to come up with at least a four-digit dollar amount: a starter kit that includes a MinIon, two flow cells, a sequencing kit, and a wash kit currently costs $1,000, which includes the company's online customer support. However, prices for a smaller flow cell called Flongle that Oxford Nanopore is currently developing might be lower.
PlayDNA is currently in discussions with potential investors, Zaaijer said, though nothing has been finalized yet. In addition, it is talking to Oxford Nanopore, which has not been involved in the development of PlayDNA's curriculum or its pilot project, about a potential partnership.
On its website, Oxford Nanopore states that it currently "supports a small number of educational projects so that we can understand how educators will use the technology, the packages that will be most useful, and the forms of support that maybe required. We look forward to expanding our relationships with the education community in 2017."
Besides PlayDNA, others are also exploring how to bring DNA sequencing to schools. Kim Judge, a senior staff scientist at the Wellcome Trust Sanger Institute in the UK, for example, recently worked with students from a biology lunchtime club at The Perse School, a private school for students ages 3 to 18 in Cambridge, UK, where they used the MinIon to identify the types of fruit in a "mystery smoothie." Working with plant DNA turned out to be difficult, she said, but they were able to obtain sufficient sequencing data to determine the fruit. She also recently went back to her own high school, the Bishop Stopford School in Kettering, UK, for another project, where the students extracted and sequenced DNA from microbes in kefir. "Certainly I am keen to do more projects like this," she said, with the next one lined up for early June, but she currently has no plans to spin out a company. 
At VCS, the project might have sparked a love of science at least in some students. "One of the kids said, 'Can I work in Sophie's lab this summer?'" Pepelanov said.