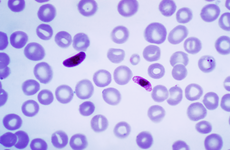 NEW YORK (GenomeWeb) – Resistance to antimalarial drugs appears to have arisen in Plasmodium falciparum parasites in Southeast Asia long before it was actually recognized in the region, according to a new genomic analysis published yesterday in the Lancet Infectious Diseases.
"Our study shows that modern genomic surveillance can detect patterns of resistance much sooner than was possible in the past, providing vital information and allowing public health officials to respond as soon as possible," co-corresponding author Dominic Kwiatkowski, a researcher affiliated with the Wellcome Trust Sanger Institute and Oxford University, said in a statement.
Kwiatkowski and his colleagues compared new and available genome sequences for almost 1,500 P. falciparum parasites collected in Southeast Asia. The sequenced set included hundreds of isolates collected in Cambodia between 2007 and 2013, spanning a period when a dihydroartemisinin and piperaquine (DHA-PPQ) combination treatment was introduced in 2008.
Although resistance to DHA-PPQ treatment was officially documented in western Cambodia in 2013, the team's results revealed dozens of independent drug-dodging mutations in Cambodian malaria parasites, including some that stretched back to 2008 — the same year the country adopted the drug combination. The genetic profiles hint that DHA-PPQ resistance spread beyond western Cambodia, to northern parts of the country and elsewhere, in around 2012 to 2013.
The study "reveals that resistance to the combination therapy appeared almost as soon as that treatment was introduced as the official first line therapy and that it spread steadily and aggressively after that," first author Roberto Amato, a researcher affiliated with the Wellcome Trust Sanger Institute and Oxford University, said in a statement. "Various factors allowed the extent of this outbreak to stay under the radar for years, but we show it is now possible to use modern genomic technologies to get a full picture of an outbreak."
Using Illumina short read sequencing, the researchers did genome sequencing on 497 P. falciparum clinical samples collected in Cambodia between 2010 and 2013. To that, they added genome sequence data for P. falciparum isolates from 11 Southeast Asian sites, analyzed through the MalariaGEN genomic epidemiology network.
The full set of 1,492 P. falciparum genomes included 464 isolates from the western Cambodian region where DHA-PPQ treatment resistance was initially documented, with isolates spanning 2007 to 2013.
The researchers' analyses uncovered dozens of drug resistance mutations. In the case of artemisinin resistance, which appeared to have arisen at least 24 times in Cambodia, mutations most often appeared in or around the kelch13 locus, while piperaquine resistance most often involved amplifications at the plasmepsin 2-3 locus.
Across the complete Southeast Asian parasite set, they saw artemisinin resistance-related kelch13 mutations in some 46 percent of the P. falciparum isolates considered. That proportion jumped in isolates from western Cambodia, where kelch13 mutations turned up in 40 percent of isolates analyzed from 2007 and 84 percent of the western Cambodian isolates collected in 2013.
The authors noted that a kelch13 mutation haplogroup known as the KEL1 lineage was particularly common in western Cambodia, again becoming far more prevalent between 2007 and 2013. "The lineage appears to have spread through the parasite population by recombination," they wrote, noting that KEL1 "is found in parasites that are considerably different at the whole-genome level."
Based on these and other findings, Kwiatkowski noted that there is "an urgent need to provide national malaria control programs with the tools for active genomic surveillance that will help to detect new emergences of resistance as soon as they arise, and thereby reduce the risk of a major global outbreak."
In a related commentary, Pasteur Institute malaria researcher Didier Ménard and co-authors from other centers in France noted that "results of this study are reminiscent of the evolution of chloroquine resistance, wherein multiple P. falciparum chloroquine resistance transporter (Pfcrt) alleles emerged in southeast Asia before one allele … eventually spread to Africa, leading to millions of deaths."
Even so, they expressed confidence that "genomic studies will help to streamline the use of antimalarial drugs and improve local anti-malaria strategies through identification of weak points in the parasite populations."