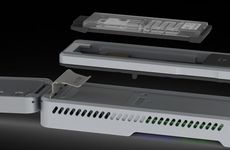 NEW YORK (GenomeWeb) – Oxford Nanopore Technologies yesterday provided several updates on its technology development and commercialization plans, including a new MinIon flow cell, called Flongle, for clinical diagnostic applications.
Clive Brown, the company's chief technology officer, presented the updates last night at the firm's user meeting in London. While his talk was not public, Oxford Nanopore disseminated much of the information through a series of Twitter messages.
Regarding the MinIon sequencer, Brown said that the company now obtains more than 20 gigabases of data per 48-hour flow cell run, while output has varied for users, with yields up to 16 gigabases. Limited customer output is partially related to library preparation, in particular proper quantification of size and amount of starting DNA, according to Brown, and the company is now putting together recommendations for protocols and workflows.
It is also working on new methods for sequencing or detecting specific DNA targets, involving tethered probes and a motor protein or tethered probes alone, and customers will be able to design their own panels, he said.
Back in March, the company had talked about a new sequencing method, called 1D2 sequencing, where both strands of a double-stranded template are pushed through the nanopore sequentially without being physically connected. The method circumvents a patent held by Pacific Biosciences and results in more accurate reads than 1D reads, where only one strand of a template is sequenced.
Oxford Nanopore plans to release the 1D2 sequencing kit on May 8, along with a new flow cell, called R9.5. Effective immediately, 2D kits are no longer available, and the company will discontinue the old R9.4 flow cells on May 15, though the R9.5 flow cells are backward compatible with existing 1D kits.
Overall, raw read accuracy is now above 90 percent for R9.4 flow cells and above 95 percent with R9.5 flow cells and 1D2 reads, with both flow cells operating at a speed of 450 bases per second, according to the company.
Along with the new flow cells and kits, the company has released version 1.6 of its MinKnow software and version 1.1 of its Albacore basecaller. In addition, it recently broadly commercialized direct RNA sequencing kits and an analytical workflow for antimicrobial resistance profiling called ARMA.
Starting in August, the company plans to ship flow cells at ambient temperature, rather than cooled, and it is currently testing how improved packaging can extend their shelf life. It is also working on ways to ship reagent kits at ambient temperatures, using freeze-dried components.
Brown also said that the firm has developed a prototype of a small, low-cost, one-time-use flow cell for the MinIon, called Flongle for "flow cell dongle," for clinical applications and applied markets, such as sample identification, strain identification, or enriched DNA panels. Oxford Nanopore is currently pursuing regulatory approval for diagnostic applications for the Flongle, which will come with either 128 or 256 channels.
The firm is also developing a version of the Flongle that will have solid-state instead of protein-based nanopores, to be used for measurement-type rather than discovery-type applications, Brown said, for example direct detection of proteins, DNA probes, or other markers. The pores will have a diameter between 2 and 20 nanometers.
Brown said development of the Flongle will also help the company's work on the SmidgIon, a miniature sequencer with small flow cells that is powered by a mobile phone. The company said it has already demonstrated that the MinIon can be run off a smartphone.
The firm is also developing a small compute module for basecalling, about half the size of the MinIon sequencer, that can be connected to the MinIon.
Oxford Nanopore's VolTrax sample preparation device is now in the hands of more than 50 early-access users who recently received their first chemistry kits, Brown said. The company is currently developing a rapid transposase-based kit and a kit for four-plex rapid barcoding for the device.
Company researchers are already working on a new version, VolTrax V2, that is expected to be available at the end of 2017. That version will enable PCR, sample quantification, and sample quality control, while using the same magnets and heaters as the current version. It will also be able to handle more samples and run more complex sample prep protocols. It will come with a reagent loader with lyophilized reagents and resuspension buffers.
Finally, Brown talked about two Oxford Nanopore spinouts. Genome Foundry, a company spun out last year, is working on DNA synthesis methods and will disclose more information later this year, he said. Metrichor, the other spinout, provides analysis solutions for applied markets, including the EPI2ME platform, which is already used by MinIon users for real-time analyses of, for example, microbial sample content.
In March, Oxford Nanopore had announced the launch of the GridIon X5, a desktop nanopore sequencer that can run up to five flow cells at a time and will have an initial output of up to 100 gigabases of sequence data per 48-hour run. The platform comes with a local high-performance compute cluster that allows for real-time basecalling and data analysis, and the first unit will ship on May 15, Brown said.
The company recently used the GridIon to sequence a human genome – Brown's own – to 20x coverage depth, using five flow cells and the current R9.4 chemistry and 1D reads. The plan is to repeat the experiment in the near future, using new R9.5 flow cells and 1D2 reads. Brown pointed out that the field-programmable gate array (FPGA) co-processor used by the GridIon allows for much faster data processing than other types of chips, up to a million bases per second.
Oxford Nanopore had also said in March that a subset of customers of its PromethIon platform, the high-throughput nanopore sequencer, would start receiving their first flow cells in early April, but the firm provided no update on that rollout. PromethIon flow cells are getting close to generating 50 gigabases of data, according to Brown, and could generate up to 120 gigabases per day in the future. Once the instrument can run 48 flow cells in parallel – the initial version will be able to run 24 flow cells – it will be able to generate more data than Illumina's NovaSeq, he said.
The company reiterated that the PromethIon hardware will evolve over the next year, with the current alpha system being replaced in the third quarter with alpha/beta systems that have a separate compute module for real-time basecalling, followed by a beta system in the fourth quarter and a commercial system called MKI in 2018 that integrates the compute module.