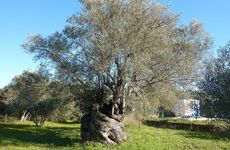 NEW YORK (GenomeWeb) – A team of researchers from Spain has sequenced the genome of the olive tree, Olea europaea, paving the way for new research to better understand differences among olive varieties, why the trees live so long, and how they can be protected from disease.
The team, led by researchers at the Centre for Genomic Regulation (CRG) at the Barcelona Institute of Science and Technology, the Royal Botanical Garden of Madrid, and the National Center for Genome Analysis (CNAG-CRG) in Barcelona, published a draft assembly of the olive genome in GigaScience today. Funding for the project came from the bank Banco Santander.
Olive trees were first cultured about 6,000 years ago and are important contributors to the economies of several Mediterranean countries, with Spain being the leading global producer of olive oil, generating about a million tons of oil per year.
The researchers chose to sequence the DNA of a tree of the Farga variety that originated in Eastern Spain and was estimated to be about 1,200 years old. They generated 543 gigabases of data from whole-genome shotgun sequencing and fosmid library sequencing, using Illumina equipment with different combinations of mate pair and paired-end libraries.
After assembling the sequence data, derived from the tree's 46 chromosomes, they obtained a genome with a total length of 1.31 gigabases, with a scaffold N50 of 443 kilobases, representing 95 percent of the estimated genome length of 1.38 gigabases.
They also performed RNA sequencing in leaf, root, and fruit tissues at various stages and used those data to annotate the genome. Overall, they discovered 56,000 unique protein coding genes, suggesting a recent genomic expansion.   
The draft assembly will serve as a valuable resource to study the evolution and domestication of the olive tree, the authors wrote, and will allow them to study the genetic basis of key phenotypic traits. In addition, they said, it will enhance breeding programs, which could lead to new olive varieties.
The next step will be to study the evolutionary history of the olive tree, which is available in nearly 1,000 varieties today. Knowing the evolution of trees from different countries will help researchers understand how they have adapted to different environmental conditions, and might explain their great longevity — olive trees can live for 3,000 to 4,000 years.