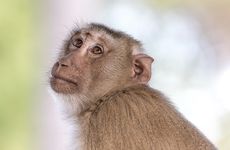 NEW YORK – Investigators at BGI-Shenzhen and other centers in Asia, Europe, and the US have developed a single-cell transcriptomic atlas spanning dozens of adult tissue types in a non-human primate, the Macaca fascicularis, commonly known as the cynomolgus monkey, crab-eating monkey, or long-tailed monkey.
"This is the first study presenting [a] cell atlas of a non-human primate," co-senior and co-corresponding author Longqi Liu, a researcher affiliated with BGI-Shenzhen, Shenzhen Bay Laboratory, and Zhengzhou University, said in an email, adding that the work "will help accelerate the understanding of human diseases and drug screening, and pre-clinical trials of drugs."
As they reported in Nature on Wednesday, the researchers did single-nucleus RNA sequencing and/or single-cell RNA-seq with BGI's DNBelab C4 single-cell library platform to profile more than 1 million cells isolated from 45 M. fascicularis tissues, representing five male and three female M. fascicularis monkeys. The resulting collection marks a broader organ set than those described in earlier single-cell expression atlas collections generated in mice or humans, according to Liu, while offering enhanced gene capture and reduced cell type biases.
The team used this collection to start exploring everything from cell-cell interactions and related signaling patterns to viral receptor sites across the tissues tested. Along with Wnt signaling analyses, for example, the investigators delved into co-expression patterns in cells with high expression of the ACE2 and TMPRSS2 receptors that the SARS-CoV-2 protein uses to access host cells.
"In addition to ACE2 and TMPRSS2, numerous other molecules have been implicated in facilitating SARS-CoV-2 binding to the cell surface or in COVID-19 pathogenesis," the authors explained. "Their expression or co-expression in monkey tissues, other associations, and virus-host interactions, as well as interspecies differences" can be studied on the Non-Human Primate Cell Atlas (NHPCA) website, they added.
The cross-tissue transcriptome set also offered clues to infectious disease susceptibility and genetic disease in humans, the team explained, through analyses on the orthologs of human genes in the cynomolgus monkey.
"In the future, the NHPCA database will be extended with additional omics layers and datasets from disease modeling studies and aging," the authors concluded. "It will also be relevant to compare our M. fascicularis atlas with future cell atlases from humans and other non-endangered [non-human primates]. Altogether, this information will be instrumental for advancing knowledge of primates."
The authors noted that comparisons between the newly generated M. fascicularis cell atlas and similar datasets generated for humans and other non-human primates may help in understanding primate biology and evolution, for example, including the advent of human features.
"[W]e believe systematic comparison across species at cellular level is important to understand the complexity of life and our own species," Liu said, "in particular how organs evolved during the long history of evolution and why the organ structures and functions are different among species."