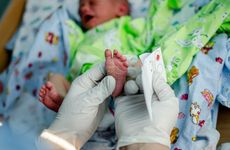 NEW YORK – Findings from a retrospective study in California suggest exome sequencing on newborn blood spot samples holds potential for uncovering inherited inborn errors of metabolism (IEM) in a manner that complements conventional mass spectrometry-based newborn screening tests.
As part of the NBSeq project, researchers at the University of California at Berkeley, the University of California at San Francisco, and elsewhere tapped into dried blood spot samples in the California Department of Public Health biobank, representing millions of infants tested for IEM between 2005 and 2013.
The researchers selected a subset of dried blood spots from 1,200 deidentified newborns for exome sequencing in discovery and validation stages of the study. That set included more than 800 newborns with known IEMs, they explained, along with 385 infants who had false-positive IEM results with tandem mass spec-based screening.
"This study represents the largest, to date, sequencing effort of an entire population of IEM-affected cases, allowing unbiased assessment of current capabilities of [whole-exome sequencing] as a tool for population screening," co-senior authors Steven Brenner, at UC Berkeley and UCSF, and Jennifer Puck, at UCSF, and their colleagues wrote in a paper published in Nature Medicine on Monday.
Based on analyses focused on 78 genes previously implicated in four-dozen forms of IEM that are currently included in newborn screening programs in California, the team found that the exome sequencing-based strategy could pick up authentic IEM with 88 percent sensitivity, compared to 99 percent sensitivity with tandem mass spec-based testing. The exome sequencing screening arm of the study uncovered IEMs with more than 98 percent specificity, while the established tandem mass spec screening method had a specificity of 99.8 percent for detecting IEMs.
Based on these and other results from the NBSeq analysis, the authors suggested that "[whole-exome sequencing] alone was insufficiently sensitive or specific to be a primary screen for most [newborn screening IEMs]. However, as a secondary test for infants with abnormal MS/MS screens, [whole-exome sequencing] could reduce false-positive results, facilitate timely case resolution, and in some instance, even suggest more appropriate or specific diagnosis than that initially obtained."
The NBSeq program began with a five-year pilot study at UCSF that centered on the potential applications and implications of exome sequencing to find and better understand metabolic and immune conditions in infants — an initial effort that received some $4.5 million in funding from the National Human Genome Research Institute and the National Institute of Child Health and Human Development in 2013.
UCSF's Puck provided an update on the program at a National Institutes of Health "Newborn Sequencing in Genomic Medicine and Public Health" (NSIGHT) public session last spring. In particular, she noted that while the sensitivity of exome sequencing was lower than conventional mass spec-based screening for IEMs, the sequencing method did uncover variants not reported in the past, providing a clearer look at the genetic alterations that may contribute to such conditions.
In the new paper, she and her co-authors noted that the NBSeq results "illuminated the genetic landscape of IEMs in California," while highlighting the population screening potential of newborn sequencing and related considerations.
"[Newborn sequencing] IEMs provide an ideal model for evaluating the role of sequencing in population screening because most are Mendelian disorders affecting well-understood biochemical pathways, and many have been studied extensively," they wrote, noting that "sensitivity and specificity of sequence-based detection of IEMs can be directly compared to those of current MS/MS screening."