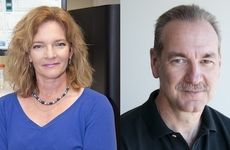 NEW YORK (GenomeWeb) ­– Nationwide Children's Hospital in Columbus, Ohio, said today that it has recruited Richard Wilson and Elaine Mardis to spearhead and help grow its genomic medicine program.
Wilson and Mardis are the current director and co-director, respectively, of the McDonnell Genome Institute at Washington University in St. Louis, which at its inception was one of four genomics centers in the US funded by the National Human Genome Research Institute. Nationwide Children's said that the duo will join the hospital this fall.
The recruitment of Wilson and Mardis was made possible by a new $10 million gift provided to the Nationwide Foundation Pediatric Innovation Fund by the Nationwide Foundation. The foundation has contributed $80 million to Nationwide Children's since 2006, including $30 million specifically to the Pediatric Innovation Fund, which is designed to accelerate the most promising pediatric research and clinical discoveries at Nationwide Children's.
Nationwide Children's also said that it is using money from the Pediatric Innovation Fund to purchase next-generation sequencing equipment.
"Attracting the team of Dr. Wilson and Dr. Mardis to lead our genomics program is one of the most significant scientific recruitments in this organization's history," Nationwide Children's CEO Steve Allen said in a statement. "Their leadership, combined with our existing expertise, will establish Nationwide Children's Hospital as the nation's pre-eminent genomic medicine program. The Nationwide Foundation's visionary support has uniquely positioned Nationwide Children's to assume a leadership role in this new era of genomic-based medicine."
Wilson co-founded the McDonnell Genome Institute in 1993, the same year that Mardis joined WUSTL as director of technology development for the institute.
In 2008, their team became one of the first to use next-generation sequencing to compare a cancer patient's tumor DNA with normal tissue DNA to help identify mutations driving cancer growth. Their team has also been integral to the St. Jude-Washington University Pediatric Cancer Genome Project, which to date has sequenced the genomes of cancerous and normal cells from more than 800 children with cancer.