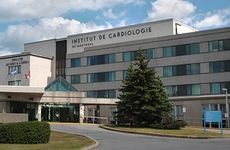 NEW YORK (GenomeWeb) – The Montreal Heart Institute's Cardiovascular Genetics Center has implemented testing for genetic cardiovascular conditions using next-generation sequencing in an effort to serve a largely unmet need in the cardio diagnostics field.
The center, which has been open for several years now, began including NGS testing last week, Mario Talajic, director of the Cardiovascular Genetics Center, told GenomeWeb.
The center has validated a targeted sequencing panel that includes around 115 genes on Illumina's MiSeq instrument covering three main categories of genetic cardiovascular disease: arrhythmias, cardiomyopathies, and diseases of the aorta, Talajic said.
Prior to launching the NGS panel, the center had evaluated around 4,000 patients from 2,000 families. It expects to run 1,000 targeted sequencing tests this year and Talajic said that with the launch of the NGS panel, it expects to increase its capacity.
Talajic said that the Cardiovascular Genetics Center would serve a critical need for genetic testing in the cardiology field.
"There are a substantial number of patients who have severe conditions that are genetic in origin," he said. "These patients are often seen by general cardiologists, but they need specialized treatments" as well as genetic testing and genetic counseling, not only for themselves but also for family members, he said. Many of the genetic cardiovascular syndromes are monogenic, so other family members are at risk.
The center aims to "provide a comprehensive approach toward patients and families suspected of having a cardiovascular genetic disorder," employing medical geneticists as well as specialists in cardiac imaging and surgery, Talajic said.
Patients are typically referred to the center by family doctors or other cardiologists. The physicians at the center will do a complete evaluation of the patient as well as other family members before deciding whether or not to do genetic testing.
The center also gets referrals from coroners, particularly for cases of sudden death among young, healthy individuals, Talajic said. In those cases, he said, it is important to determine whether the individual died due to a genetic cardiovascular condition because other family members may also be at risk. In those cases, the coroner will send in a specimen for a molecular autopsy and the clinicians at the center will also evaluate other family members.
Talajic said that the center decided to employ a targeted panel because it wanted to ensure that the panel would be actionable, including only known genes. He said the team considered developing a clinical exome test, but opted for the targeted approach because "exome sequencing doesn't yet get you as reliable coverage," he said. However, as new gene discoveries are made and as the technology evolves, he said the group would revisit the idea of moving to exome sequencing.
The center also has a process to incorporate additional genes in the panel on an ongoing basis, Talajic said, ensuring that the most up-to-date information is captured in the panel.
Genetic testing for known genes can influence a patient's treatment or management, Talajic said. "For a lot of these disorders there's preventative therapy," he said. And testing can be especially important for asymptomatic family members of the patient. "You want to identify someone who's at risk and give them preventative therapy before catastrophe occurs," he said.
For example, for long QT syndrome, a monogenic arrhythmia disorder, there is very effective therapy available. "If you suspect a patient has long QT syndrome and you can identify the mutation, then you can identify who else in that family has the mutation and treat them with medication that dramatically reduces their chances of sudden death," Talajic said.
Aside from the original targeted panel to diagnose genetic cardiovascular diseases, the center is also looking to expand their NGS offerings and plan to develop a pharmacogenomics panel as well as a panel for disorders of cholesterol metabolism.
The pharmacogenomics panel will test patients for their ability to metabolize cardiovascular drugs. For instance, three SNPs in the CYP2C9 gene and the VKORC1 gene play a role in the metabolism of the common cardiovascular drug warfarin.
The cholesterol metabolism panel will include genes related to disorders such as hypercholesterolemia, which is characterized by a buildup of cholesterol in the blood.
Services at the center are free for patients, as the Canadian government funds healthcare, and are delivered by each of the 10 provinces. However, around 90 percent of patients seen by the Cardiovascular Genetics Center are from Quebec, Talajic said.