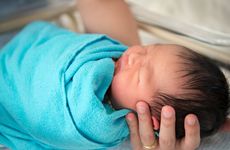 NEW YORK – New research suggests newborn screening strategies that include targeted panel sequencing as a first-tier test can pick up conditions and cases that would be missed with conventional approaches for testing dried blood spots.
As part of a prospective study published in JAMA Network Open on Friday, researchers at Shanghai Jiaotong University School of Medicine, BGI-Shenzhen, and elsewhere enrolled tens of thousands of newborns with an average gestational age of 39 weeks at eight newborn sequencing centers in 2021.
The newborns were screened using a targeted gene panel that encompassed 142 genes with ties to 128 diseases, the team explained. These diseases included conditions recommended in current newborn sequencing programs in China and beyond, along with rare conditions and inherited diseases for which carrier frequencies are high in the region.
"Of note, 85 diseases involving metabolic, endocrine, hematological, immune, neuromuscular, urologic, and ophthalmologic systems were included only in the gene panel," the authors noted, "while 43 diseases were included in both the biochemical panel and the gene panel."
When they used this gene panel to assess dried blood spot samples from 29,601 infants, the researchers identified 813 infants with pathogenic or likely pathogenic variants in the disease genes profiled. In their follow-up analyses, which included data provided prior to early July of 2022, they found that 402 of the infants flagged by newborn screening had been diagnosed with one of the conditions considered.
Dozens of cases uncovered with the targeted panel approach were either missed by biochemical testing or involved conditions that are not assessed biochemically, the team explained. Indeed, the group estimated that routine population-scale screening with the gene panel would pick up conditions that would be otherwise missed in one of every 500 newborns screened.
"These results suggest that gene panel sequencing is a promising approach to screen newborns for monogenic disorders and would provide a better outcome when incorporated into the current newborn screening program," the authors reported.
Traditional newborn screening efforts have largely focused on metabolic conditions, the researchers explained, noting that newborn screening for a condition called phenylketonuria goes back roughly six decades.
Given their findings so far, they suggested that the availability of panel sequencing may help expand the number of conditions considered for newborn screening, similar to expansions that have previously taken place as biochemical testing approaches improved.
"To our knowledge, this is the first study to incorporate gene panel sequencing into NBS as a concurrent first-tier screening strategy in a large population scale," they wrote. "Our study presents the outcomes of genetic NBS as a first-tier screening test in clinical settings, which is of great importance to clinicians, geneticists, and families for better healthcare and counseling."