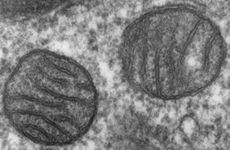 NEW YORK (GenomeWeb) – Mitochondrial DNA can in rare instances be paternally inherited in humans, a new study has reported.
In most mammals, mitochondria and mitochondrial DNA is inherited exclusively maternally. Though other organisms occasionally experience paternal mtDNA transmission, previous reports of paternally inherited mitochondria in humans have largely been attributed to contamination or sample mix-ups.
However, researchers led by Cincinnati Children's Hospital Medical Center's Taosheng Huang and the Mayo Clinic Hospital's Paldeep Atwal reported yesterday in the Proceedings of the National Academy of Sciences that they found biparental mtDNA inheritance in three families. The investigators also confirmed their findings at independent labs with different methodologies.
"This paper profoundly alters a widespread belief about mitochondrial inheritance and potentially opens a novel field in mitochondrial medicine," Huang, Atwal, and their colleagues wrote in their paper.
The researchers noticed an unusual result while analyzing the mtDNA of a four-year-old boy suspected to have a mitochondrial disorder. Though they uncovered no pathogenic or likely pathogenic variant in his mitochondrial genome, the researchers found that the boy harbored a high level of heteroplasmy — nine homoplasmic variants and 31 heteroplasmic variants. Of those 31 heteroplasmic variants, 10 variants had an average heteroplasmy level of 29 percent and 21 variants had the reciprocal, an average heteroplasmy level of 71 percent.
After ruling out sample mix-up, the researchers obtained blood samples from the boy's family and found that his sisters and his mother had the same heteroplasmy pattern. When they then analyzed the mtDNA of the boy's grandparents, they found that the boy's mother had inherited 21 variants from her mother and 10 from her father.
This, the researchers said, indicated biparental mtDNA transmission within a human family.
The researchers extended their analysis to include additional family members. Two of the boy's great-aunts and their children also harbored a similar mtDNA inheritance pattern.
Two other, unrelated families — one from Cincinnati Children's and one from Mayo — also shared this mtDNA transmission pattern. These families had also undergone investigation for potential mitochondrial disorders. In the second family, for example, the researchers found that the proband had inherited a mix of his grandparents' mtDNA via his mother.
This, the researchers said, confirmed biparental mtDNA transmission in three lineages. The work was done by different CAP-CLIA certified labs, and the labs used different primers to isolate mtDNA, though both relied in part on Illumina sequencing platforms and NextGene software for analysis. In addition, the team noted, the samples from the first family were also analyzed using Pacific Biosciences single molecular sequencing and by restriction fragment length polymorphism analysis.
This finding, the researchers added, raises the question of how such biparental mtDNA transmission takes place as these patterns appeared autosomal dominant-like.
They postulated that paternal mtDNA transmission likely involves a mutation within a nuclear gene that affects paternal mitochondrial elimination from the embryo. The lysosomal pathway and the endonuclease G pathway, they noted, have been linked to paternal mitochondrial elimination and alterations to them could affect that process.
Figuring out how this paternal mtDNA transmission occurs — and how often — could inform therapeutic treatments for mitochondrial disorders, the researchers added.
"Elucidation of the molecular mechanism by which this biparental transmission occurs will expand our fundamental understanding of the process of mitochondrial inheritance and may provide an alternative approach to minimize the consequences of the transmission of pathogenic maternal mtDNA in humans," they wrote. "Whatever the mechanism of this unusual phenomenon may be, it is clear that years of research will be required to fully understand and exploit the ramifications of this discovery."