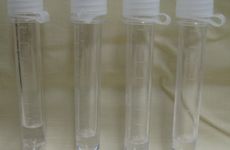 NEW YORK (GenomeWeb) – A team of researchers led by Memorial Sloan Kettering Cancer Center has developed a liquid biopsy approach using circulating tumor DNA (ctDNA) in cerebrospinal fluid to detect certain brain cancers.
The researchers believe the technique could help monitor the evolution and status of gliomas in patients who have undergone brain tumor surgeries and subsequent therapy. At the same time, the use of CSF, they said, could provide a more sensitive option for performing this type of liquid biopsy than is possible using blood.
In a study published Wednesday in Nature, investigators tracked traces of gliomas in CSF by collecting samples from 85 glioma patients who previously received a lumbar puncture because they showed neurological signs or symptoms of brain tumors.
Patient diagnoses included grade II glioma (13), grade II glioma (26), and grade IV glioma (54). All patients had received treatment for glioma before CSF collection, including surgery, radiation, and at least one systemic tumor-directed chemotherapy.
After extracting 3 milliliters of CSF from each patient through a spinal tap, the team ran the sample on a centrifuge to separate the pellets from supernatant, which contained ctDNA. While normal CSF typically contains a low white blood cell count, study principal investigator and MSKCC neurology research department co-chair Ingo Mellinghoff noted that including pellets dilutes the tumor signature in a sample.
According to Mellinghoff, the researchers used MSKCC's MSK-IMPACT next-generation sequencing assay to analyze samples for genes relevant to glioma.  Afterward, the team ran the results through a bioinformatics analysis pipeline, which included a mutation-calling element that MSKCC developed with the MSK-IMPACT.  
The researchers, Mellinghoff said, detected tumor-derived DNA in CSF from 42 out of 85 patients and found that the genetic material was linked to disease burden and adverse outcome.
The team also examined whether combinations of genetic alterations — lower-grade glioma signatures — that they detected in the CSF could be matched to the signature of the original tumor. Sequencing all available tumor biopsies from 36 patients who had positive CSF ctDNA, the researchers found that CSF and tumor samples shared mutations in all 20 patients with wild type glioblastomas (GBMs) that were not hypermutated.
Further analysis of CSF revealed a wide spectrum of protein-coding mutations, copy number alterations, promoter mutations, and structural rearrangements. The most common alterations in the samples included mutations in the TERT promoter, the protein coding regions of TP53, IDH1, deletions of CDKn2A and CDKN2B, amplifications of EGFR, and EGFR-variant III deletion.
To find out whether mutations detected in the CSF also existed in the patients' plasma, the group sequenced ctDNA from 19 patients with gliomas who were positive for CSF ctDNA. Using the MSK-IMPACT assay, the group captured at least one CSF mutation in each of the 19 patients. The group hypothesized that CSF can act as a better reservoir of tumor DNA than plasma in patients with glioma, since these tumors directly shed DNA into the CSF, and only indirectly pass it into the plasma.
"Compared to other liquid biopsy applications … cerebrospinal fluid has the potential to enable more sensitive detection of ctDNA because most of the cell-free DNA in CSF is shed from tumor cells," Michael Berger, study coauthor and associate director of MSKCC's Marie-Josee and Henry R. Kravis Center for Molecular Oncology, explained in an email. "There is very little background DNA from non-cancerous cells, in contrast to plasma where often only a tiny fraction of the cell-free DNA is actually derived from tumor cells."
As part of the study, the group also sent cytology samples to pathologists to identify tumor cells in CSF. Berger noted that the majority of ctDNA-positive CSF samples were negative for malignant cells by cytopathology. However, he emphasized that while measuring cell-free DNA in CSF may appear to be more sensitive than standard cytology, the group's dataset was too small to comment on actual bioanalytical sensitivity and specificity.
"It's actually remarkable if you think about it, as every time we did have cytology positive, that means when we found malignant cells in those patients, we also [had] cell-free DNA," Mellinghoff added. "The important part is that most of the cases that had tumor DNA in this fluid did not have abnormal visible tumor cells, which suggests that it maybe more sensitive to pick up a tumor signature."
The researchers pointed out that alterations that occur during early tumorigenesis in lower grade gliomas — including chromosome arms 1p and 19q co-deletions and mutations in the IDH1 or IDH2 metabolic genes — remained in all patients throughout the course of the disease. Other genes however, including growth factor receptor signaling pathways like EGFR or PDGFRA disappeared or changed over time.
According to Mellinghoff, the overall turnaround time to produce results using the centrifuge and MSK-IMPACT combination method can be as rapid as a few days, and he emphasized that the extraction and centrifuge steps only require about an hour.
However, the researchers acknowledged that the study had some limitations regarding detection, sample type, and overall sample-to-result speed. Berger said that the team encountered issues trying to find ctDNA because the normal amount is normally very low in collected CSF samples.
"Our data suggests that high tumor burden and tumor location near CSF spaces increase the likelihood of detecting ctDNA in the CSF, but more is needed to determine whether our method could be further improved to detect CSF ctDNA in an even higher fraction of glioma patients," Berger explained.
Limitations of CSF sampling
Harvard Medical School neurology professor Patrick Wen, who is not affiliated with the study, argued that the method the researchers used to collect CSF would only be effective in a small subset of patients with a tumor that has progressed past early stages of glioblastoma.  Wen, who is also the director of the center of neuro-oncology at the Dana Farber Cancer Institute, argued that extracting CSF isn't exactly safe for patients if they have developed a large enough mass in the brain.
"If there's a lot of pressure from the tumor, then you don't want to stick a needle in the back, because that allows the pressure to worsen, [leading] to what's called a herniation," Wen explained. "If there's a lot of mass in the brain, you can't [perform lumbar puncture] in all the patients that you might be interested in collecting samples from."
Massachusetts General Hospital Chief of Neurosurgery Bob Carter noted that another limitation the study researchers encountered included examining patients after radiation therapy. Carter, who is not affiliated with the study, argued that radiation treatment breaks down the blood brain barrier and "may influence the degree to which ctDNA is released."
Mellinghoff acknowledged that all the patients had undergone some form of treatment — including radiation therapy — for their brain tumors. He is therefore unsure whether the assay can detect faint traces of ctDNA in early stages, or if the tool should only be used to diagnose later stages of the disease.
"We've been lucky to have an assay in our institution that we've spent a lot of time developing," Mellinghoff said. "It might take a little while for everybody else to sequence the CSF, as it's not exactly trivial as tumor DNA, and logistics are a bit more cumbersome than tumor biopsies."
Overall, the researchers believe that tumor-derived DNA in CSF from patients with glioma may act as a comprehensive and genetically accurate representation of the tumor genome at the time of CSF collection.
In the future, Mellinghoff anticipates incorporating MSK-IMPACT as part of cancer drug evaluation studies as he believes the assay could be used to detect the emergence of drug resistance in brain tumors.
"When we have a specific clinical trial protocol with a new drug, we want to see what happens to the tumor during treatment," Mellinghoff explained. "We want to include [the assay] as one readout of potential drug activity and understand drug resistance."
In future studies, the researchers also aim to determine the earliest stage they can detect tumor-derived DNA in CSF. Mellinghoff believes that performing spinal taps to extract CSF at earlier stages — which require surgeons to insert Ommaya reservoirs in a person's spinal column — can lead to adverse complications. He hopes that clinicians will eventually develop an easier and less invasive method of collecting CSF from patients.
Berger explained that while MSK-IMPACT was approved by the US Food and Drug Administration for sequencing formalin-fixed, paraffin embedded tissue, using the assay for CSF will require a separate validation and approval as a new specimen type.
Mellinghoff said that his team is currently seeking regulatory approval for the liquid biopsy approach to be used as a laboratory-developed test. However, he noted that the team at MSKCC does not have any plans to seek 510(k) clearance from FDA for full commercialization.
According to the study authors, having the ability to track "the evolution of the glioma genome through a minimally invasive technique could advance the clinical development and use of genotype-directed therapies for glioma."
"A future study which looks at ctDNA in lumbar puncture prior to any therapy will be important to establish the concept of assaying nucleic acids in the CSF prior to therapy to use as a diagnostic tool," Mass Gen's Carter added. "However, on the flipside, this study provides important information about detectable mutations after treatment has been initiated and may offer the possibility in the future of tracking patient responses."
Wen noted that while the study results may lead researchers to perform additional studies involving CSF and "other important steps," the liquid biopsy field "has a long way to go" before clinicians can begin to trust the tests for detecting glioblastoma.
Carter's own team MGH's Brain Tumor Center has focused on developing combination assays that integrate ctDNA and extracellular vesicles, which contain RNA in the blood of brain tumor patients. However, he emphasized that all assays developed to track potential glioma biomarkers — including those examined in the current study — have benefitted from improved sequencing methods and understanding of key genetic markers to track cancer patient response.
"Although the authors (and our group and others) have focused on CSF initially because of the proximity of the body fluid to the tumor, the holy grail of this approach would be to have a blood-based assay." Nonetheless, Carter said that "CSF has much higher levels of tumor-shed nucleic acid than blood and has less contamination of DNA from other tissues, making it potentially a body fluid that will ultimately provide more information than the more difficult to achieve blood-based assay."