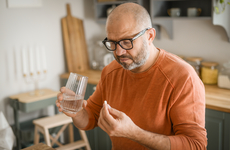 NEW YORK – A research team at Columbia, Maryland-based MedStar Health is testing whether pharmacogenetic insights can personalize treatments for patients suffering from chronic pain.
In the prospective study, dubbed Pharmacogenomics Applied to Chronic Pain Treatment in Primary Care, or PGx-ACT, investigators will assess whether patients expected to be intermediate or poor metabolizers for certain opioids due to mutations in the CYP2D6 gene achieve better pain control with PGx-guided care, in which pharmacists will encourage providers to think about alternative therapies.
The CYP2D6 gene encodes an enzyme that activates opioids like tramadol, codeine, and hydrocodone — the three drugs being studied in the PGx-ACT trial. Without a functional CYP2D6 gene, patients may not be getting effective treatment, explained Max Smith, principal investigator of the study and a clinical pharmacogenomics specialist at MedStar Health.
"This enzyme is important to turn these drugs on," Smith said, noting that tramadol, codeine, and hydrocodone are commonly prescribed today, but patients vary widely in how they respond.
Chronic pain, defined as pain that lasts at least three months, affects an estimated one in five adults in the US. To manage their pain, patients typically have to try out different therapy cocktails involving nonsteroidal anti-inflammatory drugs, antidepressants, and opioids. Figuring out optimal prescribing for pain medications is critical amid the ongoing opioid epidemic in the US and as patients are still dying from overdosing on addictive painkillers at high rates.
Researchers have completed enrollment into the PGx-ACT study, which involves about 250 patients already on hydrocodone, tramadol, or codeine and being treated for chronic pain in one of MedStar Health's 20 participating primary care clinics. Patients with documented opioid use disorder were not eligible to enroll in the study.
Enrolled patients were randomized to receive either PGx-guided care or standard care. Researchers are now following up with patients in the study and hope to have results later this year, Smith said.
All participating patients collect a cheek swab sample via an at-home kit and send them for analysis to Kailos Genetics, which is funding PGx-ACT with MedStar Health. Researchers then test these samples for abnormalities in nine genes with PGx implications, though the study focuses on CYP2D6.
For patients in the PGx-guided care arm, their treating primary care physician will receive PGx results and a consultation note from a pharmacist containing recommendations based on information from the Clinical Pharmacogenetics Implementation Consortium (CPIC), an internationally recognized guidelines body. It is ultimately up to patients' primary care doctors whether they want to use the PGx information to adjust treatment for patients. 
Patients in the standard care group, meanwhile, will receive PGx results and the pharmacist consultation note after active participation in the study ends at three months follow-up.
While CPIC has published guidelines for the three drugs being studied, the recommendations for prescribing codeine or tramadol to CYP2D6 intermediate metabolizers are not based on as strong evidence as the expert group's recommendations for ultrarapid or poor metabolizers. CPIC also doesn't have strong evidence to back recommendations for prescribing hydrocodone to CYP2D6 ultrarapid, intermediate, or poor metabolizers, according to its guidelines. In such cases, prescribers are directed to use the drugs based on labeling and consider switching to an alternative opioid only if patients are nonresponsive. Smith hopes his team's research can produce evidence that CPIC can use to strengthen future guidelines.
For patients deemed poor or intermediate CYP2D6 metabolizers, investigators will assess changes in pain intensity after three months, as measured by a five-point Patient-Reported Outcomes Measurement Information System (PROMIS) scale, which asks patients to rate the intensity of their pain on average and at its worst over the past week and at that moment. Researchers are also tracking secondary measures, such as how PGx results change patients' opioid use and physical function and the extent to which doctors accept PGx recommendations.
The study follows a prospective proof-of-concept trial for CYP2D6-guided opioid therapy that Smith led while training at the University of Florida's College of Pharmacy. The non-randomized proof-of-concept study, data from which were published in Genetics in Medicine in 2019, showed that patients with chronic pain, who were intermediate or poor metabolizers and initially prescribed tramadol or codeine, reported greater improvement in pain control when receiving PGx-guided care.
The ongoing PGx-ACT study also builds on findings from a paper published in Future Medicine in 2020, in which investigators led by Smith surveyed primary care physicians at MedStar Health about their attitudes toward PGx. While 76 percent of surveyed physicians said they thought PGx could improve care, only about one-quarter had confidence in interpreting PGx results. "Primary care providers are interested in pharmacogenomics, but they don't have confidence in their skills to apply that knowledge to care," Smith said.
Knowing information about how a patient is likely to metabolize different opioids could cut down on the trial-and-error prescribing used to find the right drug regimen for a patient suffering from chronic pain, said Wes Hunter, director of pharmacy at UCHealth Yampa Valley Medical Center in Steamboat Springs, Colorado, who is not involved with the study.
He added that many hospital pharmacies have already removed codeine from their formularies since some CYP2D6 mutations can lead patients to metabolize the drug "ultra-rapidly" and put them at risk of having too much of the drug in their system even at standard doses. That's an issue of ultrarapid metabolizers rather than intermediate or poor metabolizers, and CPIC's guidelines recommend avoiding codeine use in this population due to the risk of serious toxicity.
Ideally, when a clinician has access to more information, such as PGx, "you're left with less guess work" to find the best-fit combination of medications for a patient, Hunter said.
Findings from the PGx-ACT study, if successful, could inform future research projects seeking to improve control of other types of pain using PGx, Smith said. For example, his team might look at whether PGx improves drug prescribing for acute pain or pain control among cancer patients. They're also looking at PGx-informed care for common comorbidities that patients have with chronic pain, such as anxiety and depression.
"Depending on the results of this trial, it can help inform care in a lot of ways," Smith said. The goal is to be "really looking at the whole patient, and not just singling out a symptom or disease of interest."