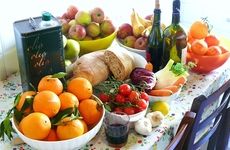 NEW YORK – Keeping to a Mediterranean diet changes the human gut microbiome and boosts the presence of bacteria linked to healthy aging among older individuals, a new study has found.
A Mediterranean diet — which is rich in vegetables, fish, and olive oil, but low in red meat and dairy products — has previously been linked to reduced mortality and reduced risk of certain diseases, increased antioxidant activity, and a healthy microbiome. As elderly people often have restricted diets associated with low-diversity microbiomes, researchers led by the University College Cork's Paul O'Toole sought to examine whether adhering to a Mediterranean diet might be beneficial among elderly individuals.
They analyzed the gut microbiomes of more than 600 individuals from the NU-AGE dietary study between the ages of 65 and 79 years before and after eating either their usual diet or a Mediterranean one for a year. The NU-AGE trial aimed to study the effect of a customized Mediterranean diet on a large cohort of older individuals from five different countries.
As they reported in the journal Gut yesterday, the researchers found that individuals who stuck to the Mediterranean diet experienced changes to the bacterial makeup of their microbiomes.
"We observed that increased adherence to the MedDiet modulates specific components of the gut microbiota that were associated with a reduction in risk of frailty, improved cognitive function and reduced inflammatory status," O'Toole and his colleagues wrote in their paper.
The researchers analyzed the gut microbiomes of a subset of the NU-AGE trial. Of the 612 individuals in their analysis, 289 participants ate their usual fare for 12 months and 323 participants ate a Mediterranean diet. The researchers collected stool samples from the participants at baseline and after a year for 16S rRNA gene sequencing analysis.
From this, they found that increasing adherence to a Mediterranean diet was associated with stopping the aging-related loss of gut microbial diversity. Forty-four bacterial groups increased with Mediterranean diet adherence, including Faecalibacterium prausnitzii, and 45 groups decreased with Mediterranean diet adherence, including Ruminococcus torque. R. torque and others whose presence declined, the researchers noted, have been linked to type 2 diabetes, colorectal cancer, and inflammatory bowel disease, among other conditions.
This cohort included individuals from five countries — France, Italy, the Netherlands, Poland, and the UK — and the researchers noted that their findings were consistent across nationalities.
The researchers also divided their cohort based on whether they were frail, nearly frail, or not frail at baseline. A Mediterranean diet, they found, was associated with decreased frailty and inflammation, as measured by hand grip strength, memory tests, and markers of inflammation.
They traced some of these effects to specific microbial metabolites. Increasing adherence to a Mediterranean diet was associated with an increase in the number of bacteria that produce beneficial short-chain fatty acids and a decrease in bacteria that produce certain bile acids, which have been linked to a higher risk of colorectal cancer, insulin resistance, and other conditions.
They further noted that these findings were independent of participants' age or body-mass index.
Additionally, many of the bacteria whose presence increased after following a Mediterranean diet were keystone species, meaning that these bacteria are important for preserving the stability of the gut microbiome, the researchers found.
While their findings suggest modulating diet could influence the gut microbial to promote healthier aging, the researchers noted that the "interplay of diet, microbiome, and host health is a complex phenomenon."