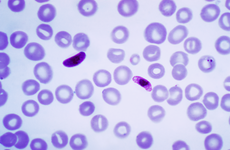 NEW YORK (GenomeWeb) – An international team of researchers has combined transcriptomic and genomic analyses to identify contributors to artemisinin drug resistance in the malaria parasite Plasmodium falciparum.
Researchers from Singapore, Thailand, the UK, and elsewhere brought together genome and transcriptome data for almost 800 P. falciparum isolates collected in seven Southeast Asian countries for the "Tracking Resistance to Artemisinin Collaboration" (TRACI) effort, which served as the basis for a bioinformatic analysis that included transcriptome-wide association, genome-wide association, and expression quantitative trait locus (eQTL) studies.
As the team reported online today in Nature Communications, the analysis pointed to some transcriptional similarities between physiologically distinct parasites in the eastern and western parts of Southeast Asia's so-called Greater Mekong Subregion (GMS), although the SNP-gene expression interactions that regulated the transcriptional features varied in the eastern and western GMS.
"The minimal overlap between them suggests differential gene regulatory networks facilitating parasite adaptations to their unique host environments," corresponding author Zbynek Bozdech, associate chair of research for Nanyang Technological University's school of biological sciences, and his colleagues wrote.
The authors suggested that these and other findings are expected to provide a broader understanding of artemisinin resistance, which has been linked to non-synonymous mutations in the Kelch13-coding gene Pfk13 in artemisinin-resistant P. falciparum parasites that emerged in Cambodia nearly a decade ago and since spread to other parts of Southeast Asia.
"The predisposition of parasites acquiring artemisinin resistance still remains unclear beyond the mutations in the Pfk13 gene and modulation of the unfolded protein response pathway," they explained, noting that "it will be crucial to understand all biological aspects of artemisinin resistance, particularly its emergence and spread … [to] not only help to manage the current situation but possibly also to guide future deployments of new malaria chemotherapies."
To that end, the researchers used whole-genome and transcriptome sequence data to profile almost 28,600 SNPs and retrace the expression of 5,061 genes in 773 samples collected in Southeast Asia from 2011 to 2013 by TRACI members.
In the eQTL analysis, the team found distinct genetic and physiological features in Cambodia, Laos, and other parts of the eastern GMS compared to western GMS locales such as Bangladesh, Myanmar, western Thailand, and southern Thailand. In the eastern GMS, for example, the data led to 8,720 artemisinin-related SNP-gene expression interactions, while 4,537 such interactions turned up in the western GMS.
From the 5,575 high-confidence SNP-expression interactions that corresponded between the eastern and western GMS, meanwhile, the team teased out 3,972 SNP eQTLs and 2,350 transcripts with variable expression, subsequently classifying the interactions depending on whether the eQTLs appeared to act locally or distantly.
Parasites in different parts of Southeast Asia also showed some divergence when it came to the expression of genes involved in cytoadhesion, DNA replication, and other pathways, the researchers reported. Nevertheless, their gene set enrichment analysis highlighted transcriptome convergence in certain pathways — including ribosome biogenesis, DNA damage repair, metabolic, and RNA processing pathways — in P. falciparum parasites across the region.
Finally, with GWAS and TWAS focused on 229 P. falciparum isolates from western GMS and 544 eastern GMS isolates, the team teased out potential contributors to artemisinin resistance based on parasite clearance times in individuals receiving this treatment. There, the results pointed to potential ties between parasite resistance to artemisinin, an increase in unfolded protein response pathway activity, and declining intraerythrocytic developmental cycle activity in P. falciparum. 
"It is feasible to suggest that these genetic/transcriptional factors are holding the key in a potential spread of PfK13-dependent resistance phenotypes (given the possibility of spontaneous rise of PfK13 SNPs) or constitute a new PfK13-independent mechanism(s), some of which were reported in vivo and in vitro," the authors concluded.