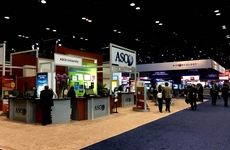 CHICAGO (GenomeWeb) – Blood-based liquid biopsies can uncover somatic mutation patterns and distributions similar to those found by directly testing tumor tissue samples, according to research presented at the American Society of Clinical Oncology meeting here this weekend.
Researchers from the University of California, liquid biopsy technology firm Guardant Health, and Vista Oncology examined somatic mutation patterns gleaned from liquid biopsies for more than 15,000 advanced cases, representing more than 50 cancer types, using Guardant Health's Guardant360 test.
They then looked at how well the mutation types and distributions detected from patient blood corresponded with those described in matched tumor tissue samples, when available, or in tumors profiled for the Cancer Genome Atlas project.
Ideally, the team hopes to get a look at not only the accuracy of the liquid biopsy approach, but also the clinical utility of finding tumor mutations in circulating tumor DNA (ctDNA), explained Philip Mack, director of molecular pharmacology at the UC Davis Comprehensive Cancer Center, who presented preliminary findings from the effort at an ASCO press briefing on Saturday.
Mack noted that multiple blood samples were obtained from some of the 15,191 individuals included in the study, bringing the tally of available blood samples up to more than 17,600.
More than one-third of patients participating in the study — which was funded by Redwood City, California-based Guardant Health — had advanced lung cancer, though individuals with breast cancer, colorectal cancer, and other cancer types were also included.
The Guardant360 test picked up somatic mutations in more than 80 percent of the patients. The ctDNA levels appeared to be too low for mutation detection in the remaining samples — a problem that was exacerbated in some cancer types such as the glioblastoma, perhaps due to the brain cancer's diminished ability to cross the blood-brain barrier and enter the bloodstream.
The researchers had access to matched tumor tissue samples for nearly 400 of the cancer patients. Mutation profiles in the remaining liquid biopsies were compared exclusively with patterns present in tumors included in the TCGA database.
Overall, the spectrum of somatic mutations detected in the ctDNA samples was on par with profiles described in TCGA. When matched tumor samples were available, the team picked up between 94 percent and 100 percent of the same mutation patterns when it compared the liquid biopsy and actual tumor tissue samples.
In nearly half of the individuals assessed by liquid biopsy, the researchers narrowed in on mutations that are targetable by drugs approved by the US Food and Drug Administration, Mack noted. They also saw mutations related to tumor progression and/or treatment resistance that might alter the course of a patient's treatment.
When the team looked at mutations in EGFR that might be susceptible to tyrosine kinase inhibitors, for example, it uncovered mutations to the gene that were present at frequencies similar to those described in TCGA. But the liquid biopsy approach also uncovered at least one resistance-related mutation not found in diagnostic samples assessed by TCGA.
Based on their findings so far, the researchers believe the liquid biopsy is uncovering a fairly robust picture of the mutations found across individuals' tumors from blood alone, including some somatic changes present at very low frequencies.
They hope the approach will make it possible for clinicians to do mutation profiling over time in patients to monitor treatment response, resistance, and progression, without having to take a tumor biopsy sample from each tumor site at each time point.
That might be particularly helpful for tricky-to-access tumors, including some bone or brain cancers, Mack explained. Still, he noted that tumor tissue remains the "gold standard" for doing molecular profiling, when available in sufficient quantities to yield high-quality genetic material.
During a panel discussion at the briefing, ASCO Chief Medical Officer Richard Schilsky said it is important to remember that the liquid biopsy samples included in the UC Davis-led study came from advanced cancer patients, who are prone to metastatic disease.
That means the somatic mutation profile likely will differ somewhat from patterns in primary tumors assessed for the TCGA project, though the effort provides evidence that researchers can build on in the future through prospective, randomized trials as well as studies designed to compare the utility of liquid biopsy testing approaches offered by different companies.
In a study published in the journal Clinical Cancer Research last month, researchers from the University of California-San Diego and elsewhere described complementary insights that could be obtained in its cohort of 168 cancer patients when they used Guardant360 testing on ctDNA and Foundation Medicine next-generation sequencing on tumor tissue samples to search for actionable mutations.
It also remains to be seen whether it will be affordable and clinically beneficial to obtain this type of tumor mutation data over time, members of the expert panel explained, especially for cancer types in which targeted treatments have not yet been established.
Nikhil Wagle, a breast oncology physician and researcher affiliated with the Broad Institute and the Dana-Farber Cancer Institute noted that he and his team plan to begin accepting blood samples from metastatic breast cancer patients participating in their direct-to-patient Metastatic Breast Cancer Project, which will make it possible to start doing liquid biopsies when tumor tissue is not available for research.
Wagle, who presented his research at the same briefing, said more than 2,000 research participants with metastatic breast cancer have now been enrolled using MBCP's social media and patient advocacy group approaches.
That team is using data from those individuals to look for tumor features associated with early-onset disease, metastatic disease at diagnosis, and exceptional treatment response, including higher-than-anticipated response to traditional, non-targeted chemotherapies.