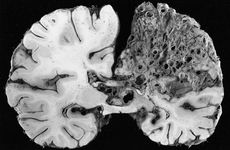 NEW YORK (GenomeWeb) – A new study has suggested that recurrent activating mutations in the KRAS gene can contribute to a rare brain condition marked by unusual arterial and venous connections.
Researchers from Switzerland, Canada, Finland, and the US used exome sequencing and/or droplet digital PCR to search for recurrent mutations in brain samples from dozens of individuals with sporadic arteriovenous malformations of the brain, a condition that can increase a child's hemorrhagic stroke risk. Across the 72 cases considered in the discovery and validation stages of the study, which appeared online yesterday in the New England Journal of Medicine, they identified somatic KRAS mutations in 45 individuals.
The team's follow up analyses in patient-derived cell cultures suggested that the expression of such KRAS mutations prompts a related rise in MAP kinase-ERK activity, and enhances the expression of genes involved in everything from cell signaling and migration to the process of blood vessel formation.
"We identified activating KRAS mutations in the majority of tissue samples of arteriovenous malformations of the brain that we analyzed," first author Sergey Nikolaev, a genetic medicine and development researcher at the University of Geneva, and his colleagues wrote. "We propose that these malformations develop as a result of KRAS-induced activation of the MAPK-ERK signaling pathway in brain endothelial cells."
Although sporadic arteriovenous malformations of the brain are rare, the team explained, they sometimes mimic the unusual arterial and venous networks that form in genetic syndromes, hinting at the possibility of an unappreciated genetic contributor. 
To search for related somatic alterations, the researchers did exome sequencing on frozen tissue samples from 26 of 39 arteriovenous malformation cases enrolled between early 2013 and fall of 2017. They also tested matched normal blood samples from 17 of those patients and used ddPCR to find and verify mutations in all 39 arteriovenous malformation cases in their discovery group.
A dozen of the exome-sequenced malformation samples contained activating KRAS mutations not found in matched normal samples, the team reported, while ddPCR unearthed six KRAS mutations missed in the malformation exomes. Eleven more KRAS mutations turned up in malformation samples tested by ddPCR alone.
When researchers attempted to verify such patterns in formalin-fixed, paraffin-embedded samples from 33 individuals in Finland affected by arteriovenous malformations of the brain, they again detected KRAS mutations by ddPCR that were not found in post-mortem samples from individuals who experienced other vascular malformations in the brain or central nervous syndrome. Nearly half of the arteriovenous malformations in the validation set — 48 percent — contained suspicious KRAS variants.
With six malformation-derived cultures established with the help of cell sorting, meanwhile, the team saw signs that the activating, somatic mutations tended to turn up in endothelial cells. And a series of subsequent experiments suggested that arteriovenous malformation-associated KRAS mutations bump up MAPK-ERK signaling — a pathway that might be more generally targetable than KRAS itself.
"Our findings of increased MAPK-ERK signaling in endothelial cells from arteriovenous malformations of the brain without a KRAS variant suggests that activation of the MAPK-ERK pathway may be a defining feature of arteriovenous malformations of the brain," the authors concluded. "In the absence of available direct pharmacologic inhibitors of KRAS, small-molecule MEK inhibitors, which are used in clinical practice for treating cancers, represent candidates for testing in clinical trials to treat arteriovenous malformations of the brain."