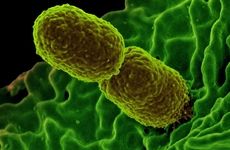 NEW YORK (GenomeWeb) – Forms of Klebsiella pneumoniae that are resistant to carbapenem antibiotics often show much broader drug resistance — along with the ability to adapt and spread extensively in a healthcare setting — according to a team that retraced carbapenem-resistant K. pneumoniae (CRKP) transmission at a Chinese hospital over more than a year.
As they reported online today in the journal Microbial Genomics, researchers from University College London, Peking University People's Hospital, and elsewhere did whole-genome sequencing on 100 CRKP isolates that contained a known resistance gene called bla-KPC-2. The samples came from infected patients, as well as symptom-free individuals who carried the resistant bug.
The team's sequence data pointed to pronounced phenotypic diversity for CRKP, even within isolates from the same sequence type. It also offered a window into dozens of direct transmission events in the hospital, many of which appear to have occurred in two of the hospital's intensive care units, and revealed the genetic features that coincided with CFKP resistance levels — from virulence genes to plasmid copy number changes, plasmid gains, losses, or recombination events.
"It's remarkable to see how easily these bacteria were moving between patients, particularly those in intensive care units, but we also found that they were transmitting across different hospital sites via ward equipment, including ward bed rails and medical devices," first author Lucy van Dorp, a researcher with the UCL Genetics Institute, said in a statement.
CRKP and other forms of Enterobacteriaceae that are resistant to carbapenem drugs such as imipenem and meropenem have become increasingly important health threats, the team noted, and resistance involving bla-KPC-2 on a TN3 transposon have spread around the world since being detected in the US more than two decades ago.
"The ability of the bla-KPC-2 transposon to insert and relocate between plasmids, across multiple enterobacterial species, suggests that the selective pressures in hospital environments create an ideal set of conditions for highly transmissible forms of [antimicrobial resistance]," van Dorp and her co-authors wrote.
For the new analysis, she and her colleagues collected 100 CRKP isolates over 14 months at Peking University People's Hospital following a fatal CRKP blood infection there in 2016. Along with Illumina short-read whole-genome sequencing on the isolates, they profiled a handful of the CRKP isolates with Pacific Biosciences' RSII long-read sequencing.
"Using the rich information provided by WGS, we investigated the full genomic diversity of bla-KPC-2 isolates in circulation, characterized the genetic context of resistance, and reconstructed transmission pathways within the hospital by integrating genomic and epidemiological data," the authors explained.
The team's phylogenetic analysis fleshed out 11 CRKP sequence types. Among them: a large cluster of CRKP isolates in sequence type 11 (ST11), which appeared to have been present at the Beijing hospital for more than a year before the individual with the fatal infection was admitted.
Although chromosomal features for the 82 isolates in the ST11 cluster were similar and appeared to be closely related, the researchers reported, "we observed extensive diversity in their antimicrobial resistance phenotypes."
That prompted the team to take a closer look at the broader genetic features found in CRKP isolates with variable resistance levels, leading to resistance-related plasmid copy number, plasmid gain/loss, and plasmid recombination events involving plasmids with the bla-KPC-2 transposon. 
Together, these and other findings "highlight the epidemiological value of whole-genome sequencing for investigating multi-drug-resistant hospital infections," the authors wrote, "and illustrate that standard typing schemes cannot capture the extraordinarily fast genome evolution of CRKP isolates."