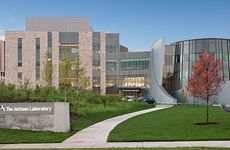 NEW YORK (GenomeWeb) – As part of an effort to expand its clinical testing services, the Jackson Laboratory's clinical molecular diagnostics laboratory is putting the finishing touches on a sequencing-based tumor gene panel that will focus on actionable variants.
According to Honey Reddi, who joined Jackson earlier this year as its first clinical laboratory director, the new actionable gene panel is in the final stages of validation and should be available within the next few weeks. The assay will be used as part of a project called the Maine Cancer Genomics Initiative, and will complement the lab's existing 358-gene cancer panel, called JAX Cancer Treatment Profile.
The clinical diagnostics lab is part of the Jackson Laboratory for Genomic Medicine (JAX Genomic Medicine), which opened in the fall of 2014 and is located on the campus of the University of Connecticut Health Center in Farmington, Connecticut.
Unlike Jackson Laboratory's headquarters in Bar Harbor, Maine, and its West Coast facility in Sacramento, California, JAX Genomic Medicine houses no mouse facility and focuses on medical applications of mammalian genetics research.
Jackson's clinical lab received CLIA certification and CAP accreditation in 2015 and is equipped with several Illumina NextSeq platforms and one MiSeq sequencer. It currently focuses on somatic tumor profiling, offering clinical testing services to doctors and their patients as well as translational research services for collaborators that include pharmaceutical and biotechnology firms.
"The focus is not to run esoteric assays, like most commercial diagnostic labs, but to be able to identify and develop those assays that focus on the unmet need of patients," said Reddi, who joined Jackson from Transgenomic. The lab develops these assays in collaboration with internal researchers as well as with collaborators. Going forward, it might branch out into other disease areas, for example neurology, but is "just starting to explore those options," she said.
One unique aspect of working with the clinical lab, she noted, is that it offers researchers access to Jackson's patient-derived xenograft (PDX) mouse models.
Last year, the lab launched the JAX Cancer Treatment Profile (CTP), a 358-gene next-gen sequencing panel for solid tumors that includes genes associated with known drug targets, oncogenes, tumor suppressor genes, other genes frequently mutated in cancer, and genes that Jackson researchers selected as potential future drug targets. In addition, the lab offers a panel called JAX FusionSeq that can identify fusions in 53 genes in solid tumors.
The JAX-CTP panel, which analyzes formalin-fixed paraffin-embedded tumor samples, uses Agilent hybridization capture, Illumina sequencing, and a custom-developed bioinformatics pipeline. Last year, Jackson researchers published a validation study of an earlier version of the assay in Experimental and Molecular Pathology.
Variants identified by the test are evaluated using the institute's in-house JAX Clinical Knowledgebase (JAX-CKB), a curated repository that links tumor variants with information on phenotype, effect on proteins, therapies, and clinical trials. Earlier this year, Jackson researchers published a description of JAX-CKB in Human Genomics, and Reddi said the repository is now publicly accessible, allowing researchers and doctors to look up information for variants in 80 genes, a number that will increase over time.
The clinical report for the JAX-CTP assay is very comprehensive, Reddi said, containing actionable variants and variants of uncertain significance found in the 358 genes. It includes information about FDA-approved therapies for the type of cancer analyzed, FDA-approved therapies for the same variant in other cancers, and a list of active or recruiting clinical trials that is updated on a daily basis. Germline variants are not part of the report.
According to Jackson's website, its researchers recently ran the assay on 51 solid tumor biopsies and detected, on average, three actionable gene variants. They found an average of 1.4 drugs approved by the FDA for a patient's tumor type, 8.8 drugs FDA-approved for another tumor type, and 12 investigational drugs across 73 clinical trials. Reddi said that several studies looking into the clinical utility of the test are currently underway, results from which her team hopes to publish in the near future.
So far, the lab has run the JAX-CTP panel for oncologists, clinical researchers, and pharma partners, Reddi said, noting that much of its use has been in the context of translational research, although it has also been requested by a small number of oncologists to aid with patient care. "Our gates are not being flooded," she said, but the lab expects testing volumes to grow, in particular with the launch of the new actionable panel.
In contrast to the 358-gene panel, which is more geared towards discovery work, the new panel will only include genes associated with FDA-approved drugs or actively recruiting clinical trials, she said. While the two panels overlap somewhat, the new panel is not just a subset of the existing one.
Once launched, the new panel will be used as part of the Maine Cancer Genomics Initiative (MCGI), an effort by the Jackson Laboratory to improve cancer diagnostics and treatment in Maine. The project is supported with $8.41 million in funding from the Harold Alfond Foundation, a grant that was announced in June.
For the MCGI, the Jackson Laboratory is partnering with community hospitals in Maine to offer oncologists and cancer patients access to genetic tumor profiling, and the clinical diagnostic laboratory will conduct all tumor testing for the project. Based on that, "hopefully, the word starts getting out and people start to want to work with JAX," Reddi said.