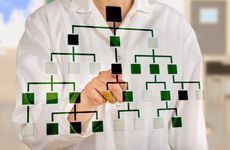 NEW YORK (GenomeWeb) – While health and wellness may eventually prove to be the most lucrative opportunity for consumer genomics companies, ancestry testing remains the leading market segment, with roughly 6 million people tested to date by players like 23andMe, AncestryDNA, Family Tree DNA, National Geographic, and others.
With the roll out of Insitome's first app on the Helix marketplace, though, consumers now have the chance to explore their heritage in a new context that could reshape the ancestry testing market, where samples are sequenced, rather than genotyped, and users have the ability to buy new insights into their ancestry as they are made available.
"The first generation of consumer genomics tests have been an all-in data dump and most of the information is provided in a list form" said Insitome CEO Spencer Wells. "By offering people different insights, people have the opportunity to unpack their story at their own pace," he said. "They pull the information as they are interested in it, as they need it."
Austin, Texas-based Insitome's first product, called "Neanderthal: The Very Beginning," became available on the Helix marketplace when it launched officially last month. Helix customers who pay the service's $80 fee to have their exome sequenced are able to download the Neanderthal Insight for an additional $29.99, gaining access to data on traits they may have inherited from their Neanderthal or Denisovan ancestors.
While some existing services, such as 23andMe and National Geographic's Genographic Project, had reported back to customers information about what percentage of their genomes had been inherited from Neanderthals or Denisovans — typically around 2.5 percent — Insitome's product breaks down one's Neanderthal or Denisovan ancestry into a mobile or web "experience" that places the consumer in the "narrative of human history," according to the firm.
Those who purchase the Insight are guided through traits they may have inherited from these archaic human subspecies that were passed on through mating with homo sapiens, including traits related to high-altitude adaptation, fat storage, skin pigmentation, immunity, body shape, and others.
"It's interesting to know your Neanderthal percentage, but it's much more interesting to know how that translates to traits that you recognize in yourself," said Wells. And the Neanderthal offering is just Insitome's debut product, he noted. In coming months, the company plans to release Insights related to metabolism, as well as its "own twist" on an autosomal DNA product like those popularized by the existing providers, that break a person's ancestry down according to region of ancestral origin.
All of these Insights — which customers can "unlock," the same way they unlock books on Kindle, Wells noted — draw upon Helix's business model, which is to sequence the genome once, and then query it over and over again during one's lifetime.
"The idea is that you can imagine people sitting down on a Sunday afternoon, discovering this, and sort of binge watching their genome," said Wells. "The hope is that this becomes an all-in, engaging experience," he said. "You share it with your friends, you share it on social media, you look at ancillary content, check out the blog," he added. "The goal is to become a platform for self discovery, to discover who you are genetically."
While Insitome's offering certainly is an alternative, or additional tool for consumer genomics customers to learn more about their ancestry, it does not yet compete directly with aspects of 23andMe, AncestryDNA, or Family Tree DNA's services, which are more focused on matching customers with relatives, as well as other facets of genetic genealogy. In fact, Family Tree DNA was one of the first consumer genomics firms to offer a sequencing-based product, Big Y, for customers interested in learning more about their Y chromosome and deep patrilineal ancestry.
Yet while Wells confirmed that Insitome has no aim to get into genetic genealogy at the moment and its experience differs significantly from existing market offerings, it hasn't stopped industry observers from hinting at an impact to 23andMe or AncestryDNA's ancestry testing businesses, largely due to Helix's use of exome sequencing rather than genotyping microarrays.
"The consumer genomics market we believe is still in its infancy and Helix highlights a massive opportunity in consumer genomics centered around leveraging the sequencing information which is now much richer than prior microarray information," wrote Leerink Swan analyst Puneet Souda in a research note last week. "While the majority of consumer genomics is still currently conducted on microarrays ... we view having an exome-rich dataset [covering 22,000 genes] as providing much richer, deeper, and actionable information," Souda wrote.
Souda reiterated his perspective in an email. "Even at research-grade exome depth, the value of the exome will exceed current genotyping offerings, enabling app developers to extract more valuable genetic information," he said. "Plus NGS solutions are more scalable in practice," he added, "enabling the scale needed for consumer genomics longer-term."
Justin Kao, cofounder and senior vice president at Helix, made it clear that the company's platform has the potential to dwarf existing services based on its sequencing-based approach. He noted that companies like Family Tree DNA often require multiple saliva samples to carry out its diverse menu of ancestry-related tests, and most of the results delivered to customers are static, meaning that once a person receives their AncestryDNA or 23andMe results, the experience is complete.
"Prior to Helix, most ancestry testing was one-and-done," said Kao. "Because Helix obtains 100 times the amount of data upfront as previous companies, each person can continue to explore their DNA over a lifetime," he said. He added that because Helix offers a variety of products geared at different interest groups, such as Exploragen's new SlumberType application, it may capture the attention of customers who may have not been at first interested in their ancestry.
"People who initially came in to learn about nutrition or health can now discover ancestry as their second application," he said. "Every product after the first is available on demand, with no more spitting or waiting, which should attract more users over time."
Kao noted that by sequencing customers' exomes, Helix has "future proofed" itself against obsolescence, as any new markers or patterns related to ancestry can be integrated into new algorithms and products. And, he added, the availability of the Helix marketplace makes it easier for new companies interested in selling ancestry-related products to compete with larger providers that have not only the marketing muscle to raise awareness of their products, but the logistical networks to manage global operations.
"By handling all of the difficult parts of DNA sequencing, Helix will unlock the creativity of a wide range of partners and developers to innovate using genomic data," said Kao. "We believe this will dramatically increase the diversity and types of DNA-powered products." Moreover, Kao said that companies like Ancestry or 23andMe could sell products on the marketplace themselves should they see it in their interests.
However, most of the major consumer genomics firms specializing in ancestry testing have not yet expressed a desire to do so, and representatives for 23andMe and AncestryDNA declined to comment on how the launch of Helix could affect their businesses going forward, while a query to Family Tree DNA about the launch was not returned.
In contrast, NatGeo's array-based Geno 2.0 ancestry offering has been available via Helix as a pilot product since last year. Geno 2.0 was previously offered through an arrangement with Family Tree DNA. Insitome's Wells, who took the helm of Insitome last year, was the initiator and director of the Genographic Project since its inception in 2005, though, and led the roll out of Geno 2.0 in 2012. Wells has since left the project. He said his experiences at NatGeo have in many ways informed his goals at Insitome.
"Over the years, I've had hundreds if not thousands of conversations with people who have received back their [ancestry] results, and then asked me, What does this mean? Is this why I have red hair? Is this why I can't digest milk?" Wells said. "I thought, 'If we could just design products for those questions, people could learn more.'"
One first Insitome adopter is Roberta Estes, a genetic genealogist and author of the DNAeXplained blog. Estes said she believes that curiosity will drive consumers to purchase one-off products like Insitome's Neanderthal offering. She noted however that the $80 Helix kit processing fee, plus a $9.95 shipping and handling charge, and the $29.99 purchase of the Insight is a "lot for a curiosity question," noting that 23andMe offers data about Neanderthal genetic inheritance for less — the ancestry portion of its Personal Genome Service currently retails for $99.
"If consumers do a price comparison, the Neanderthal app isn't a price value, so the platform will have to exist on the curiosity draw outside of the population who would purchase a genealogy application or the health draw of 23andMe," Estes said. "Does this population exist today? I'm not sure, but given that DNA testing is the next frontier, and the next frontier is here now, I'm sure that with adequate advertising that many people will be drawn to answer their curiosity about their Neanderthal and Denisovan traits — as well as other, perhaps hobby-based items," she said.
Estes added that while she had "confidence" in Insitome's offering, she remained skeptical about other applications entering the market. "The products I have seen to date include vitamins, supplements, exercise information, meal planning, and wine selection," she said. "I don't want DNA testing to become the next 'supplement store' or the equivalent of late-night TV infomercials."
And just as Helix's Kao said the company's platform provides a more level playing field for companies that wish to sell ancestry-related applications, Estes said that by moving to a marketplace model away from the current one — where service providers either contract or carry out the generation and quality control of data — Helix has reduced the need for substantial investments from app companies, while "dramatically reducing the requirement for expertise in the genetics field." Estes therefore called the marketplace approach a "fork in the road" for the consumer genomics market that might allow customers to "pick exactly what they want to see, obtain and pay for that and nothing more."
David Mittelman, a former CSO at Family Tree DNA and consumer genomics entrepreneur, stressed that Helix's impact on the existing market has yet to be seen, and that its success will depend on how "fun and useful and sharable" its applications are, in addition to having an optimized price structure that makes sense for the company as well as consumers.
"It is a challenge to say the least, but a worthy one to pursue," Mittelman said.
He also was cautious about the idea that established players with sizable databases, like AncestryDNA, might decide to make products available on the Helix marketplace.
"The value of selling on Helix is exposure to more people, but AncestryDNA already leads with more than 3 million tested," said Mittelman. He also noted that Helix commands a certain portion of the revenue generated by the apps in its store, making the idea of selling on Helix less attractive to a company like Ancestry.
"On the other hand if Helix in the future can demonstrate that they can grow an audience and that the audience tends to transact — they buy one or more apps —  then perhaps Ancestry will be more incentivized," Mittelman said. "Right now it seems that smaller companies with smaller audiences are better fits for Helix." Should such firms develop apps that capture the public interest though, there is a chance they could finally reach millions of more people than consumer genomics firms to date.
"The kinds of apps and ease of use will determine how big a market they can reach," said Mittelman. "Presumably they will want to reach beyond expert users, die-hard genetic genealogists, et cetera," he said. "So far it has been challenging to bring consumer genomics into the mainstream."
It's a view shared in part by Insitome's Wells, who is trying to make ancestry information available to consumers in a new way.
"I think to the extent that people are interested in their ancestry, they are interested in digging deeper and understanding their connections to people around the world," said Wells. "The five or six million people who have tested so far are very much early adopters, and they have been riding this 1.0 wave of consumer genomics," he said. "The question is how do we democratize this? How do we go from 5 million to 50 million and what do those other 45 million people care about?" he added. "This is the real opportunity."