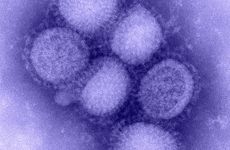 NEW YORK – Europe's domestic pigs harbor a reassorted form of influenza A virus — including parts of a prior pandemic strain passed back to pigs from humans — that may not be covered by current vaccine strains or be responsive to human immune proteins, new research suggests.
"[O]ur study demonstrates that European swine populations represent important reservoirs for an increasing number of [IAV] variants with zoonotic and, possibly, pre-pandemic potential," co-senior and co-corresponding author Timm Clemens Harder, a diagnostic virology researcher with the Friedrich-Loeffler Institute, and his colleagues wrote for a study published in Cell Host & Microbe on Monday.
Harder and colleagues from Germany, the UK, Finland, and the US used reverse-transcriptase quantitative PCR screens to search for influenza A virus in more than 18,300 samples collected from domestic pigs during veterinary visits to farms in 17 countries in Europe between spring, 2015 and the start of 2018, focusing on animals with respiratory disease for the multi-year passive surveillance analysis.
After picking up influenza A viruses in pigs from nearly 57 percent of the farms considered, the team did multiplex RT-qPCR-based subtyping, whole-genome sequencing, and phylogenetic analyses on a subset of the samples, which together pointed to the presence of genetically diverse pig-associated influenza A viruses containing reassorted bits of the human influenza A virus H1N1 behind the human pandemic in 2009.
"By multiple reverse-zoonotic transmission events, the human pandemic A(H1N1)/2009 (H1 [pandemic]) instantaneously became a new influenza virus player in swine populations worldwide," the authors explained. "This allowed novel shuffling possibilities of whole sets of fully human-adapted gene segments in infected pigs and is reminiscent to the introduction of the H1N1/1918 virus into the pig population in the 1920s."
To explore that possibility through influenza A virus surveillance, the researchers screened some 18,313 samples collected from respiratory disease-affected pigs on almost 2,500 farms through standard veterinary visits, uncovering influenza A virus in more than 30 percent of the samples tested, representing pigs from 14 European countries and more than half of the farms considered.
Along with influenza A viruses from a handful of known hemagglutinin (HA) and neuraminidase (NA) surface protein-based lineages, the team picked up reassorted viruses spanning seven subtypes, prompting a series of follow-up genetic analyses and experiments in human cell lines, transgenic mice, and ferret infection models to look at the host immune responses, virus neutralization patterns, and potential for aerosol transmission in the reassorted strains.
"Several [swine influenza A virus] clusters that are antigenically distinct from seasonal human viruses of the same lineage have been detected here," the authors reported, adding that at least some of the viruses identified "bear considerable resistance" to human MxA proteins that target influenza and other viruses. 
The antiviral human MxA protein "has been shown to be a key inhibitor of [influenza A viruses], especially of avian origin," they explained, noting that "currently circulating [swine influenza A viruses] could possess at least partial MxA resistance that could facilitate human infection with these viruses."