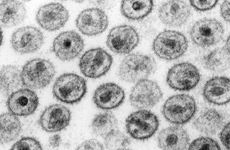 NEW YORK (GenomeWeb) – Co-infection with HIV appears to influence Mycobacterium tuberculosis evolution, according to a new study from an international team of researchers.
About a third of people with HIV also are co-infected with tuberculosis, particularly in sub-Saharan Africa, according to the World Health Organization. This has led some researchers to wonder how this affects M. tuberculosis.
A University of Cape Town-led team of researchers sequenced 169 M. tuberculosis strains isolated from patients with and without HIV co-infections. Using two different approaches, the team examined the M. tuberculosis strains for evidence of selection. As they reported in Molecular Biology and Evolution last night, they found that epitope-encoding regions, which are generally conserved in M. tuberculosis, appeared to evolve in response to HIV co-infection.
"This is the first time that phylogenetically informed and statistically sophisticated evolutionary models have been applied to M. tuberculosis whole-genome sequence data to detect codon site-specific natural selection that might be influenced by HIV co-infection," Cape Town's Anastasia Koch said in a statement. "The finding of some evidence for differential selection on epitope-encoding regions was unexpected, but not totally counterintuitive."
She and her colleagues collected 192 M. tuberculosis samples from patients from an area of Cape Town for sequencing — after quality control checks and other considerations, 169 strains were analyzed. They then constructed a maximum likelihood phylogenetic tree of these strains that also incorporated other, global M. tuberculosis strains.
Most of the Cape Town strains, the researchers noted, belonged to lineage 2 or lineage 4, with a smattering of lineage 1 or lineage 3 strains.
Using the FUBAR method, the researchers examined overall patterns of positive and negative selection along the M. tuberculosis phylogenetic tree. Based on the 25,251 SNPs in protein coding regions analyzed, the researchers reported that many more — some 189-fold more — were evolving under negative selection than under positive selection.
When they classified the sites undergoing selection by whether they were essential, non-essential, or epitope-encoding regions, the researchers found that epitope-encoding regions are more highly conserved than non-essential genes, as they noted previous studies have shown.
Meanwhile, using the MEDs approach, the researchers uncovered 640 codon sites that appeared to be evolving under HIV co-infection. Save for three sites — within cyp138, celA2b, and katG — the researchers noted that they can't say with certainty which are evolving under co-infection. They instead reported that this pool of sites was enriched for sites exhibiting HIV-linked directional selection.
This pool of sites was also enriched for epitope-encoding regions, even though they typically are conserved in M. tuberculosis, the researchers reported.
Koch and her colleagues suggested that epitopes might usually be conserved in M. tuberculosis as it has evolved closely with humans and might rely on epitopes to exploit the host immune system. Co-infection with HIV could alter this relationship between the bacteria and host, the researchers said.
Koch noted that their results need to be validated in a larger dataset, but added that if they pan out, their findings might have implications for vaccine design, especially for ones intended for use in populations with high levels of HIV-TB co-infections.