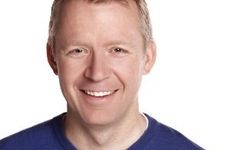 NEW YORK (GenomeWeb) – Helix's recently hired CEO, Robin Thurston, envisions Helix as becoming akin to Apple's app store, but for consumer genomics. He predicts that within 20 years, 90 percent of the world's population will be sequenced, and is aiming to position Helix to capture much of that market.
The company, which launched last year with an initial $100 million in investments from Illumina, Warburg Pincus, and Sutter Hill Ventures, plans to launch its first product in the fourth quarter of this year. Thurston would not disclose what that product would be, but said that the initial applications would fall into the non-regulated direct-to-consumer space, such as fitness, genealogy, and nutrition.
Helix plans to perform "exome plus" sequencing, targeting the exome plus other relevant non-exome regions, Thurston said. The exome plus test was developed internally at Helix in collaboration with Illumina. The sequencing will be performed in Helix's new 30,000-square foot laboratory in San Diego, although the firm also has offices in San Carlos, California in the Bay Area.
Thurston joins Helix from Under Armour, where he served as chief digital officer. He was also co-founder and CEO of MapMyFitness, which was bought by Under Armour in 2013. He told GenomeWeb that his experiences working on the MapMyFitness platform would be directly applicable to Helix. MapMyFitness is based on the premise that users want to track and record their own fitness data. The MapMyFitness platform now has more than 35 million individual users. More than individual users though, the platofrm is used by "thousands of partners through the open API framework," Thurston said, for example, companies who want to make fitness data part of a reward program or keep track of workouts and nutritional information, he said.
Similarly, the goal with Helix is to design a platform not only for individual users to store genomic data, but to make it flexible enough to enable "applications that no one can even imagine today," Thurston said.
"The concept of building a platform where someone would take one initial DNA test and use it across a wide variety of applications throughout their life was one that was very interesting to me," he said.
Thurston told GenomeWeb that he sees three categories of commercial offerings. One category will include offerings from the larger well-established partnerships that Helix has already formed like with the Mayo Clinic's Center for Individualized Medicine, Laboratory Corporation of America, Good Start Genetics, and Duke University. A second category will come from existing health and wellness applications that could gain credibility or value from adding genomic information to them. An example of this, he said, would be a nutrition app that also includes a person's gluten sensitivity information. And finally, he said, there will be a long tail of smaller developers launching apps that have unique uses.
The challenge will be building that "new ecosystem" that encourages those developers, he said, and it is one that Helix has been working on. There will be developers and scientists who may not be familiar with genomics, but who will want to build apps, he said. To encourage growth in that area, he said, Helix has been talking about hosting hackathons or developing outreach programs.
Helix has not yet disclosed pricing for its services, but there will essentially be three types of fees that a consumer will pay. One will be the initial up-front cost of the sequencing itself. Second, there will be an on-going fee to pay for storage. And finally, the app developers themselves will set prices for their various products. A portion of the developers' revenue would go back to Helix.
Thurston said the company is also working on a way to make individuals' raw data available to the consumer, although he said the company has not yet figured out a price for that or the logistics of how it would work. The developers will not have access to the full exome data, but just the portion that they need to analyze for their product, he said.
Individuals who already have their own genomic data will not be able to upload it to Helix in order to purchase applications for analyzing it, at least initially. "Bringing data in is not an initial part of the road map," Thurston said, "but that's not to say it's off the table if it becomes a good opportunity to work with third parties."
While Helix's initial products will be outside the scope of the US Food and Drug Administration, the company does eventually want to be able to provide medically relevant information, and intends to work with the agency. "Our goal is to get our platform approved by the FDA," he said. The specifics on the type of clearance that the FDA will require for Helix's platform and each of the individual applications is still being worked out, he said. But, he anticipated that both the exome sequencing offered by Helix, as well as any application that involved medical interpretation, would need some form of FDA approval.
"We would like to facilitate and make it as easy as possible for developers to get through an approval process in a variety of categories," he said. Thurston predicted that in about five years there would be an even split of consumer and medical applications on Helix.
The regulatory space has been a tricky one for DTC firms to navigate. 23andMe had to stop offering health reports until it brought them through FDA clearance, and Sure Genomics, a Salt Lake City, Utah-based firm that offered DTC whole-genome sequencing received a letter from the FDA this year saying that its SureDNA kit needed FDA clearance.
Helix hopes to avoid requests to stop offering its services. "We want to follow all the rules and work closely with the FDA," Thurston said.
And, although the company will likely compete with consumer genomics companies such as 23andMe, Thurston said that Helix would also look for ways in which the companies could work together. In addition, he said, Helix is different from 23andMe and other companies in that it would "not build its own consumer-facing product," but would instead serve as an app store for products developed by its partners. Helix's goal is to "help the entire [consumer genomics] category to grow," he said.