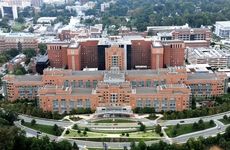 NEW YORK (GenomeWeb) – Parts of a hospital's wastewater systems may represent a "vast, resilient reservoir" of microbes capable of producing beta-lactamase enzymes associated with some forms of antibiotic resistance, new research suggests.
As they reported yesterday in mBio, researchers from the National Institutes of Health Clinical Center (NIHCC), the National Human Genome Research Institute, and the NIH Intramural Sequencing Center used genome sequencing to profile microbes in more than 100 samples collected as part of an expanded survey of sites at the NIHCC hospital in Bethesda over two years — from housekeeping closets to internal pipes and manholes outside the hospital.
The team's surveillance and genomic analyses revealed a range of carbapenemase-producing organisms (CPOs) capable of dodging carbapenem antibiotics in the hospital wastewater system, although patient infections with carbapenem-resistant infections were detected relatively rarely.
"This comprehensive survey revealed a vast, unappreciated reservoir of CPOs in wastewater, which was in contrast to the low positivity rate in both the patient population and the patient-accessible environment," senior author Karen Frank, chief of the Department of Laboratory Medicine's microbiology service at NIHCC, and her colleagues wrote. "While there were few patient-environment isolate associations, there were plasmid backbones common to both populations."
The NIHCC hospital was the site of a 2011 outbreak involving carbapenemase-positive, carbapenem-resistant Klebsiella pneumoniae bacteria, the team noted. Along with patient infections, the resistant bacteria was identified at handrail, ventilator, sink drain, and patient room surface sites during a whole-genome sequence-based analysis done to retrace K. pneumoniae transmission — work that NIH researchers led by NHGRI's Julie Segre reported in Science Translational Medicine in 2012.
On the heels of that analysis, investigators set out to do more extensive sampling and surveillance at the NIHCC. They noted that rates of CPO-positive bacterial colonization appeared to have been very low in the hospital's patient population between 2012 and 2016.
The team noted that CPO-positive bacteria turned up in 700 surveillance samples collected during the same time frame — a set that included wastewater samples from manhole, pipe, or sludge sites; housekeeping closet samples spanning floor drains, equipment, and other closet surfaces; hospital sink drains, traps, faucets, water, or aerator samples; and samples from "high-touch" surfaces in the hospital such as handrails, carts, and door knobs.
In particular, CPOs turned up in all seven of the wastewater samples taken from the hospital's intensive care unit pipes, the researchers reported, prompting them to take a closer look at the genetic features in these and other environmental samples. Using Illumina MiSeq and Pacific Biosciences SMRT approaches, they did whole-genome sequencing on 72 CPO-positive bacterial isolates from the environment and three dozen CPOs isolated from patient samples.
Although the sequence data pointed to diverse and distinct CPO bacteria features in patients and the environmental samples, they noted that the bacterial populations did share some resistance-related plasmid features. And more than two dozen carbapenemase gene-containing plasmids were identified in the samples considered.
"We observed a diverse set of species and plasmids, and we noted species and susceptibility profile differences between environmental and patient populations of CPOs," Frank and her colleagues wrote. "However, there were plasmid backbones common to both populations, highlighting a potential environmental reservoir of mobile elements that may contribute to the spread of resistance genes."
The authors argued that such findings "are relevant to all hospitals for which CPO colonization may not yet be defined through extensive surveillance."