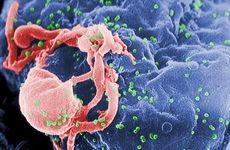 NEW YORK – The US Food and Drug Administration announced Tuesday that it has authorized Vela Diagnostics' next-generation sequencing-based HIV-1 drug resistance mutation assay for marketing through its de novo premarket review pathway.
The agency said the test — called the Sentosa SQ HIV Genotyping Assay — is the first HIV drug resistance assay utilizing NGS technology that the FDA has authorized for marketing in the US.
"Today's authorization can help healthcare providers better tailor drug treatment for patients who are beginning antiviral therapy, and also for those who have developed resistance to HIV drugs, by helping to identify mutations in the HIV-1 virus that can impact the effectiveness of certain drugs," Peter Marks, director of the FDA's Center for Biologics Evaluation and Research, noted in a statement.
For the more than 1 million people in the US living with HIV, effective antiretroviral therapy (ART) can help to lead a long and healthy life. But, rates of resistance have increased since ART was rolled out globally in 2001, from 11 percent to 29 percent, with therapeutic failure of ART thought to be most commonly due to drug resistance mutations in HIV-1.
FDA's Principal Deputy Commissioner Amy Abernethy said that the agency is "keenly aware of the threat of drug-resistant infections," and focused on facilitating the development of new treatments.
"This diagnostic provides a new way to select effective treatment options," Abernethy said, adding, "The FDA remains committed to helping to make available … more innovative medical products that help us face the challenges of managing HIV infection. 
The FDA said it reviewed data for the Sentosa SQ HIV Genotyping Assay through the de novo premarket review pathway. Specifically, it reviewed data from performance studies, which demonstrated a greater than 95 percent sensitivity and specificity in detecting 342 different HIV drug resistance mutations. It determined that the Sentosa SQ HIV-1 Genotyping Assay provided a reasonable assurance of safety and effectiveness for its intended use.
Along with this authorization, the FDA is also establishing special controls that test developers must meet to demonstrate accuracy, reliability, and effectiveness of tests intended to identify virus mutations. The authorization also creates a new regulatory classification, which means that subsequent devices of the same type with the same intended use may go through the FDA's 510(k) pathway, the agency noted.
As previously reported, the Sentosa SQ HIV Genotyping Assay detects HIV-1 Group M genomic drug resistance mutations in the protease, reverse transcriptase, and integrase regions of the pol gene of HIV-1 using the automated Sentosa NGS workflow. The workflow combines automated RNA extraction, library construction, template preparation, sequencing, data analysis, and automated reporting. The system also generates a clinical interpretation report that provides information on drug resistances associated with any mutations detected.
The Sentosa SQ HIV Genotyping Assay was initially submitted to FDA in March of this year, having previously been CE marked in 2017. Vela's PCR-based assay for herpes simplex virus cleared the FDA last year, and the firm acquired the assets of Great Basin Diagnostics and relisted them under its name  as part of a strategy to accelerate the Singapore-based firm's entrance into the US market. In the statement, FDA said it has granted marketing authorization of the test to its US subsidiary, Vela Diagnostics USA.