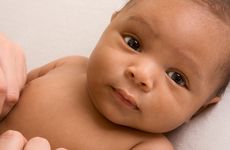 GLASGOW – Researchers from Germany have demonstrated the feasibility and utility of rapid whole-genome trio sequencing in critically ill children in the nation's first multicenter study of its kind.
Presenting a poster at the European Society of Human Genetics annual meeting here on Sunday, Bernd Auber, a researcher from Hannover Medical School in Germany shared preliminary results from Project Baby Lion, the first German multicenter study of rapid whole-genome sequencing (rWGS) in pediatric patients with critical conditions.
Launched in May 2022, the project Baby was primarily funded by Illumina, which provided NovaSeq 6000 flow cells and a license to the TruSight Software Suite (TSS) for the study, Auber said in an interview on the sidelines of the conference.
One of the goals of the project, he said, was to study the feasibility of implementing rWGS as a routine diagnostic tool for patients in neonatal intensive care unit (NICU) or pediatric intensive care unit (PICU) settings in Germany. The study especially focused on non-university hospitals where in-house genomic testing is not widely available, he added.
Furthermore, the study aimed to explore the clinical utility of rapid trio WGS for critically ill patients.
Project Baby Lion recruited NICU and PICU patients from 12 hospitals in northwestern Germany. "If there is a child in intensive care, and if you cannot exclude a genetic cause, then [the patient] is eligible," Auber noted.
Within the first 50 weeks of the study, the project assessed the eligibility of 80 children, of which 63 were included. Of these patients, 35 were female and 28 were male, and the mean age was 1.3 years. Once a child was enrolled, samples from the patient and the parents, if available, were collected and sent to Hanover medical school for sequencing and data interpretation.
Overall, Project Baby Lion achieved diagnostic results in 30 participants, or 48 percent. Since four of the 30 disease-causing variants uncovered in this study were located in noncoding regions of the genome, they would not have been detected with exome sequencing, Auber pointed out.
In addition, the project reported two "highly likely causative" variants of unknown significance in two patients, Auber said. The median turnaround time, from sample reception to the return of preliminary results, was 2.4 days.
By disease type, the highest diagnostic yield was achieved in patients with congenital anomalies, endocrine disorders, or metabolic syndromes. Meanwhile, the team did not find any causative variants in patients with the phenotype of hepatic failure.
To measure the clinical utility of rWGS, Auber and his team issued a validated survey named Clinician-reported Genetic Testing Utility Index (C-GUIDE) to all participating pediatricians 14 days after they received the final report. The C-GUIDE score for cases that received a diagnosis was 15.04, compared to 5.81 for those with a negative test result, indicating "significantly higher" clinical utility in diagnosed cases, the researchers concluded.
Project Baby Lion's results largely echoed similar rWGS studies in the US, such as Project Baby Bear, led by Rady Children's Hospital in San Diego, and SeqFirst, spearheaded by University of Washington researchers in partnership with Illumina and GeneDx (formerly Sema4).
Despite the promising results, Auber also acknowledged some of the potential bottlenecks for the implementation of rWGS on a national scale, such as the limited bioinformatics and genetic counseling resources in certain hospitals.
Additionally, somewhat similar to the US, whether rWGS-based testing can be carried out at a larger scale is also contingent upon insurance reimbursement, Auber pointed out.
Still, with Project Baby Lion's preliminary results indicating the feasibility and utility of rWGS, he said he is hoping the test can be adopted as a routine diagnostic tool across Germany moving forward.
"Rapid whole-genome sequencing has demonstrated high diagnostic yield, very fast turnaround time, and significantly higher clinical utility in diagnostic cases," he said. "We think [the test] should be made available for all NICU and PICU patients."