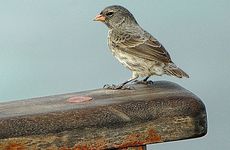 NEW YORK (GenomeWeb) – Researchers have uncovered epigenetic variation between urban and rural populations of Darwin's finches that could underlie their adaptation to a new environment.
The Galápagos Islands only recently underwent urbanization, leading the researchers to wonder how organisms there are coping with speedy environmental change. By examining populations of two species of Darwin's finches, researchers from Washington State University and the University of Utah uncovered morphological differences between urban and rural populations of Geospiza fortis as well as epigenetic differences between urban and rural populations of G. fortis and G. fuliginosa. However, as they reported in BMC Evolutionary Biology last night, they found little genetic variation.
"In the finches that we studied, epigenetic alterations between the populations were dramatic, but minimal genetic changes where observed. We believe that the epigenetic differences may be a heritable component that might explain the rapid adaptation of Darwin's finches to an urban environment," senior author Michael Skinner, a biology professor at Washington State, said in a statement.
The researchers captured nearly 1,100 ground finches belonging to either G. fortis or G. fuliginosa from two sites some 10 kilometers apart that differ in degree of urbanization. They measured the birds' beak size, tarsus length, body mass, and more, and also collected blood and sperm for genetic and epigenetic analysis from a subset.
Through their morphological comparisons, Skinner and his colleagues found the medium ground finch, G. fortis,to be larger than the small ground finch, G. fuliginosa. But they also reported that the urban population of G. fortis was larger than the rural population on nearly all measures. The researchers noted that food is more abundant in urban areas.
However, they observed no size differences between G. fuliginosa from urban and rural regions. They suggested that this lack of size difference could be due to a lower starting degree of variation among G. fuliginosa, as compared to G. fortis. Also, they noted that urbanization could have had a greater selective effect on G. fortis than on G. fuliginosa.
Additionally, the researchers compared copy-number variation among the finches to find that while there was within-population variation in copy number in the two species, there were no fixed differences between the urban and rural populations of either species.
But when the researchers compared DNA methylation patterns — generated using methylated DNA immunoprecipitation (MeDIP) sequencing — they did find differences between rural and urban populations in both species.
The genes associated with the differentially methylated regions the researchers identified were typically involved in metabolism, cell signaling, and transcription, though they also differed by species. In particular, they noted that some differentially methylated regions were associated with genes in BMP/TGF-beta pathway. BMP4 expression, they added, has previously been linked to beak shape in Geospiza.
This, Skinner and his colleagues said, suggests that epigenetic changes could regulate the expression of genes involved in morphology. They added that their results are consistent with a role for epigenetic variation in rapid adaptation to environmental change.
However, they also cautioned that additional studies are needed to tease out the effects of the differentially methylation regions on phenotypes.