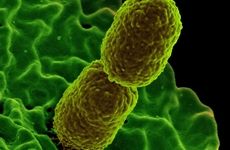 NEW YORK (GenomeWeb) – An uncommon strain of Klebsiella pneumoniae is circulating among patients in Houston, according to a new sequencing-based study.
A Houston Methodist Research Institute-led team of researchers sequenced the genomes of nearly 2,000 K. pneumoniae strains isolated from patients at a local hospital system. K. pneumoniae causes infections, especially among hospital patients, that are becoming more challenging to treat as strains are growing resistant to multiple antibiotics.
As they reported in mBio today, the researchers found that an uncommon clonal group was behind more infections than the well-studied epidemic clonal group and was just as virulent.
"Finding the otherwise uncommon strain in our city was a very surprising discovery," senior author James Musser from the Houston Methodist Research Institute and Houston Methodist Hospital said in a statement. "Because Klebsiella pneumoniae is a common and important cause of human infections, we urgently need to identify potential vaccine targets or other new treatments, and develop new and rapid diagnostic techniques."
Musser and his colleagues sequenced the genomes of 1,777 extended-spectrum beta-lactamase (ESBL)-producing K. pneumoniae strains collected between 2011 and 2015 from Houston Methodist Hospital system patients. By comparing polymorphisms among the strains, they developed a phylogenetic tree for the ESBL-producing K. pneumoniae strains.
While most other hospital-based studies of K. pneumonia in the US or elsewhere have found that the CG258 clade predominates, the Houston researchers reported that the CG258 clade only made up about a quarter of the strains they amassed. Instead, they found that more than a third of the strains in their sample belonged to the CG307 clade. The remaining strains were heterogeneous.
The researchers noted that no one hospital in the system accounted for all the CG307 or CG258 infections. Rather, both were widespread in the population throughout the course of the study. But why CG307 is common in Houston remains unclear, they added.
The researchers infected mouse models with CG258 and CG307 strains, and found that the two did not differ in bacterial load. Both strains touched off immune responses in their murine hosts, though the CG307 clade led to lower levels of IL-17 production. Still, this and other clinical evidence suggested to them that CG307 was just as virulent as CG258.
Musser and his colleagues sequenced five strains from their sample to closure using Pacific Biosciences' long-read sequencing platform. They reported that these strains contained between two to five plasmids that often harbored antibiotic-resistance genes.
In particular, the researchers found KPC alleles — which confer resistance to carbapenemase — in 64.6 percent of the CG258 strains and 34.3 percent of the CG307 strains in this cohort. In a few of strains, they also uncovered the gene encoding New Delhi metallo-beta-lactamase 1 (NDM-1), a finding the researchers found concerning as this gene provides resistance to nearly all beta-lactam antibiotics and can be easily transferred by plasmid.
RNA sequencing of a subset of patient samples further found that strains carrying the KPC, NDM-1, OXA-48, and yersiniabactin resistance genes did express them.
With a machine learning-based approach, Musser and his colleagues developed a classifier that used bacterial whole-genome sequences to predict antibiotic resistance. They reported that the results of their AdaBoost-based algorithm hewed closely to the clinical phenotype.
"Incorporating sophisticated and novel computational and molecular strategies allowed us to rapidly identify the drug-resistant strains," first author Wesley Long from Houston Methodist Hospital said. "The faster we can successfully identify which antibiotics this strain is sensitive to, the faster a treating physician can target the appropriate therapy to these ill patients."