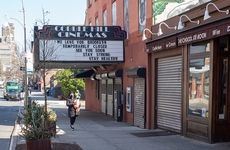 NEW YORK – The SARS-CoV-2 virus that is causing the COVID-19 pandemic appears to have entered New York City mainly from Europe, according to independent viral genome sequencing studies from researchers at the Icahn School of Medicine at Mount Sinai, New York University Grossman School of Medicine, and Weill Cornell Medicine.
New York State has been hit hardest by the COVID-19 pandemic in the US, with 160,000 cases and more than 7,000 coronavirus-related deaths as of late Wednesday, including 87,000 cases and more than 5,000 deaths in New York City alone.
In order to trace the origin and spread of the disease in NYC, researchers have so far sequenced SARS-CoV-2 genomes from hundreds of COVID-19 patients in the city, conducting phylogenetic analyses that led them to similar conclusions.
A team led by Harm van Bakel, Viviana Simon, and Emilia Sordillo at Mount Sinai generated SARS-CoV-2 genome sequences from 84 patients seeking care at hospitals belonging to the Mount Sinai Health System between Feb. 29 and March 18.
According to a paper they recently submitted as a preprint to MedRxiv, the virus likely came to NYC through "multiple, independent but isolated introductions mainly from Europe and other parts of the United States." In addition, there is "evidence for community transmission of SARS-CoV-2 as suggested by clusters of related viruses found in patients living in different neighborhoods of the city," they wrote.
For their study, the Mount Sinai researchers sequenced 90 SARS-CoV-2 genomes from 84 patients, which came from 21 neighborhoods in Manhattan, the Bronx, Queens, and Brooklyn, as well as from two towns in Westchester County. After whole-genome amplification of the viral genome, samples were sequenced on Pacific Biosciences Sequel 1 and Illumina MiSeq instruments, followed by genome assembly and phylogenetic analysis.
In their analysis, the scientists compared the NYC isolates with 2,363 viral genome sequences in the GISAID (Global Initiative on Sharing All Influenza Data) EpiCoV database. The NYC isolates turned out to be distributed across the phylogenetic tree, which they said is consistent with multiple independent introductions.
Almost 90 percent of the isolates clustered with a clade that mainly consists of isolates from COVID-19 patients in Europe, indicating that introductions from Europe accounted for most NYC cases that came to light in the first weeks of March. A few cases clustered with other clades and likely have a domestic origin, including Washington State.
"Taken together, our results show that the NYC SARS-CoV-2 epidemic has been mainly sourced from untracked transmission between the US and Europe, with limited evidence of direct introductions from China where the virus originated," they concluded.
"The study also suggests that the virus was likely circulating as early as late January 2020 in the New York City area," Simon, a professor of microbiology and infectious diseases at Mount Sinai, said in a statement. "This underscores the urgent need for early and continued broad testing to identify untracked transmission clusters in the community."
However, the researchers cautioned that their data from early March in particular was scarce, and that their analysis relied on data available in the GISAID database. Some of their inferences, they wrote, may change in the future as more complete and representative SARS-CoV-2 genomes become available.
The Mount Sinai results tie in well with those from researchers at NYU School of Medicine. "It's great that our Mount Sinai colleagues reached the same conclusions from their patient samples," said Adriana Heguy, director of the Genome Technology Center at NYU Langone Health, in an email, calling the study a "nice independent replication."
The NYU team, led by Heguy and others, has so far sequenced SARS-CoV-2 genomes from 91 patients tested for COVID-19 at three NYU Langone Health hospitals and found that most of the viruses likely originated from Europe. The researchers are in the process of writing a manuscript describing the results, she said.
In a statement, Heguy said the project is still ongoing and the researchers plan to sequence 192 viral samples per week soon, with a goal of generating thousands of viral sequences for future analysis.
The NYU findings "broadly coincide with our study in that the main route by which the virus arrived in NYC was through Europe," said Harm van Bakel, assistant professor of genetics and genomic sciences at Mount Sinai, in an email.
Researchers at Weill Cornell Medicine, likewise, have been sequencing COVID-19 patient samples. Chris Mason, associate professor in the department of physiology and biophysics, said in an email that his team has so far sequenced viruses from around 350 patients seen at New York Presbyterian/Weill Cornell Medicine, and the phylogenetic results from the Mount Sinai and NYU teams "match the data we have seen here so far, too."
He said his group has been generating full-length viral sequences using amplicons, Twist Bioscience panels, and ribo-depleted RNA-seq on Illumina NovaSeq instruments. He plans to present the results at an upcoming virtual meeting by the New York Genome Center next week and is working on a preprint manuscript.
"Viral sequencing is a key part of battling the COVID-19 pandemic," Mason said. "It can trace the movement, origin, mutation rate, and mutation sites of the virus, all of which are needed for future viral monitoring and vaccine development."