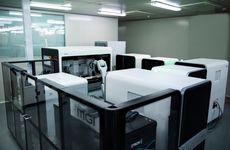 HOLLYWOOD, Fla. – Complete Genomics, the US subsidiary of Chinese next-generation sequencing instrumentation firm MGI Tech, unveiled its highest throughput sequencer at the Advances in Genome Biology and Technology annual meeting here on Tuesday.
Named DNBSeq-T20x2, the platform, leveraging Complete Genomics' proprietary DNA nanoball sequencing technology, caters to large population genomics projects. At full capacity, it can produce 22 Tb of data per day, equivalent to 50,000 human genomes at 30X coverage a year. Factoring in instrument depreciation, sequencing costs for the DNBSeq-T20 can be as low as $.99 per Gb, according to the company.
While the new platform — with its promise of sub-$100 human genomes — may sound enticing to those striving for lower sequencing costs, with limited performance data available and a requirement for ultra-high throughput, it remains to be seen how the instrument will resonate with the broader genomics community.
"The motivation was to figure out ways to increase throughput and reduce costs using our DNA nanoball technology," said Rade Drmanac, cofounder and CSO of Complete Genomics, a San Jose, California-based company that was acquired by MGI's parent company, BGI Group, in 2013. Speaking to a room full of attendees during a company-sponsored presentation on Tuesday morning, Drmanac called the DNBSeq-T20x2 "a trailblazing sequencing factory."
According to Drmanac, DNBSeq-T20x2 has incorporated a series of innovations to increase the platform's throughput while lowering its cost. For one, it uses so-called "open slide" technology in lieu of the traditional covered sequencing flow cells, making the system cheaper to manufacture.
Additionally, compared with the flow cells for the company's flagship high-throughput sequencer DNBSeq-T7, which occupy a quarter of a wafer, the slides for the DNBSeq-T20x2 are made from a whole wafer. The bigger slides, coupled with sequencing spots at high density, lead to higher throughput, Drmanac explained.
As for the optics, DNBSeq-T20x2 is equipped with an ultra-high-resolution water immersion objective that has increased resolution and enables a larger field of view. Beyond that, the instrument deploys a proprietary two-color imaging technology that encodes the four DNA bases with only two dyes. As a result, Drmanac said, the platform is "simpler" and "less expensive to build" while generating "sharper, brighter images."
A fixed-configuration product, DNBSeq-T20x2 is designed to run six slides simultaneously. The system is also equipped with a robotic arm that can load the slides into the two imaging modules (hence the name x2), each of which is equipped with two cameras. "It is almost like a little factory," Drmanac said, adding that, depending on read length, the typical turnaround time for a run is about three days.
To lower sequencing costs, DNBSeq-T20x2 uses so-called "dip-immersion biochemistry." Instead of running the sequencing chemistry through a flow cell, Drmanac explained, each of the six sequencing slides is dipped into the same reagent solution. On the flip side, unlike the DNBSeq-T7, where each flow cell can be operated independently, the DNBSeq-T20x2 does not afford the same flexibility because of the reagent-sharing strategy.
Complete Genomics quotes sequencing costs of $.99 per Gb for the DNBSeq-T20x2 when it runs at full capacity. To derive this number, the company assumes the platform processes 50,000 genomes each year over a five-year depreciation period, according to Yongwei Zhang, CEO of MGI Americas and Complete Genomics.
"T20 enables sub-$100 genomes that include instrument depreciation," Zhang said. While the company did not publicly disclose the list price for the DNBSeq-T20x2, Zhang said the cost for the system is "on the order of millions" of dollars.
Beyond touting low sequencing costs, Complete Genomics also hopes to convince researchers that the data quality of the new platform has not been compromised. "If the data quality is not good, it is useless," Zhang said. "We never cut corners [when it comes to] data quality."
During his presentation, Drmanac briefly showcased internal benchmarking data for the new sequencer. Testing the platform using Escherichia coli control samples and PE100 kits, he showed that one DNBSeq-T20x2 run generated more than 233 billion reads with an average Q30 of 96 percent.
While the new platform has piqued the interest of some potential customers, many are hoping to see more real-world data before making any move.
"I think if [the promise for the $99-dollar genome] is real and can be reproduced locally, then I think that it is very attractive," said Alexander Hoischen, a genomics researcher at Radboud University Medical Center in the Netherlands who listened to Complete Genomics' presentation.
In 2015, Radboud was scheduled to be one of the first customers to receive Complete Genomics' previous high-throughput sequencing system, called Revolocity, before BGI decided to cancel the platform's commercialization as part of a strategic shift.
Hoischen's group, which focuses on rare disease research, currently performs exome sequencing on about 15,000 samples a year. The goal for this year, he said, is to transition one-third of these samples to short-read whole-genome sequencing.
"The reason why we only transition 5,000 of the 15,000 exomes is simply price," he said, noting that his institution currently operates three Illumina NovaSeq 6000s. "The price of the current short-read whole-genome [sequencing platforms] does not allow us to transition all exomes to genomes."
To meet the input demand of the DNBSeq-T20x2, Hoischen said his group would need to team up with other research groups and pool samples. "[Judging from] the current clinical need for rare diseases at least, one or two systems could already cover the entire country," he said. "So, it's really about getting our act together to join forces."
Still, for now, insights into the quality of the DNBSeq-T20x2 data are limited, Hoischen said, and he would like to see more clinically relevant samples being tested on the new platform to further evaluate it.
Mirroring this view, Edwin Cuppen, a researcher at the Hartwig Medical Foundation in the Netherlands, also noted that there is currently not enough data to judge the data quality of the new platform. "The T20 set from Complete Genomics for sure is in a position to be the first to deliver a sub-$100 genome, although no quality data is available yet," he wrote in an email.
Furthermore, "breaking the $100 limit may require full utilization of its capacity, which is both a strength and a weakness of the setup, as not many existing applications and programs fitting these dimensions currently exist," he pointed out.
With such a high sample input demand, many researchers, even from core genomic labs, are afraid that installing such a platform would be biting off more than they can chew.
"It is appealing," said Ioannis Ragoussis, head of genome sciences at the McGill Genome Centre in Canada. "The question is, can we sustain our funding to do five times more genomes?"
Currently, the McGill Genome Centre operates two MGI DNBSeq-G400s, and it recently installed a DNBSeq-T7 for large-scale whole-genome sequencing projects. To run a platform at the scale of the DNBSeq-T20x2, Ragoussis said, sequencing cost is only one aspect to consider. "There are more efforts required all around," he explained, adding that many other elements of the sequencing infrastructure, such as data analysis and storage, will also incur extra costs.
Commenting on the target customers for the new platform, Zhang acknowledged that "T7 and T20 are geared towards different customer needs." While DNBSeq-T7 is "very good for its flexibility," he said, it is not designed for ultra-low cost. Meanwhile, DNBSeq-T20's low sequencing costs come with "very high throughput requirements." For most academic centers and research labs, T7 "is perfect," he added.
With that in mind, Complete Genomics also announced plans at AGBT to lower sequencing costs for the DNBSeq-T7 to $1.5 per Gb, or $150 per genome, for US customers only. Beyond that, the company launched the DNBSeq-G99 — an ultra-high-speed, mid-to-low throughput sequencer that was released in China last year — in the US to appeal to different market segments.
Even so, Complete Genomics still has a ways to go to win over the hearts of some customers, especially those who have been longtime Illumina users. 
"Buying a machine is so expensive," said Xiaoling Xuei, who runs a core lab at Indiana University School of Medicine. Given the limited budgets of core labs, the new players in the field "have to show something firm to make me believe their technology is the one," she said.
While curious about Complete Genomics' products, Xuei still pretty much considers her lab an Illumina shop for now — with a fleet of Illumina instruments ranging from MiSeq to NovaSeq 6000. The group also recently purchased a NovaSeq X, Illumina's ultra-high-throughput sequencer that was released last year.
Besides new competitors in the short-read sequencing market, for many researchers, recent developments in the long-read sequencing field also provide enticing options when it comes to making purchasing decisions. 
"I think one important aspect of the whole story is that we are big believers in long reads," said Radboud's Hoischen, whose institution already has multiple Pacific Biosciences Sequel platforms in house and just purchased a PacBio Revio. "What we decided for this year is that we will do explorative studies largely in the long-read market," he said.
To cater to users' long-read needs, Complete Genomics this week also launched the single tube long fragment reads (stLFR) library prep kit, enabling customers to produce synthetic long reads using its platforms.
Moving forward, Zhang said MGI will continue to roll out new products in the US through Complete Genomics to meet customers' demands. "We want to leverage the legacy of Complete Genomics," he explained. "We are going through what we call a rebranding effort." However, Zhang said the corporate structure and legal aspects of the companies have not changed, even though Complete Genomics has now become the firm's storefront.
According to Complete Genomics, orders for the DNBSeq-T20x2 in the US are being accepted now and the instrument will start shipping in Q3. An MGI spokesperson later clarified that the instrument is currently for research use only. Meanwhile, Zhang said, the firm will promote the platform and continue educating customers on the instrument's potential.
"T20 is not for everyone," Zhang said. "We have to encourage people to think about the possibilities."