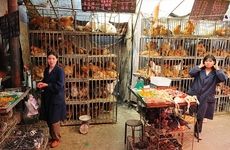 NEW YORK (GenomeWeb) – A flu surveillance study by a Guangxi Veterinary Research Institute-led team suggests live poultry markets in China are sometimes home to low pathogenic avian influenza viruses (LPAIVs) that do not cause significant harm to birds carrying them, but may lead to more serious disease and outbreaks in humans.
The researchers tested more than 3,800 swab samples from chickens, ducks, and geese at live poultry markets in southern China's Guangxi province from January 2012 to December 2015, searching for and sequencing influenza A viruses in the LPAIV category. Their analyses suggested some 16 percent of samples contained LPAIVs from at least half a dozen subtypes — H1, H3, H4, H6, H9, or H11 influenza virus — based on the antigenic features found in the influenza virus hemagglutinin (HA) protein.
At the live poultry markets considered, the team noted that ducks often carried viruses from the H3 influenza virus subtype, while geese most often carried H6 influenza. H9 influenza was over-represented in chickens. Even so, more than 25 percent of the LPAIV-positive samples contained more than one flu virus subtype, creating an environment that may allow LPAIV rearrangement and recombination. The results appeared online today in Scientific Reports.
"Our study demonstrates a high prevalence of LPAIVs in poultry in this area and highlights a need to further investigate the genetics and evolution of LPAIVs," co-first author and corresponding author Zhixun Xie, a veterinary biotechnology researcher at Guangxi Veterinary Research Institute, and colleagues wrote.
The team noted that LPAIVs, which span the H1 to H16 hemagglutinin avian flu subtypes, "have been largely neglected in global disease control programs" since they produce little or no disease in poultry and other birds. Still, the authors explained, "the genetic rearrangement and recombination of LPAIVs afford considerable opportunities for rapid and substantial viral changes through both antigenic shift and drift," adding, "Such changes may generate novel viruses with increased virulence that can pose substantial risks to poultry and human health."
For this surveillance study, the investigators collected 3,813 oropharyngeal and cloacal swab samples from chickens, ducks, and geese at 21 live poultry markets in Guangxi. Using a combination of viral isolation, a hemagglutination inhibition assay for untangling LPAIV HA subtypes, and viral sequencing at Invitrogen of Guangdong, the team identified LPAIVs in 622 of the live poultry market swab samples: 161 chicken samples, 402 duck samples, and 59 goose samples. LPAIV isolation was most often successful when dealing with goose samples, they noted.
The LPAIV-positive set contained representatives from six known HA subtypes, along with some unknown HA subtypes, the researchers reported. And along with HA subtypes that were more commonly identified in each of the three bird species, they noted that 160 birds — including 113 ducks — had mixed infections involving more than one HA subtype. LPAIVs from two HA subtypes turned up in 143 birds, while a dozen birds carried at least three LPAIV subtypes. One duck carried six HA subtypes of LPAIV.
"Epidemics of mixed infections are widespread and complex, and the co-infection of different HA subtypes in the same bird presents a great risk of gene rearrangement, which can lead to novel subtypes of [avian influenzas]," the authors wrote. "Furthermore, mixed infections have increased viral diversity through reassortment between viruses from different sources."
The team submitted HA and neuraminidase (NA) gene sequences from the poultry market LPAIVs to the National Center for Biotechnology Information's BLAST database. Along with the HA subtypes described for the study, the set reportedly spans three NA subtypes.