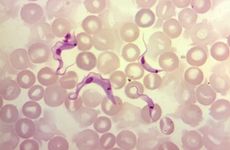 NEW YORK – An international team has tracked down genetic signatures linked to Trypanosoma cruzi exposure in Indigenous populations in the Amazon, along with at least one variant in the PPP3CA gene that appears to protect against infection by the Chagas disease-causing protozoan parasite.
"The study is important because it shows a genetic component in the response to Chagas disease, which itself already opens up new research possibilities for this disease," senior and corresponding author Tábita Hünemeier, a researcher affiliated with the University of Sao Paulo and the Institute of Evolutionary Biology in Spain, explained in an email, noting that "both Chagas disease and Indigenous populations are neglected in genomic studies."
For a paper appearing in Science Advances on Wednesday, she and her colleagues analyzed genomic sequences for 118 individuals from 19 Indigenous populations in Brazil, along with epidemiological clues and data from follow-up functional analyses. The effort was aimed at unearthing signs of natural selection and adaptation in Amazonian populations, particularly positive selection stemming from exposure to tropical diseases such as T. cruzi infection that were present prior to European contact.
"Ecological conditions in the region have historically been favorable for transmitting numerous tropical diseases, especially vector-borne diseases," Hünemeier and her colleagues wrote, noting that "historical data on precontact diseases (i.e., diseases native to the Americas) are inadequate."
To track down tropical disease-related signatures of positive selection, the team turned to "population branch statistics" and "cross-population extended homozygosity haplotype" analytical approaches to assess population-specific allele frequency shifts and haplotype homozygosity patterns, respectively.
Along with positive selection affecting genes from cardiovascular and metabolic pathways, the researchers saw selection signatures involving at least two genes with apparent ties to T. cruzi immune responses.
Digging into the strongest signature of selection — in and around the protein phosphatase 3 catalytic subunit alpha-coding gene PPP3CA, which belongs to an immune cell activation- and calcineurin signaling-related G-protein-coupled receptor signaling pathway — the team saw signs of selection on the gene stretching back some 7,500 years.
The researchers saw reduced T. cruzi infectivity when they used short hairpin RNAs to dial down PPP3A gene expression in T. cruzi-exposed cardiomyocyte cells generated from induced human pluripotent stem cells — a model system selected since Chagas disease typically affects atrial heart tissue.
Their results suggested that the T. cruzi parasite relies on the PPP3CA gene product to help infect the cells and establish disease, while a PPP3CA variant under selection in the Amazonian populations appeared to protect against Chagas disease.
Such findings may help to explain prior serotype analyses that found little to no evidence of Chagas disease in populations from the Amazon, despite pronounced diversity in insect species that carry T. cruzi, the authors explained. In contrast, Chagas disease appears to be found at high frequency in populations from the Andes.
"Our results provide insights into the population's adaptation to the Amazonian rainforest," the authors reported, adding that "the identification of a role for PPP3CA in T. cruzi infection contributes to the dissection of the molecular mechanisms of pathogen infection and, thus, potentially to the development of therapies for the disease."