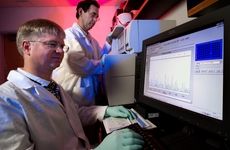 NEW YORK (GenomeWeb) – Earlier this month the US Centers for Disease Control and Prevention (CDC) released its most recent report through its National Antimicrobial Resistance Monitoring System for Enteric Bacteria (NARMS) which included whole-genome sequencing (WGS) data for the first time.
The CDC has been working to increase the use of next-generation sequencing and bioinformatics technologies throughout the organization and within state and local health departments. To aid in this transition the CDC launched its Advanced Molecular Detection (AMD) Initiative, which initially received $30 M in funding from Congress almost three years ago. It has been working hard to better utilize recent technologies to improve public health monitoring, based on feedback from a Bioinformatics Blue Ribbon Panel in 2011 that deemed that the CDC lacked "the organization, expertise, and computational infrastructure needed for data management and analysis of genomic information it is now capable of acquiring."
"The transformation [to include NGS technologies] began back in late 2013," Gregory Armstrong, director of the AMD Initiative, told GenomeWeb. "But it's a large [laboratory] system. It's going to be some time before [the CDC] is completely transitioned."
Since the initiative received funding from Congress, the CDC has been investing in the next-generation sequencing technology and bioinformatics to improve disease monitoring in public health. "Here at the CDC and public health in general, a lot of people were becoming frustrated because public health was standing on the sidelines while this big revolution [in biology] was happening," Armstrong said. "Getting the agency and public health up to speed has taken quite a lot."
The NARMS report follows the US Food and Drug Administration's interim report on antimicrobial resistance in retail meat from April this year that also published WGS data for the first time. 
NARMS is an interagency partnership between the CDC, the US Food and Drug Administration, the US Department of Agriculture, and state/local health departments. It functions as a public health surveillance system that has tracked antimicrobial resistance in foodborne and other enteric bacteria since 1996.
The newly published report, called the NARMS 2014 Human Isolates Surveillance Report, has several important takeaways including the first publication of Salmonella WGS data and reported changes in antimicrobial resistance. Specifically, the researchers reported changes in drug resistance among Salmonella, Shigella,and Campylobacter in 2014 versus previous records from 2004-2008 and 2009-2013.
Additionally, the report notes the CDC's 2015 launch of the NARMS Now: Human Data interactive online tool that allows users to view and access drug resistance data from the past two decades for bacteria (Campylobacter, Escherichia coli O157, Salmonella, and Shigella) transmitted commonly through food. The tool enables users to determine geographically and temporally which microbes are showing resistance to which drugs over time.
But the key highlight was the inclusion of the WGS data. The report published WGS data for 376 nontyphoidal Salmonella isolates generated using the Illumina HiSeq platform. It also noted that resistance to most drugs was mediated by common resistance determinants, such as ampicillin resistance determined by mutations in the blaTEM-1b gene. For 93 percent of all resistant phenotypic test results, the NARMS researchers found that a known resistance gene could be identified. However, they also indicated a need for greater genotypic and phenotypic testing to determine novel resistance determinants for at least a subset of isolates. A CDC spokesperson told GenomeWeb in an email that going forward all NARMS reports will include "sequencing data for all nontyphoidal Salmonella."
The WGS was done through PulseNet, the national network of laboratories which characterize bacterial foodborne pathogens, the CDC spokesperson said. PulseNet laboratories used to perform pulsed-field gel electrophoresis (PFGE), but are currently transitioning to WGS to characterize these pathogens, Armstrong said. "This is the largest program at the CDC to make use of NGS, but there are others," he added.
"The main sequencing technology in use [at the CDC] is Illumina's," the spokesperson said. "A small number of labs are also using [Thermo Fisher Scientific] IonTorrent technology, particularly when sequencing in large batches isn't feasible." In addition, the CDC's Atlanta facility uses Pacific Biosciences technology in special cases where long-read sequences are needed.
"Trends in sequencing and related technologies — namely lowering costs, increasing automation, and improving quality — will likely open many more opportunities in the future for improving health: opportunities to prevent disease and to detect and respond to outbreaks," the CDC spokesperson said. "For example, the agency has explored using Oxford Nanopore's technology in the field, where it would be cumbersome or impossible to implement other technologies," the spokesperson added. 
While NARMS is specific to enteric diseases, such as Salmonella and E. coli, the CDC is using sequencing technologies to advance public health in other areas through the AMD Initiative.
Over the last three years the AMD Initiative has helped the CDC invest in a lot of new computing and sequencing technology that can handle the new demands, Armstrong said. It has also involved a lot of workforce development since before the initiative began there were 10 people on staff with any substantial bioinformatics experience and now the agency employs close to 60 at last count, he added.
To date the AMD has helped incorporate NGS and informatics technologies in countless programs, but it is having the biggest impact in foodborne disease monitoring, antimicrobial resistance tracking, influenza vaccine development, and tuberculosis monitoring. 
Bacterial foodborne illness has been one of the first areas to transition to NGS at the CDC, and one of the first illnesses CDC researchers tracked was listeriosis. "[Investigators] began with Listeria because the number of cases is relatively small, but the bacteria causes a severe disease," Armstrong said. Usually the CDC identifies Listeria bacteria in foods using PFGE. When the investigators used PFGE to track this particular outbreak it linked it back to hot dogs. 
"The PFGE data, it didn't completely reflect phylogeny," Armstrong said. When the researchers looked at the Listeria samples again, it turned out the suspected link to hot dogs was a "red herring," he said.
Once they looked into it a little deeper, they found that what all of the cases had in common was that patients had eaten caramel apples and the link was confirmed in the WGS data. While caramel and apple don't usually support Listeria, when you put a stick in a coated apple with dripping juices going through it you have a good Listeria culture medium, he said. "They don't know where the Listeria came from here, only that apple juice and caramel apparently make a good growth medium for Listeria," he added in a follow-up email. This investigation was published in Clinical Infectious Diseases, this past April. 
"It's impossible to say that we wouldn't have found [the outbreak link] without WGS but it led to a food that had not previously been known to be connected," Armstrong said. But he did indicate that using WGS helped the CDC report outbreaks more frequently and more quickly than it had previously, he said.
Through the AMD Initiative, the CDC has been taking what it's learned to help local health departments improve their public health monitoring. "In the US the regulatory authority for health resides on the state level and the state health laboratory," Armstrong said. "We work with all 50 of them. Then there are the big municipalities that we fund separately. They are participating with PulseNet and within a year we think that all states will have sequencing capacity."
While the AMD Initiative depends on year-to-year funding approved by Congress, Armstrong noted that the initiative is coordinating closely with related programs — such as the National Strategy for Combating Antibiotic Resistant Bacteria (CARB), a federal initiative to prevent, detect, and control outbreaks of resistant pathogens — to ensure continued progress in public health. 
"We are constantly trying to keep an eye out for technologies that are going to improve our ability to prevent disease, and detect and respond to outbreaks," Armstrong said. "I've never seen a program that has been quite as transformative of public health laboratories."
"There's a tremendous amount of enthusiasm for the adoption of NGS and bioinformatics both here at the CDC and in state and local health departments," he added in a follow-up email. "The staff sees many potential applications for the technology to improve health in the US, and they're eager to realize those applications."