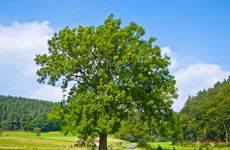 NEW YORK (GenomeWeb) – An analysis of the genome of a British ash tree indicates that ash trees in the UK might be less susceptible to ash dieback disease than their European counterparts.
Ash dieback is an aggressive fungal disease caused by Hymenoscyphus fraxineus that leads to leaf loss, lesions, and, often, tree death. The disease was first spotted among ash trees in Poland and has spread across Europe, killing many trees. It reached the UK in 2012.
Researchers from Queen Mary University of London, the University of York, and elsewhere sequenced an ash tree, Fraxinus excelsior, from Gloucestershire, UK, and compared it to the genomes of 37 ash trees from continental Europe. As they reported in Nature yesterday, the researchers examined ash dieback disease susceptibility markers among these trees and found them to be less prominent in British ash trees. Susceptibility to fungal infection was linked to the tree's iridoid glycoside levels, which also acts to ward off herbivores, they added.
"This ash tree genome sequence lays the foundations for accelerated breeding of ash trees with resistance to ash dieback," senior author Richard Buggs from QMUL said in a statement.
Buggs and his colleagues sequenced DNA from the British ash tree to 192X coverage. This tree was free of ash dieback disease in 2013 and 2014, but showed signs of infection earlier this year. Using RNA-seq data from the tree's leaf tissue as well as leaf, cambium, root, and flower tissue from its parent plant, they predicted that the ash tree genome contains some 38,852 protein-coding genes.
When the researchers compared the British ash tree genome to genomes of other sequenced trees, they found that a quarter of those genes appeared to be ash-specific. They also noted that ash and olive appeared to share a whole-genome duplication event, indicating that that the duplication might be shared among Oleaceae.
Buggs and his colleagues also sequenced 37 ash trees from various regions of Europe to 8.4X coverage. They mapped those reads and reads from a resistant Danish tree to the reference genome to find some 12.5 million polymorphic sites, about half of which were located near genes.
A comparison of ash genomes uncovered four different haplotype groups, one that is more common in the UK than in continental Europe. The researchers also found evidence of long-term population decline among ash trees.
Using RNA-seq data obtained from 182 Danish ash trees exposed to H. fraxineus, the investigators further linked some 20 gene expression markers to ash dieback disease damage scores. Eight of these were MADS-box protein and two were cinnamoyl-CoA reductase 2 genes, the researchers noted. The top gene expression markers the researchers linked to disease damage appear to be involved in flower development and stress response, among others.
With those top five markers, the researchers developed and validated four assays and applied them to 130 British F. excelsior accessions to find low predicted damage scores among those trees.
But, trees that are more resistant to ash dieback may be leaving themselves open to insect infection, Buggs and his colleagues noted. They compared secondary metabolite concentrations in five high-susceptibility and five low-susceptibility Danish ash trees using HPLC/Q-TOF-MS. From this, they reported that the high-susceptibility trees had higher levels of iridoid glycosides, which are part of an anti-herbivore defense mechanism, as compared to low-susceptibility trees
That needs to be considered in breeding efforts, the researchers noted, as the emerald ash borer, a beetle, has killed hundreds of millions of ash trees in North America and is spreading west across Europe.
"Our research highlights the danger of selecting trees for resilience to ash dieback at the expense of resistance to insects that threaten this iconic UK tree species," the University of Exeter's Christine Sambles added in a statement.