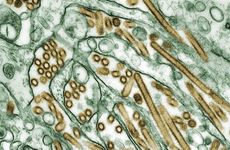 NEW YORK – A research team from China, Germany, and elsewhere has identified rare variants in a host immune gene coding for myxovirus resistance protein A, or MxA, that appear to increase susceptibility of humans to avian influenza, or bird flu.
"Our results provide compelling evidence for a monogenic etiology of severe influenza due to MxA deficiency and are in agreement with early genetic studies in inbred mice and unbiased collaborative cross studies," co-first author Yongkun Chen, a researcher affiliated with Sun Yat-sen University's School of Public Health in Shenzhen, and colleagues wrote, noting that the results "complement previous findings demonstrating that severe disease can be caused by inborn errors of immunity affecting the antiviral [interferon] system."
Avian influenza A sometimes spills over to humans but the exact mechanism is poorly understood. While exposure to poultry appears to be a major risk factor for infection with the H7N9 subtype, poultry workers only make up about 7 percent of cases, suggesting that genetic factors also play a role in disease susceptibility.
For an analysis appearing in Science on Thursday, the researchers sequenced and analyzed the genomes of 217 Han Chinese individuals infected with the H7N9 avian influenza A virus, or IAV, between 2013 and 2017, as well as those of 116 epidemiologically linked healthy poultry workers.
From some 18.5 million autosomal variants detected in the genomes, they saw a preponderance of rare IAV-associated variants in and around the MX1 gene, which codes for the interferon-induced antiviral protein MxA.
The team focused on 17 MX1 variants — 15 missense mutations, a nonsense mutation, and a splice donor variant — that were overrepresented in the IAV cases, including half a dozen variants that had not been previously reported in the gnomAD or Single Nucleotide Polymorphism Database.
"The interferon-regulated MX1 gene encodes myxovirus resistance protein A, an antiviral restriction factor active against a broad range of RNA and DNA viruses, including IAVs," the authors explained, noting that past studies pointed to a role for MxA in inhibiting the activity of a polymerase enzyme in the bird flu virus.
While such variants turned up in nearly 10 percent of the H7N9-infected patients, they were not detected in 116 unaffected control individuals, including poultry workers from sites that were epidemiologically linked to IAV cases. In contrast, the MX1 variants appeared to be found at a frequency of almost 1.78 percent in a population cohort comprised of 4,078 individuals from the Han Chinese population and 1.2 percent of the 10,588 Chinese individuals enrolled in the China Metabolic Analytics Project.
In a series of cell line experiments, including antiviral activity assays and assays focused on H7N9 replication levels in H7N9-infected cell lines, the investigators found that all but three of the rare MX1 variants identified in the IAV patients were associated with poorer-than-usual MxA activity against H7N9 avian influenza.
From these analyses, the authors suggested that heterozygous individuals carrying deleterious missense variants affecting one copy of the MX1 gene are deficient for antiviral MxA activity against the H7N9 virus.
Based on these and other results, the authors suggested that "to decrease the risk of pandemic viruses [in the future], it will be important for disease surveillance to monitor MxA sensitivity of newly emerging avian IAVs and to screen vulnerable human populations for deleterious variations in MX1."