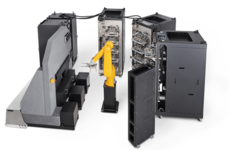 This article has been updated to add comments from Radboud MC's Joris Veltman.
NEW YORK (GenomeWeb) – BGI's Complete Genomics is launching a next-generation sequencing system that it says is capable of sequencing 10,000 whole human genomes per year and will eventually be able to sequence 30,000 genomes per year.
The system, dubbed Revolocity, is based on Complete Genomics' core sequencing technology and includes an automated sample prep system as well as the computational infrastructure and software needed for data analysis. It has a list price of $12 million and a footprint of 1,500 square feet, Complete Genomics' CEO Cliff Reid told GenomeWeb, noting that the company already has two customers — Radboud University Medical Center in the Netherlands and Mater Health Services in Australia.
Reid said that the company is targeting large clinical organizations, academic medical centers, and even national healthcare systems, with the goal of enabling "clinical organizations that don't have a lot of computational expertise to do sample-to-answer runs of large-scale, whole-genome and whole-exome sequencing."
The sample prep system is a set of mostly third-party instruments, Reid said, all coordinated together with a robot. The entire sample prep process is automated, so labs "never have a technician with a pipette." One sample prep system can process 30,000 samples per year. Sample input can be genomic DNA, blood, or saliva, Reid said.
The total turnaround time for one genome, including sample prep, sequencing, and the analysis is about eight days. Up to 120 whole genome samples can be multiplexed, but the system also enables flexibility, said Reid.
"Multiple flow cells run in a round-robin strategy," Reid said, so, for example, an operator could load 40 samples at one time and then two days later load an additional 40 samples. The smallest batch size is 10 genomes.
The sequencing chemistry is nearly identical to Complete Genomics' previous technology, Reid said.
Last year, BGI researchers said they had made a few modifications to the technology to enable exome sequencing, and also modified library construction to a two-adaptor construction from a four-adaptor construction, which takes less time but results in shorter read lengths.
The Revolocity system will use a 300-base insert and mate pair sequencing of 28 bases from each end of the insert. By contrast, Complete's older technology with the four-adaptor construction had mate pair reads of 35 bases.
The remainder of the sequencing technology is the same. DNA nanoballs are formed from the circular pieces of DNA and deposited onto patterned silicon arrays and sequenced by ligation.
Revolocity enables 96 percent of the genome to be covered with an error rate of about 10-6, Reid said. The system will initially support exome and whole-genome sequencing, but Reid said that the company is considering developing other applications, like RNA-seq, although he did not yet have a timeline for, or a list of, those applications.
One application Complete Genomics had previously been developing is its long-fragment read technology to enable whole-genome haplotyping. The company described the method in a 2012 Nature study, which is based on the premise of diluting a small DNA sample of 10 to 20 cells into a 384-well plate such that each well contains DNA comprising between 10 percent to 20 percent of the haploid genome. The well contents are amplified, fragmented, and barcoded so that after sequencing, the haplotype blocks can be reconstructed.
Reid said that the long fragment read technology would not be included in the first generation of Revolocity, but anticipated it would be incorporated into future versions, although he did not provide a timeline.
"It's an important part of our product roadmap," he said, adding that a number of peer-reviewed studies "are in the works" and will likely be published in the next few months.
The company is launching Revolocity initially on a limited basis, Reid said, and talking with potential customers one by one. The system is not yet available for broad ordering, he added.
Radboud MC and Mater will be the first two customers, and Reid said the company is in discussions with other potential customers, many of whom were former customers of Complete Genomics' sequencing services.
Joris Veltman, professor of translational genomics at Radboud MC, told GenomeWeb that the system's ability to go from blood to annotated genome would enable Radboud to "implement these technologies in the most smooth manner in our academic hospital."  
He added that the organization plans to use Revolocity for diagnostic exome sequencing, a service it already provides, but, he said, Radboud wants to "expand on these services and reduce turnaround times." At the moment, he said that exome sequencing was still more cost-effective than whole-genome sequencing for diagnostic purposes, even though the field may eventually move in that direction, so having a system that can do both was important. 
Veltman said that he has seen some preliminary data from Revolocity and it "looks promising." Complete Genomics is still "optimizing the performance" before installing the system in his lab, he added.
Revolocity will likely compete with Illumina's HiSeq X Ten system, a $10 million system that sequences 18,000 genomes per year, although Reid said that Revolocity has a number of features that will set it apart from the HiSeq X Ten and enable the firm to target a more clinically oriented market rather than a research market.
For instance, while Illumina initially only marketed its HiSeq X Ten to organizations with the bioinformatics capabilities to handle, store, and analyze such large amounts of sequence data, Reid said that the Revolocity system includes all the necessary computing power and software to do the bioinformatics analysis.
"This is intended to be targeted at clinical environments that don't have the kind of expertise that the research environments typically do have when they're doing high-scale sequencing," Reid said.
Customers will not have to devise their own DNA extraction protocols, figure out how they are going to do sample prep, buy computers for analysis, and figure out what software they are going to run, he added.
Despite targeting the clinical market, Reid said that the company does not have plans to take the system through US Food and Drug Administration clearance, although he said that is something the firm would consider in the future.
Instead, he said that academic medical centers or large hospital laboratories would run the system within a CLIA-certified or CLIA equivalent environment and could pursue their own individual certifications or approvals for their specific clinical sequencing services.
Reid said that he did not have a projection for the number of systems the firm would install this year, but said that the company has identified between 200 to 300 sites around the world that it would target in the coming years. Those include academic medical centers, large clinical organizations, and national healthcare systems.
In January, BGI said that aside from the large-scale sequencing system, it would also launch a desktop instrument based on Complete's technology. Reid confirmed that the company still has plans to commercialize its technology in "smaller packages," but declined to provide details of a potential desktop instrument or a timeline.
In 2014, BGI got approval from the China FDA to run its noninvasive prenatal test, NIFTY, on two different platforms, one of which — the BGISEQ-1000 — is based on Complete Genomics' technology.
BGISEQ-1000 will not form the base of the eventual desktop instrument, Reid said. The BGISEQ-1000 system is based on technology that was essentially reconfigured from a subset of the instruments that Complete Genomics ran in its services lab in Mountain View, California before BGI acquired it. Complete Genomics took some of those instruments to BGI, where BGI researchers "made some core technology changes" and "turned those into instruments that could run NIPT," Reid said. Those instruments are based on the older technology, and while it is robust, the company does not plan to manufacture any more of them, he said.