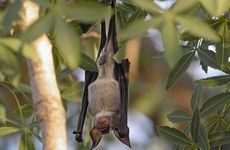 NEW YORK – An international team has started cataloging the coronaviruses (CoVs) carried by bats in islands in the Western Indian Ocean and parts of Africa in the hopes of understanding just how diverse these viruses are and where they are found in the wild.
The results could be important to prevent the future transmission of coronaviruses to humans, either directly or through an intermediate host. The SARS-CoV-2 virus that is causing the current COVID-19 pandemic is widely believed to have originated from bats or pangolins.
As they reported in Scientific Reports on Thursday, the researchers used targeted sequencing and real-time PCR-based molecular screening to search for alpha- or beta-coronaviruses in samples from more than 1,000 bats from three dozen species in Madagascar, Mauritius, Mayotte, Reunion Island, Seychelles, and the coastal region of Mozambique.
In the process, they found that nearly 9 percent of the bats carried at least one coronavirus, including more than 20 percent of bats from Mozambique. Across the bats tested, they saw sequences from more than two dozen alpha-coronaviruses, along with three beta-coronavirus-like sequences, though a subsequent phylogenetic analysis suggested that similar viruses tended to cluster in certain bat species.
"We found that for the most part, each of the different genera of families of bats for which coronavirus sequences were available had their own strains," co-author Steven Goodman, a field biologist affiliated with the Field Museum in Chicago and Madagascar's Association Vahatra, said in a statement. "Moreover, based on the evolutionary history of the different bat groups, it is clear that there is a deep coexistence between bats (at the level of genus and family) and their associated coronaviruses."
Even so, he cautioned against removing bats, noting that they "are important for ecosystem functioning, whether it be for the pollination of flowers, dispersal of fruits, or the consumption of insects, particularly insects that are responsible for transmission of different diseases to humans."
The current study was done prior to the ongoing COVID-19 pandemic, which is caused by the beta-coronavirus SARS-CoV-2. Instead, the authors pointed to the importance of coronaviruses in the context of other conditions characterized in the past, including SARS.
"[S]everal CoVs originating from bats have emerged in humans and livestock with sometimes major impacts to public health," they wrote. "For instance, in 20013, the Severe Acute Respiratory Syndrome CoV emerged in humans after spillover from bats to civets, and led to the infection of 8,096 people and 774 deaths in less than a year."
For their analysis, the researchers performed PCR-based screening for coronaviruses in organ tissue, feces, rectal swab, or oral swab samples collected from 1,013 bats between 2012 and 2015, including samples from a prior bat infection study focused on lyssaviruses. They also cross-referenced their findings with bat and viral sequence data from museum samples and genetic databases.
The team detected coronaviruses in 88 of the bats, though coronaviruses turned up in a larger proportion of bats from Madagascar, where 20.5 percent of the 507 bats sampled tested positive. Along with differences related to geography and season, the results suggested that the likelihood of finding coronavirus-positive bats also varied by species, with viruses clustering genetically in certain bat hosts.
Such results hint that some viruses may have co-evolved with their hosts, showing relatively infrequent "spillover" into other host species, including humans, the researchers noted, though additional work is needed to understand whether viruses similar to those found in the bats have worked their way into other animals or humans in the Western Indian Ocean Island region.
"The development of serological methods targeting coronavirus strains circulating in the Indian Ocean will help show whether there have already been discrete passages in human populations, and their interaction with the hosts will allow a better understanding of the emergence risk," co-author Patrick Mavingui, a researcher at the University of Reunion Island, said in a statement.