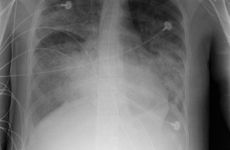 NEW YORK – Scientists from France, the US, and Australia have narrowed in on airway microbiome signatures associated with hospital-acquired pneumonia (HAP) or a particularly severe form of pneumonia known as acute respiratory distress syndrome (ARDS).
"Our study is the first to develop a robust signature of the respiratory microbiome associated with pneumonia. Most of the studies have investigated the gut microbiome," co-senior and co-corresponding author Antoine Roquilly, an anesthesiology and intensive care unit researcher at the University of Nantes, said in an email.
"It is a recent discovery that even healthy lungs harbor a respiratory microbiome," he explained. "The robust composition and the role of this microbiome on respiratory health is thus an emerging area in medicine."
For a paper appearing in Nature Medicine on Monday, the researchers brought together 16S ribosomal RNA sequence profiles for 2,177 respiratory samples — from bronchiolar lavage or endotracheal aspirate samples to oropharyngeal swabs — for 1,029 critically ill individuals enrolled through 17 prior studies. They set these patient microbiome patterns against airway microbe features found in 327 unaffected control participants.
"The features of respiratory microbiome dysbiosis associated with HAP and ARDS have not been thoroughly compared, and this knowledge gap has limited the development of microbiome-targeting interventions for the prevention and treatment of these conditions," the authors explained, adding that they "aimed to define robust respiratory microbiome signatures relevant to the pathophysiology of ARDS and HAP using publicly available data and validation in an independent cohort."
With the help of machine learning, the team highlighted sets of microbes that distinguished individuals with ARDS, HAP, and/or prolonged mechanical ventilation from healthy control individuals — sets that were subsequently whittled down to signatures with three or four factors apiece.
"The three- to four-factor decision trees increased our understanding of the pathophysiological causes of these conditions and could form the basis of diagnostic assays to guide clinical implementation," the authors wrote, adding that "evidence synthesis can inform future work that aims to mechanistically investigate the contribution of the respiratory microbiome to lung immunity and inflammation, and can help to define promising therapeutic targets for specific microbiome modulation in critically ill patients."
Broadly speaking, the team saw a dip in representation by microbes in the Fusobacterium, Prevotella, and Veillonella genera in respiratory samples from the critically ill individuals, along with a rise in Haemophilus and Streptococcus microbes and microbes from a "non-healthy core" group.
Even so, the specific shifts uncovered in the patient groups varied. Individuals with pneumonia had an airway microbiome that was "mainly characterized by the decreased abundance of tens [of] bacterial species belonging to the normal microbiome rather than by high burden of the pathogens," Roquilly explained.
A similar pattern turned up when the team focused on patients who required mechanical ventilation for an extended period of time. For participants with ARDS, on the other hand, the airway microbiome was characterized by higher-than-usual levels of pathogenic bacteria such as microbes from the Staphylococcus or Pseudomonas genera.
When the investigators tested these signatures in another group of 136 respiratory patients being treated with mechanical ventilation, they found that the ARDS, HAP, and prolonged mechanical ventilation signatures all corresponded to increased time to extubation compared to patients without the signatures.
"Our results thus [suggest] that restoring the normal microbiome could be a new pathway to prevent and treat pneumonia, which is one of the most frequent causes of mortality worldwide," Roquilly said. "The definition of a robust and frugal list of bacterial species is an important step toward the future development of lung-specific probiotics and precision medicine in respiratory health."