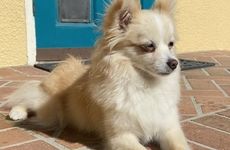 This story has been updated to include additional comments from Elinor Karlsson.
HOLLYWOOD, Fla. – Low-coverage whole-genome sequencing, along with data imputation, are powering genetic studies in dogs and other animals, according to research presented at the Advances in Genome Biology and Technology annual meeting here this week.
In a Tuesday morning talk, UMass Chan Medical School's Elinor Karlsson discussed her lab's use of low-pass sequencing, with coverage of only about 1X, for genotyping in several studies, including one on dog genetics that graced the cover of Science last year. That study suggested that a dog's breed was not necessarily predictive of its behavior. The same data type was also used to help find the gene locus for the brindle coat pattern in dogs.
The results are part of a growing body of evidence of the utility of low-coverage WGS for genotyping, compared to microarrays. "It really stunned me how well it worked," Karlsson said. "We no longer need technologies tailored to a single species." A low-pass genome costs only about $90, and the data doesn't become outdated the way array data does, she added.
The team has worked with Gencove, a New York-based company that promotes the use of low-pass WGS for several applications, including animal genotyping.
"My biggest fear was we wouldn't get heterozygous [variant] calls," Karlsson said. "Our initial validation in 11 dogs showed that this doesn't actually seem to be a concern."
The UMass researchers are now working on generating higher-coverage dog genomes for use in an imputation panel that can help improve both future and previous low-pass genomes. "We can go back to the 1X coverage [dog genomes] with the bigger panel and get more information out of them," Karlsson said. For some of the new genomes, her group is using 30X whole-genome sequencing on the Element Biosciences Aviti sequencer. In June 2022, Gencove signed a comarketing agreement with Element.
The imputation panel will have data from 670 dogs, 93 of which are being sequenced on Element's platform. The Aviti sequencers are "working well," Karlsson said, adding that heterozygous variant calling "is as good as with Illumina, and possibly better."
The group has sufficient funding to sequence at least 3,000 dogs at 30X coverage over the next three years and hopes to sequence up to 10,000 dogs over 10 years.
Future studies will use WGS-based genotyping data to help determine the environmental contributions to the risk of cancer in dogs. Karlsson's lab is also planning to use low-pass sequencing for studies of other animals, including cats and black-footed ferrets.
"That will be interesting since the cat population is very genetically diverse," she said. "I'm curious to find out if we get the same high density and high quality data."